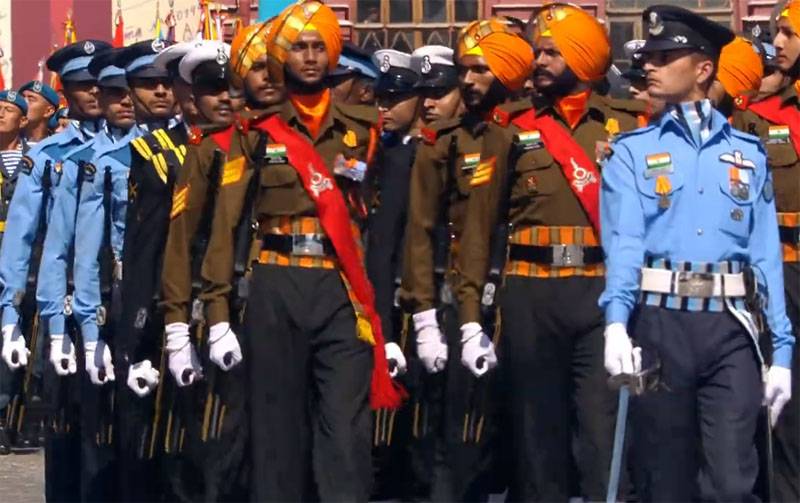 The first materials on the military parade on Red Square were published in the Indian press. For obvious reasons, the Indian side is interested in the passage in the parade of its troops, who, as part of a fairly large delegation, arrived in the Russian capital.
Recall that the Indian military of the three types of troops under the command of Major A. Gurka from the Sikh light infantry regiment marched along the cobblestones of the main square of Moscow along with military personnel from a number of countries.
The Indian press received the most attention from the fact that for the first time after the well-known conflict in the Galvan Valley (the disputed territory of the Ladakh territory with the PRC), Indian soldiers marched along the same square with the Chinese army. Regarding this circumstance, many Indian readers spoke in a very positive way, noting that Russia should continue to be regarded as a reliable partner and a state that is serious about preventing an armed conflict between India and China.
From comments on reports from Indian channels and videos from Indian video blogs:
You can say anything, but only in Russia today there is an opportunity for the Indian and Chinese military not to fight on sticks, but to go solemnly and majestically, as befits a real warrior.
This is a momentous event. They participated in a military parade in Russia, and the Chinese participated in the same. It is worthy of respect in relation to the military and to the organizers. Time is far from simple.
Better marching than fighting.
At the same time, not uninteresting statements were made that the Indian military allegedly "was given priority" during the parade march. The message was that the Indian troops went ahead of the Chinese. True, those who paid special attention to this in India did not understand a simple thing: the ceremonial calculations of foreign states went in the order of the first letters of the names of their countries in the Russian alphabet (the so-called Olympic principle in the language of the host country).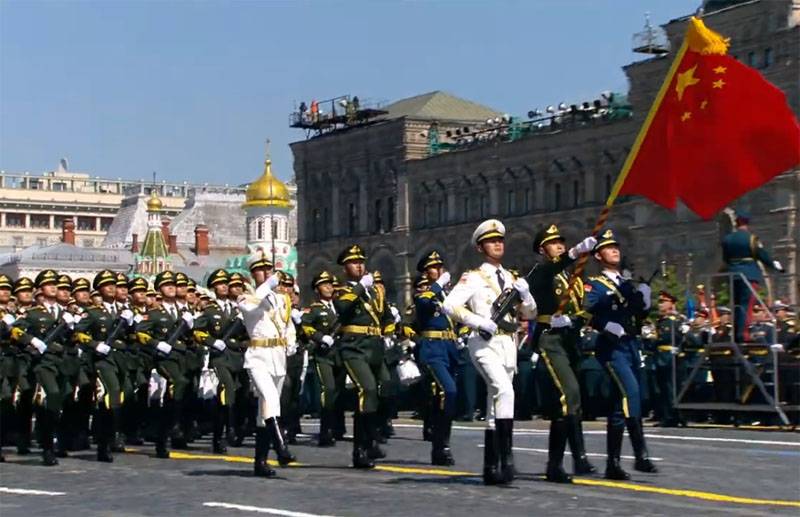 China brought to Moscow ceremonial calculation of the guard of honor of the PLA. The calculation is commanded by Major General Bao Jimin and Senior Colonel (Chinese military rank) Han Tse.