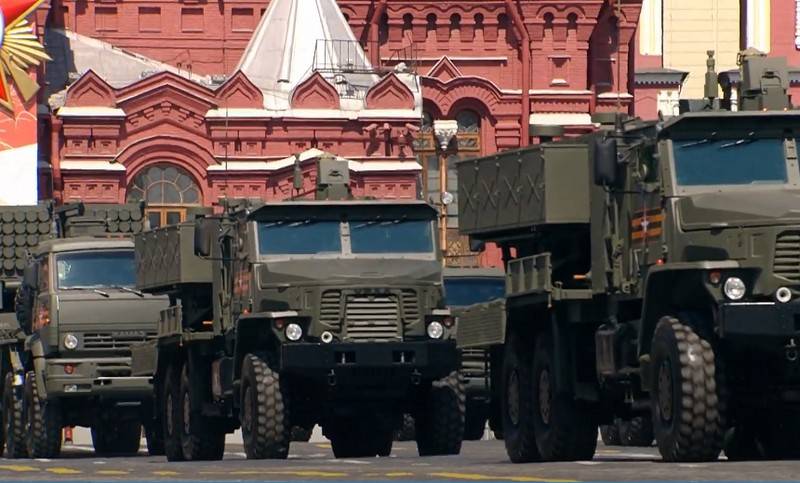 At the Victory Day parade in Moscow today, along with military equipment already in service and shown at previous parades, the equipment that was demonstrated for the first time also participated.
According to the Rostec press service, for the first time, new combat vehicles developed by the UVZ, Techmash and High-Precision Complexes, which are part of the state corporation, took part in the parade.
Among the innovations that took place on Red Square, the latest TOS-2 heavy flamethrowers ("Tosochka") stood out, the image of which had not been previously published, except for the sketchy ones, the machine of the engineering system for remote mining "Agriculture". For the first time participated in the parade
Tanks
T-90M "Breakthrough" and T-80BVM, combat vehicle 2S38 "Derivation-Air Defense", the latest ZRPK "Shell-SM". In addition, the Arctic "Shell-SA" and the multiple launch rocket system (MLRS) "Tornado-S" were shown.
For the first time at the parade, a remotely controlled combat module "Hunter" was mounted on the Typhoon-K armored vehicle.
The T-15 BMP on the Armata platform with the Dagger combat module armed with a 57-mm gun, the Kurganets-25 BMP with the promising Epoch combat module, also armed with a 57 mm gun, and also modernized BMP-2M with a fighting compartment "Berezhok".
In addition, for the first time on Red Square, four Buk-M3 self-propelled anti-aircraft missile systems (SAMs) and four Tor-M2 SAMs manufactured by the Almaz-Antey concern were presented. Also for the first time in the parade were the S-350 Vityaz and S-400 Triumph anti-aircraft missile systems.
In total, in the Moscow parade, 234 units of modern and
historical
military equipment.