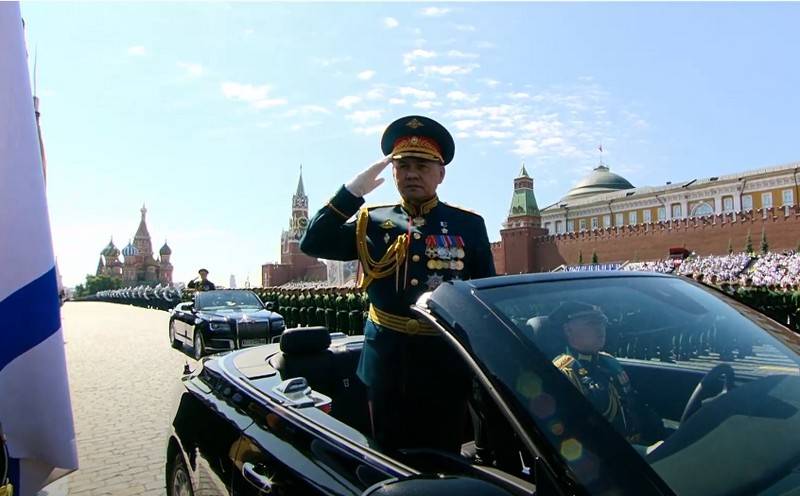 In Moscow, on Red Square, the Main Military Parade was held in honor of the 75th anniversary of Victory in the Great Patriotic War. The parade was hosted by Russian Minister of Defense Sergei Shoigu, commanded by Army Commander-in-Chief Oleg Army Salyukov.
Attention, says and shows Moscow, listen and watch Red Square. To mark the 75th anniversary of the Victory in the Great Patriotic War of 1941-1945, the Victory Parade!
- came over the Red Square.
Historical
part of the parade was opened by famous groups, they carried the standards of ten fronts. Then military men dressed in historical military uniform appeared on the cobblestones.
In total, more than 14 thousand military personnel marched in the footing columns along the cobblestones, 234 units of historical and modern ground military equipment passed in mechanized columns, 75 aircraft flew over Moscow.
In the parade, there were 40 foot calculations made up of Russian and foreign military personnel. At the parade, parades of 13 foreign countries were presented: Azerbaijan, Armenia, Belarus, India, Kazakhstan, Kyrgyzstan, China, Moldova, Mongolia, Serbia, Tajikistan, Turkmenistan and Uzbekistan.
Among the guests this year, President of Abkhazia Aslan Bzhania, President of Belarus Alexander Lukashenko, Serbian member of the Presidium of Bosnia and Herzegovina Milorad Dodik, President of Kazakhstan Kasym-Zhomart Tokaev, President of Kyrgyzstan Sooronbai Jeenbekov, President of Moldova Igor Dodon, President of Serbia President Aleksandr Vakhmon , President of Uzbekistan Shavkat Mirziyoyev, President of South Ossetia Anatoly Bibilov.