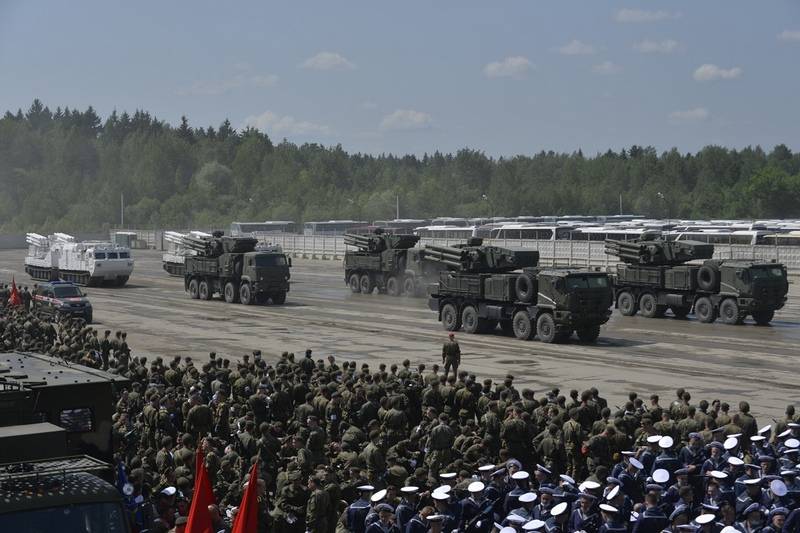 The image that appeared on the Web after one of the trainings in preparation for the Victory Parade aroused interest among users. We are talking about a frame where, during the passage of a mechanized column, three types of "Pantsir" anti-aircraft missile-gun systems were recorded at once.
What kind of "Armor" will we see at the parade, which will be held today on Red Square in Moscow.
As previously reported by the Ministry of Defense, three types of air defense missile systems will be presented in a mechanized convoy: the Arctic "Shell", currently in service with the "Shell-C1" and the promising, specially created for the Russian army new "Shell-SM".
I must say that we'll introduce a completely new car that hasn't been shown anywhere - the "Shell-SM". We will have three types of "Shell": "Shell-SM", normal and "Arctic"
- said Army Commander-in-Chief Oleg Salyukov on this occasion.
Thus, it can be stated that two complexes of the "Shell" - the Arctic and standing in service - have already been demonstrated at previous parades. Interest is the new complex "Shell-SM".
According to available information, the new ZRPK was created specifically for the Russian army, it will not be exported. The anti-aircraft complex is located on the Tornado-K wheeled chassis. To combat drones, the "Shell-SM" has smaller missiles than standard ones. It was also reported on the installation of a new multifunctional aiming station with a phased antenna array, which allows you to "see" targets at ranges up to 75 km. Sighting range of the new complex increased to 40 km. The complex is capable of recognizing and hitting all types of unmanned aerial vehicles.
The receipt of new air defense missiles in the Russian army is possible as early as 2021.