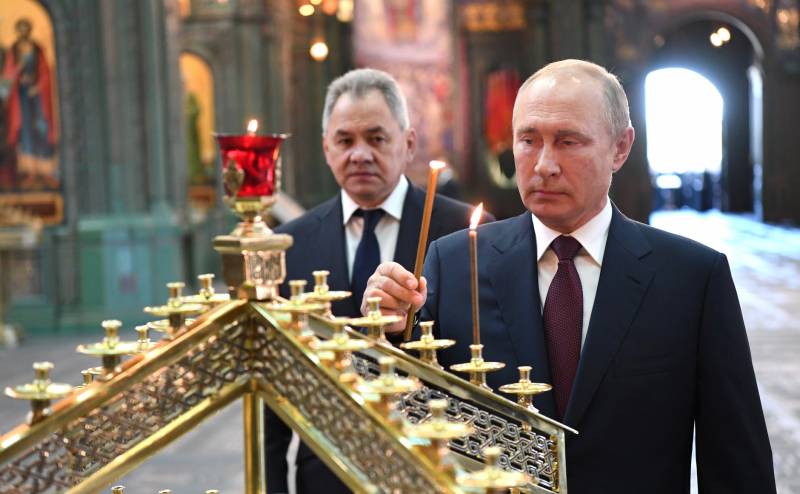 Yes, we have already talked about and will write a lot about what will be in the package of amendments. It is a pity that sometimes a not very pleasant impression develops that not all writers and speakers understand what is at stake. Especially on TV, it is clearly striking. Someone is engaged, someone truly believes. To each, as they say, his own.
But now we will not talk about what WILL be, we will look at things that WILL NOT be in the Constitution. This, in my opinion, is more serious than the "perestroika" that awaits us.
Item number 1. The ability to influence power
At all? The Constitution is a document that in fact regulates how the people (electorate, voters, no matter what they call) can influence the government.
Yes, today we have this minimum opportunity, every six years an electoral show with a vote on the principle of "no one else", well, the opportunity to snatch something from the locals rushing for deputies. Playground, porch repair and so on.
And then it will not be in principle. A bond is formed such as the president - the Federation Council - the State Duma - the government.
In general, Putin today has more than just broad powers. Apparently, there is never a lot of power, because most of the package of amendments is dedicated to ensuring that there is even more power.
Because it will be that no one can challenge Putin's decisions, but he will appoint members of the government, the Supreme and Constitutional Courts, senators ... And no one can really do anything, if that. Even the State Duma. She is already tame and without the slightest opposition, but she will vote properly as it should, because if something goes wrong, she will simply be dissolved by Putin's decree and new elections will be called.
Therefore, the State Duma is immediately excluded from the list of possible interference. And then, do we have a "random" person from the street can become a deputy? Can not.
Next we have the Federation Council. Consists of people who are sent by governors. Can a person from the street become a governor? Not. Even considering that governors are not appointed, but elected. Elections, elections ...
In addition, our native Constitution does not prescribe the procedure for registering political parties and the rules for holding elections. All this is determined by federal law. Everything would be fine, but who makes laws in our country? Yes, United Russia, to which Putin has nothing to do. Therefore, with the registration of ANY parties, we are now completely calm, and it is simply impossible to do this.
As a picture, I can bring my visit to the party of Zakhar Prilepin, which is "For Truth". In my own city. Where a representative who came from Moscow proudly stated that they were ALLOWED to register because there were fears that many votes in the upcoming Duma elections would go to Navalny.
There is a situation in which the appearance of at least some opposition, in addition to that authorized by the authorities, does not and will not. As there will be no alternative presidents. As unnecessary. Elections on the principle of "but no one else" is a very convenient thing.
About the courts are literally two words. Courts (Supreme Court and Constitutional Court) cease to be independent and independent. Judges are appointed by Putin; judges are dismissed by Putin. That's all. A person, even if he is at least three times honest and independent, if he doesn't take the decisions Putin needs, he will not stay in court for a long time.
Total: manual upper house of parliament (Sovfed), manual lower house (State Duma), fully controlled by the Supreme and Constitutional Courts. The government is also under the full control of the president. Everything is controlled by the president - from and to. Assigned, removed, dissolved, dismissed. Prime Ministers, Senators ...
By the way, ministers. Now they are of two categories. The first, important (power and economic ministers), are appointed directly by the president. Minor ones - the prime minister with the approval of the State Duma, but if there are plugs, then in the end they will be appointed by the president, bypassing the State Duma.
Do you see people here? And I do not see. But it is probably not especially necessary for the people. However, if I am mistaken, then we will see it after July 1.
Item number 2. About pensions and salaries
Pensions are mentioned in a very interesting context. Yes, probably, the fact that the Constitution says that pensions should be and should be indexed at least once a year is interesting. But no more than that, because there specifics - zero.
Indexation of pensions "in the manner prescribed by federal law" - this, of course, sounds. How much? When? How? If all this is already in the law, then why shove it into the Constitution?
Here it is worth a look to Europe. In many countries, social programs in general and pensions in particular are not announced in the Constitution. And the state does not guarantee anything constitutionally. But if you look at Germany, Austria, Spain, Denmark, Sweden, then there are no guarantees on paper. There is social programs and pensions. Just eat it. Yes, such that in some countries there is no end to those who wish to live there.
Salaries. Well, it's just a laugh. Salary should not be lower than the established living wage. And who sets the cost of living? Correctly mentioned above. Which this very minimum is left at one or two dinners in a restaurant. And then they are surprised how the people rushed for a ten thousandth allowance, well this is not money at all!
About experiments about living on a living wage, I don't even want to talk. It is impossible to live in Russia for this "living wage".
So these fad are about nothing.
Item number 3. Protecting History and Language
Again the items are about nothing.
History
rewrites the state by the ministry of culturelessness and the ministry of stupidity. However, I already spoke about this. Bees versus honey and so on.
Item number 4. State control over prices
That would be interesting to see. But who is robbing his own, right? No, electorate, this will not happen. We have a market. Capitalist. For details, go to Dudu, he will tell you how cool it is to live in a capry.
And we will observe an unprovoked increase in prices for the same fuel, and the subsequent increase in prices for everything else.
Example: in my city in May-June gas went up by 4 rubles. From 22.50 to 26.50. Diesel fuel - from 46.10 to 48.00. Why? And everything is simple. Money is needed for those who trade. What is the market economy, what is the dependence on world prices, what are you talking about? Demand fell on the people, they began to ride less - here, get it! Traders will get theirs anyway! At the expense of those who could not pinch.
What about masks? Yes, those same masks that are from the virus. There were 3,50 rubles a piece. And at the peak of steel at 100 rubles.
And what could / wanted our government to do? Never mind. Demonstrated complete impotence in this regard. Well, except for Sobyanin, who bought a mask for himself and ordered all Muscovites to wear masks.
The maximum that the president and the government are capable of in terms of prices is to issue statements on the theme that "we will not allow ... we will not allow ..." But these are words, words for which there is no deed. And the prices for fuels and lubricants are rising as if nothing had happened. And no one decree to them, nor world prices, nor Putin, nor the government.
And never such a thing as state guarantees for compliance with pricing policies will not appear anywhere. Especially in the Constitution. Because it can first of all oblige the government to work.
Although we have a lot of things written in the laws and what they don't even look at. And nothing.
Item 5. On foreign assets
It's funny too. This means that officials and government officials cannot have a second passport and a bank account. Bad, ugly. But, in fact, it has long been spelled out in the relevant laws of the federal level. That's just not much to stop anyone. Because if you really want to or a good person ... As you know, any law in our country is easily handled in such circumstances.
But why the impossibility of owning property abroad was made to the accounts and passports in the Constitution? Sorry, a house in Spain - it can bring income no less than a contribution to Deutsche Bank or American Express.
But this is silent. It is impossible. It's not good to offend your own. Therefore, Mr. Klishas (co-chair of the amendment commission) will still own real estate in Switzerland, United Russia deputy Vladislav Tretyak will be the owner in Latvia, his party and State Duma colleague Valery Gazzayev will be in Spain. Etc.
Item number 6. Ruble
Yes, we have repeatedly said that it would be nice to have a free, dollar-independent currency. It would be nice if the Russian Central Bank was commanded by a man who would be vilified in the UK in all corners, and not recognized as the best banker of the year. So that the ruble does not fall and does not hit historical lows, depending on the price of oil and the dollar.
We would love to live in a country with hard currency. But, alas, it is still liquid and gaseous with us and depends on how much oil and gas and at what price they will buy from us.
Although in gas station countries such as the UAE or Qatar, things are completely different ...
Item number 7. Medicine
I am very sorry that there will be no clause which says that the state guarantees the right to life and health at its own expense. What they have turned medicine into in general is not even a conversation for the Constitution, but for the Criminal Code, since it is a crime.
But no lesser crime is to doom Russian citizens to fooling for their children. For humiliated extortion of money from compassionate fellow citizens and, as a result, saving children not at the expense of the state, but at the expense of the electorate again.
I want to summarize. The main task of the Constitution is to ensure that power is controlled, that its institutions are accountable to each other and the people have the opportunity to ask and have the opportunity to influence.
When voters can convey their will and opinion to deputies, senators, ministers, as is the case in the USA, for example, when the government understands the need to hear popular opinion (not like it will be on July 1), then the government itself will protect the integrity of the territory, index retirement and keep a story.
And guarantee the Whiskas seals every day.
When this is not the case, at least put everything into the Constitution, but if the government has not done this before, it will continue to do its own thing.
Unfortunately, for some reason the electorate here does not understand this. I personally get the impression that many are in some kind of pink dreams, now we'll accept the amendments - and the milk rivers will flow with the jelly banks. Wow, this will be spelled out in Our Constitution!
The fact that all this has long been in the laws, but it does not bother everyone, especially the performers, does not bother anyone. The main thing is to accept. And there the wheel of samsara will spin in the opposite direction and a new life will begin with us.
Yes, it will begin. But without the above. And all this tinsel with the institution of marriage, God and other things is about nothing.
All amendments to the Constitution can very easily be spread out not even into eight folders, as I said before, three are enough.
First: Putin must rule another 16 years. Minimum.

Second: Putin must possess not just the fullness of power, but the imperial level. Why would he do this? I have already said that it is not yet clear. But for some reason, yes, otherwise why all this booth?

The third. Any small things like gays, family, god, seals and other things. Carrying nothing, but serving to mask the first two.
It is clear that with such a level of statements that Putin has already made two weeks before the election that 60% of the population will come and 70% will vote "for", so that the new text of the Constitution is already printed and is waiting for it to be delivered to the shops, - it is clear that everything will be so.
Someone like this prospect very much, I agree, we have a lot of monarchists. Someone doesn't. The question of everyone's choice.
Personally, I did not see anything in the new Constitution that would promise me a good life. Alas.