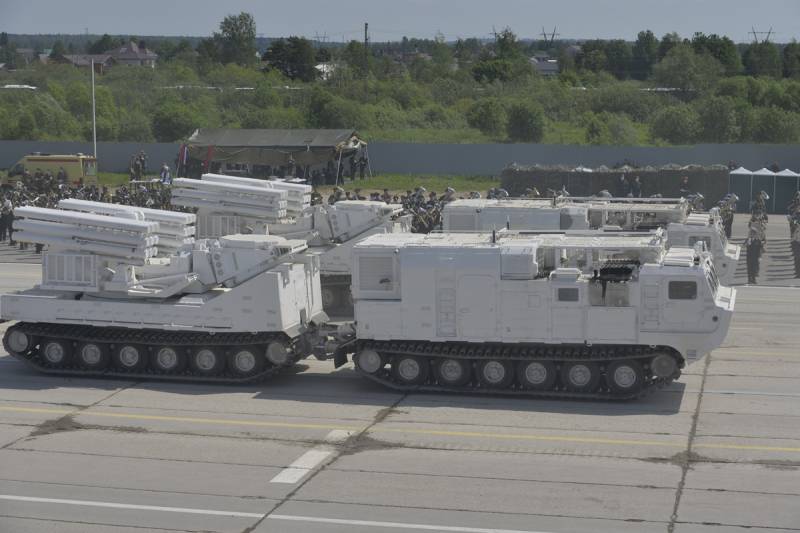 In the parade in honor of the 75th anniversary of Victory in the Great Patriotic War, various means of military equipment will be used. These include the Arctic version of the complex "Shell" - "Shell-SA". The other day, these complexes passed through the Alabino training ground during the rehearsal of the Victory Parade.
At the same time, they attracted attention with their appearance - coloring. Usually "Shell-SA" participating in parades (and not only in parades) have a special disguise in the form of gray and black graphic elements on a white background. But in the presented version, there was no such disguise on military vehicles. Complexes in service with the Armed Forces of the Russian Federation were completely white.
In this regard, assumptions were made as to why the Arctic anti-aircraft systems will be demonstrated in such a color version.
One of the opinions is that after the combat training use of the complexes in the northern latitudes, they decided to change the color option to white (without additional graphic elements). Another opinion belongs to the category: "You do not need to look for a black cat in a black room, especially if it is not in it." We are talking about the fact that the same characteristic black-and-gray elements will be applied later (immediately before the parade) - together with the formal version of the design in the form of a red star and St. George's ribbon.
Recall that the military parade on Red Square will be held tomorrow - June 24. In Russia, this day is declared non-working. Foreign guests (politicians) have already begun to arrive in Moscow, as well as military parade participants from other countries. The May 9 parade was postponed due to the epidemiological situation. The new date is associated with the parade of winners on June 24, 1945.