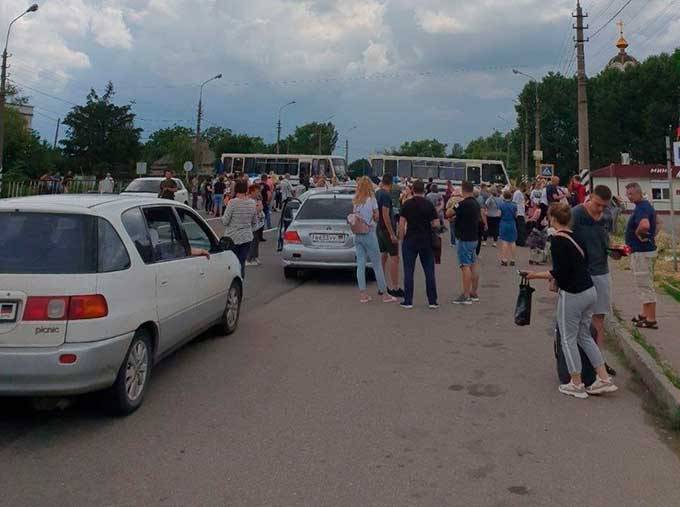 Genie from the bottle
The decision of the DPR government to open the border with Ukraine (before the epidemiological situation changed - exclusively towards Ukraine) immediately turned into a scandal. As usual, there were much more willing people than border guards could draw up, and many rushed to the border even without issuing relevant documents: what if it works out? As a result, there weren't enough buses, and according to social networks, the process of passing KPVV Elenovka became longer due to the decision of border guards to photograph and fingerprint everyone leaving the republic. The reliability of this information is being clarified, but it seems quite possible, since the quirks of the Donetsk CPVV have long become a byword.
A thunderstorm added due to which electricity was temporarily lost. Rumors (not confirmed by anything) that the CPVV will work only one day have also spread, in connection with which hysteria has begun for individual citizens. As a result, about two hundred people passed to Ukraine. The rest will have to try their luck the next day.
Admittedly, the number of people wishing is amazing: the epidemiological situation in Ukraine, especially in the occupied part of Donbass, leaves much to be desired. In addition, everyone entering Ukraine will have to undergo mandatory observation or self-isolation. Donetsk and Lugansk did not want to open checkpoints at all, but Kiev skillfully provoked discontent among people by announcing the opening of all CPVV unilaterally (and immediately recalling it). As a result, in order to reduce the passions, the LDNR authorities made concessions.
Where are you going?
Involuntarily the question arises: who are all these people and what did they do on the territory of the republics? Usually, a significant part of the human traffic is made up of pensioners and shuttle traders (to imagine the volumes of counterfeit trade, it's enough to know that, according to Kiev, 300 thousand tons of potato were imported from LDN last year). However, at the moment, mandatory observation / self-isolation and unclear prospects of the possibility of return were supposed to reduce the number of people wishing to enter Ukrainian territory. But they, however, are still too many.
Of course, this issue has attracted attention before. Passenger traffic between the republics and LDNR is always extremely intense, even higher than with Russia. It is clear that there are still students, people who look after their relatives, and those who work in Ukraine, although all these people are unlikely to cross the border too often, pushing themselves in lines for many hours. Nevertheless, it turns out that a colossal number of people with unclear goals are steadily traveling to Ukraine from the republics? And this, of course, does not look too safe.
And not only for the republics, but also for the "tourists" themselves: after all, even participation in the preparation and conduct of the referendum or elections, membership in public movements (mandatory for all state employees and civil servants) is enough for the harsh article "aiding terrorism" with terms from 7 to 15 years.
Other values
Apparently, a whole pool of people has formed in the republics of Donbass who are accustomed to traveling between the two sides of the military conflict, and they go, as they say, "for matches." Moreover, they, apparently, are not too worried about the moral and ethical side of the issue, as well as their own safety (there are plenty of cases when the MGB of LDNR sits agents recruited by the SBU for space periods). It does not bother that at the same moment, while they cross the line of demarcation, bloody battles are nearby and civilians are dying. The whole essence of the civil war and the significance of its victims fade before the philistine concerns and selfish interest.
Probably, in the foreseeable future, the government of LDNR will still have to take unpopular measures and introduce additional restrictions on crossing the demarcation line. Without this, a divorce from Ukraine, as well as integration with Russia, is simply impossible. People who do not actually live in LDNR, but who go "to spend an apartment" or with some other, not too important (or not too obvious) intentions, should reduce the number of visits to the republics and it is advisable to record every visit or exit to Ukraine and its reasons .
And it's best to make a choice once and for all: either you are with Russia, or with Russophobic Ukraine. However, sometimes it seems that this choice was finally made by far not all in the government of LDNR, not to mention the townsfolk.