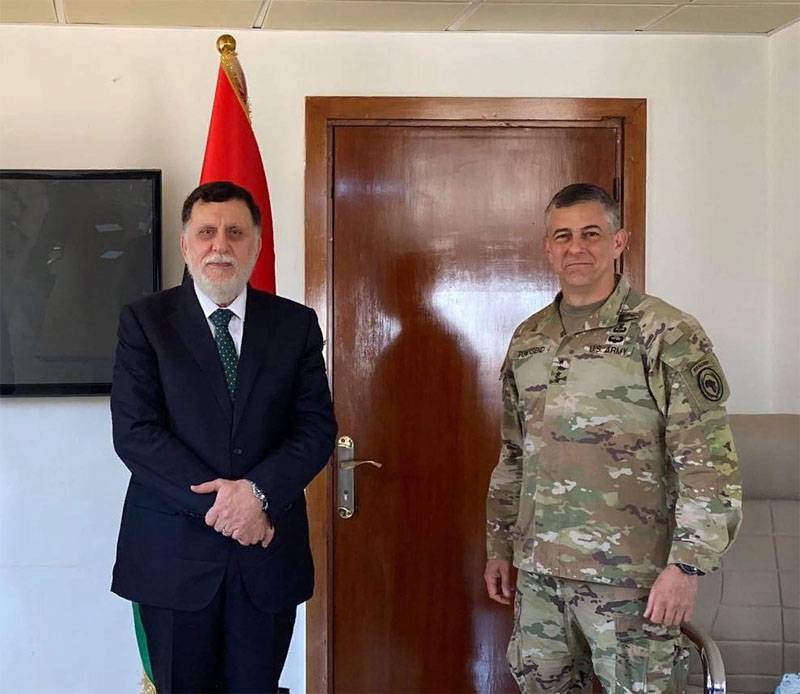 From Libya, reports are coming that a delegation of the US military has arrived in Tripoli to meet with the leadership of the so-called Government of National Accord. According to recent reports, the head of the US military delegation is the commander of the US African military command Stephen Townsend. The delegation includes the US Ambassador to Tripoli.
During negotiations with Faiz Saraj, the topic of the state of affairs on the Al-Jufra-Sirt line was reportedly raised. This trend has been rumored over the past few days in connection with threats coming from the Egyptian president. Abdel Fattah al-Sisi previously stated threats posed by pro-Turkish militants fighting on the side of the PNS, and added that if PNS forces along with the militants cross the Al-Jufra-Sirt line and take the city of Sirte itself, then Egyptian troops will cross the Libyan border.
The Tripoli Foreign Ministry called this statement "equivalent to a declaration of war."
It is important to note that the "area of ​​responsibility" of the United States AFRICOM spread throughout Africa with the exception of Egypt.
The meeting of representatives of the American delegation with the Libyan PNS was attended by the Minister of the Interior of the Government of National Accord.
If you look at the photo to the material, then its psychological aspects are as follows: Saraj does not look like a master at all. The position of his hands gives him obvious nervousness. But the American general feels more than confident.
For quite some time, the US military tried, at least officially, to avoid direct contacts with various political forces in Libya. Now contact with the PNS has taken place. It remains to wait what follows after this. Did General Townsend Saraj and his Turkish partners dissuade him from further attack on the east of Libya or, on the contrary, gave the go-ahead.
AFRICOM previously published satellite imagery that allegedly captured "Russian fighters and bombers" at the Libyan airfield in Al-Jufrah.