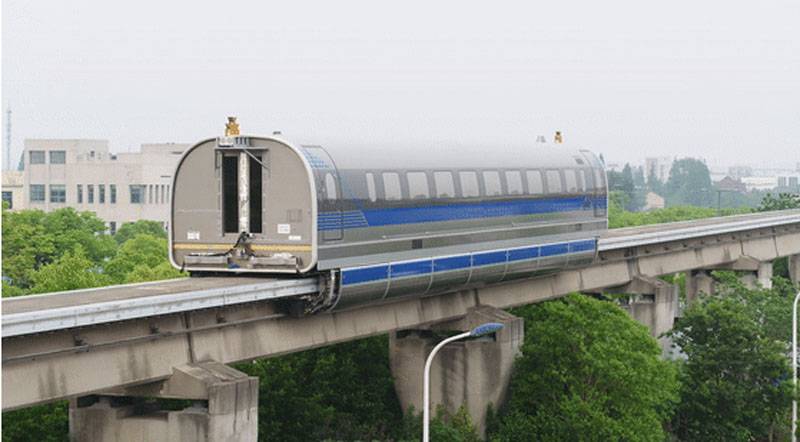 In the section "Talk about science" today there is a small story about how in China a modernized version of the high-speed Maglev vehicle was tested (using the combination of the words "magnetic levitation"). Usually this vehicle is called a train. It moves along a peculiar magnetic cushion on a special line, which is a canvas elevated above the surface of the earth.
To run Maglev trains, relatively small sections several kilometers long were created. For example, from the airport to the city. Typically, when moving, the speed of such a train reached 431 km / h (in China). At the same time, it could reach 470-500 km / h, but it was deliberately limited due to increasing risks.
The upgraded version of the Maglev is able to accelerate to a speed of 600 km / h and even exceed this bar. The train has already been tested by CRRC Sifang specialists at the test line at Tongji University in Shanghai - the 600 km / h bar was successfully overcome during such tests.
To reduce the risks of getting off the canvas, Maglev implemented the principle of "grasping" its edges. The design is such that, for example, if there is a roll on one side, the system will immediately begin to align its position, and the "girth" will not allow, as they say, to fly off the road.
It should be noted that earlier in Japan they announced the maximum speed of such a train at 603 km / h. But never a speed above 600 km / h was not used in a practical version. Now it is planned that at such speeds the updated Chinese Maglev will be able to carry passengers.
Given the fact that, from the point of view of passenger transportation, the project has been causing losses for several years, it is important to note the following: Chinese space industry is very interested in it. The fact is that there is a project according to which the acceleration system when using the effect of magnetic levitation could be used to launch a certain payload into space. In particular, the option is being considered with the launch of satellites into relatively "low" orbits.