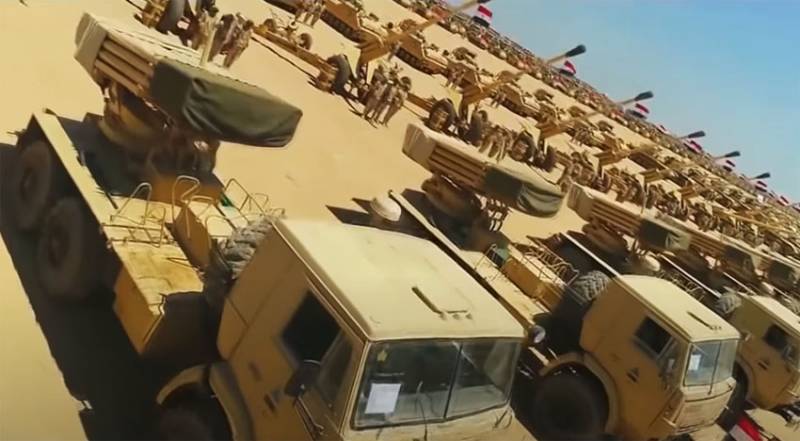 Libyan military-political tangle continues to get confused. In Saudi Arabia, they expressed their full support for Egypt, which has recently been increasing the number of forces and assets on its border with Libya. Recall that earlier the command of the armed forces of Egypt gave the order to transfer dozens
tanks
, Infantry fighting vehicles, helicopters, MLRS and other equipment closer to Libya.
In the Arab world, they comment on the words of Egyptian President Abdel Fattah al-Sisi about the readiness to send troops to Libya.
The so-called Libyan National Accord Government, which actually broadcasts Turkish policies, accused Cairo of preparing for aggression against the Libyan state. The representative of the armed forces of the PNS said that the actions of Egypt "threaten the sovereignty of Libya." In Cairo, retorted: "But Turkey's actions do not threaten sovereignty?"
In Saudi Arabia, a statement was made that Egypt has every right to use its troops to protect its borders from militants who are used in the PNS. These are militants who, with the help of Ankara, were transferred to Libya from the province of Idlib (Syria).
MFA CA:
Saudi Arabia upholds Egypt's right to defend its borders against terrorism.
Some time ago, Egyptian President Abdel Fattah al-Sisi warned pro-Turkish forces in Libya, noting that they should not organize provocations against Egypt. At the same time, al-Sisi called the country's only parliament elected by the Libyan people the only legitimate force in Libya. It is important to note that the Libyan National Army of Khalifa Haftar is also supported by the country's parliament.
According to the Egyptian president, if the threat from the PNS and the militants grows, he is ready to send troops to Libya. Today, statements were made from Cairo that the Egyptian army could enter Libya if the PNS and pro-Turkish militants cross the Al-Jafra-Sirt line and occupy this city.
At the moment, the advanced parts of the PNS, actively supported by Turkey, are located on the outskirts of Sirte.
At the same time, the PNS Faiz Saraj refused to participate in the negotiations in the format of the League of Arab States, saying that such a meeting "will lead to a split in the Arab world." Such a decision was condemned by the PNS in the UAE, Egypt, and Saudi Arabia.