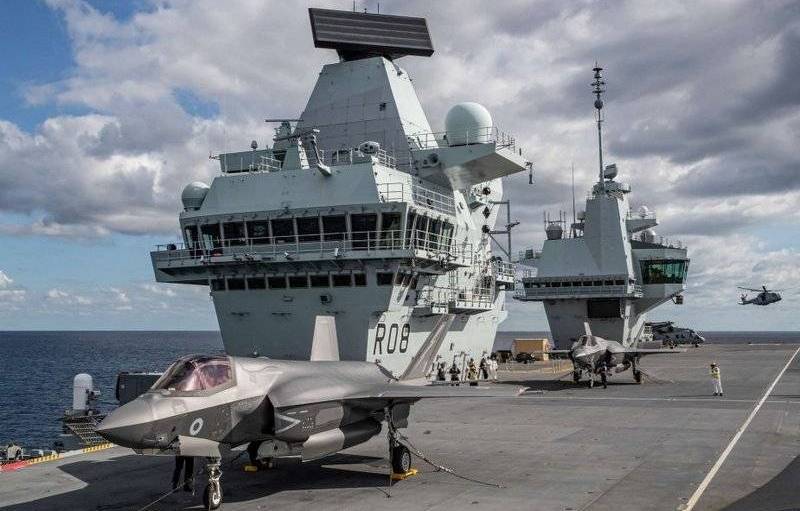 At the british royal
fleet
A new flagship appeared. According to the portsmouth.co.uk portal, the naval command of the mill approved the use of the HMS Queen Elizabeth aircraft carrier in this capacity.
According to the press service of the British Navy, the Navy command announced the deployment of the first full-fledged carrier group, the flagship of which will be Queen Elizabeth. According to the results of recent tests, during which the air wing of the ship worked out the "intensive flight program", a decision was made about the readiness to fulfill the first operational mission of the British ACG. Deployment is scheduled for next year, it is planned to send an escorted carrier to the Mediterranean Sea, the Persian Gulf and the Far East.
The aircraft carrier Queen Elizabeth was officially incorporated into the British fleet in December 2017. Start of construction - 2009 year. Its total displacement is 70,6 thousand tons, length is 284 m, width is 73 m. The power plant is two gas turbines MT30 (Rolls Royce). Speed ​​- up to 25 nodes. Sailing range - to 10 thousand miles. Crew - 670 man.
The 35th-generation Lockheed Martin F-24B fighter aircraft is the Queen Elizabeth's native aircraft. The staffing of the aircraft carrier aircraft group in the "oceanic" version will be 35 F-9B fighters, 4 Merlin anti-submarine helicopters and 5 or XNUMX Merlin helicopters in the AWACS variant. In addition, the aircraft carrier can take on board army helicopters
aviation
- AH-64 Apache, AW159 Wildcat and even CH-47 Chinook of various modifications.