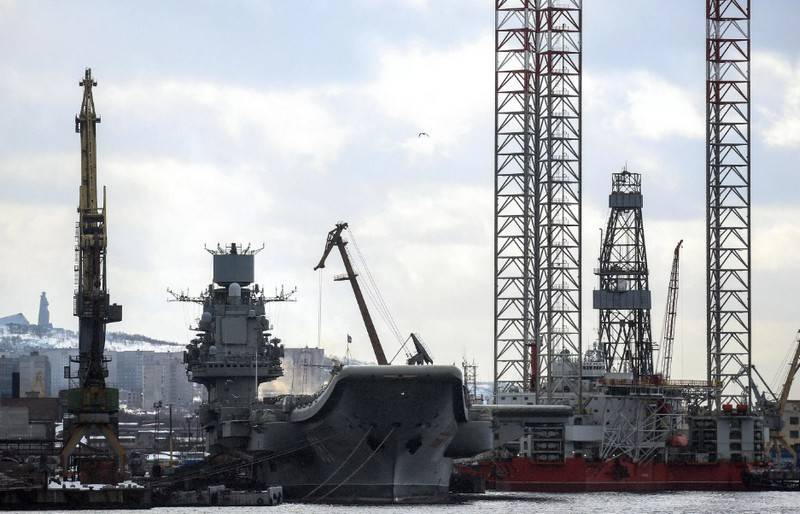 The final cost of repairing the only one in Russia is determined
navy
aircraft carrier cruiser "Admiral Kuznetsov". According to information published on the public procurement portal, USC will pay the contractor 251,4 million rubles.
According to the portal, only one contractor announced the tender for the repair of an aircraft carrier announced in early May, which offered to make repairs for a maximum amount of 252,5 million rubles, but as a result of pre-contract negotiations, it was reduced to 251,4 million rubles. The name of the contractor company is still unknown, the contract itself has not been concluded, but according to the terms of reference, it must complete all work before August 31, 2022. The contract expires on November 30, 2022.
The list of work that the contractor must perform includes cleaning the ship's superstructure on the starboard side and painting it (a little more than 2 thousand square meters). It is also necessary to repair the body structures of the superstructure. It is specified that scaffolding will be installed and then the contractor will clean them.
Recall that the repair and modernization of the Admiral Kuznetsov Tavkr began in 2017. It was originally planned that the cruiser will be delivered to the customer in 2020, but a series of accidents on the ship led to the fact that the timing of the return of the TAVKR began to shift to the right. According to the latest information voiced by the head of the United Shipbuilding Corporation (OSK) Alexei Rakhmanov, most likely the cruiser will be delivered to the customer at the end of 2022.
Currently, "Admiral Kuznetsov" is located at the 35th shipyard in Murmansk (Zvezdochka branch), where work continues on the creation of a dry dock, including for docking TAVKR. As previously reported, the work is being delayed, the commissioning of the dock was postponed from 2020 to 2021. In May, USC terminated the contract with the contractor for the construction of the dry dock.