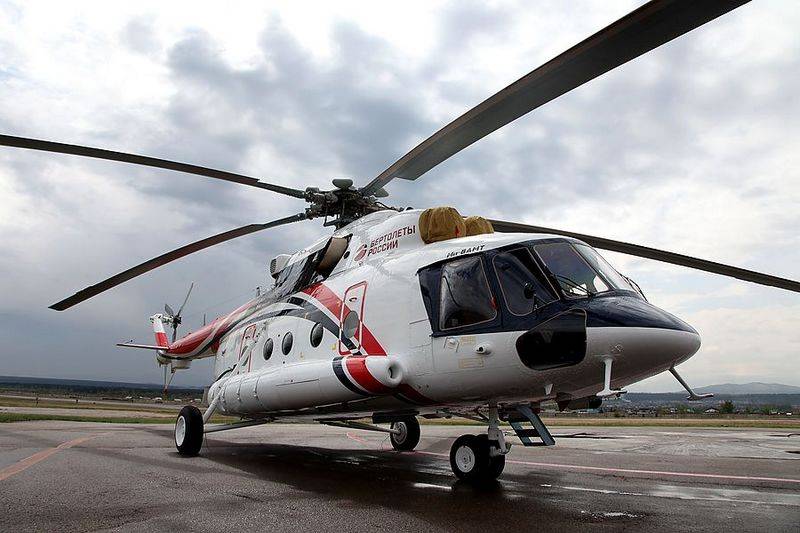 In Russia, mass production of the civilian version of the Arctic version of the Mi-8AMT helicopter has begun. According to the Rostec press service, the first production car has finished testing and is ready for transfer to the customer.
It is reported that the first Mi-8AMT helicopter was assembled at the Ulan-Ude aircraft factory and has already completed the flight test program, having passed the acceptance procedure. A feature of the machine is a special heating system for the transmission units, which allows the engines to be started even when they are outdoors for a long time at low temperatures. In addition, the helicopter has improved thermal protection, additional fuel tanks. The possibility of installing a splashdown system is also claimed. The flight range of this version of MI-8AMT is 1400 km, while in the air - up to 7 hours.
According to the CEO of Russian Helicopters Andrei Boginsky, the new Mi-8AMT will be in demand among a wide range of Russian companies and government agencies operating in the Arctic.
It contains the pilot complex of the PKV-8 helicopter, a satellite navigation system for the commander and co-pilot, weather radar 8A-813K, the latest navigation and landing equipment and a Doppler speed and angle drift meter CMA-2012C (R). The helicopter is also equipped with additional internal fuel tanks to increase flight range.
- It was said in a press release from the Ulan-Ude aircraft factory, released in 2017 when the helicopter was transferred for testing.