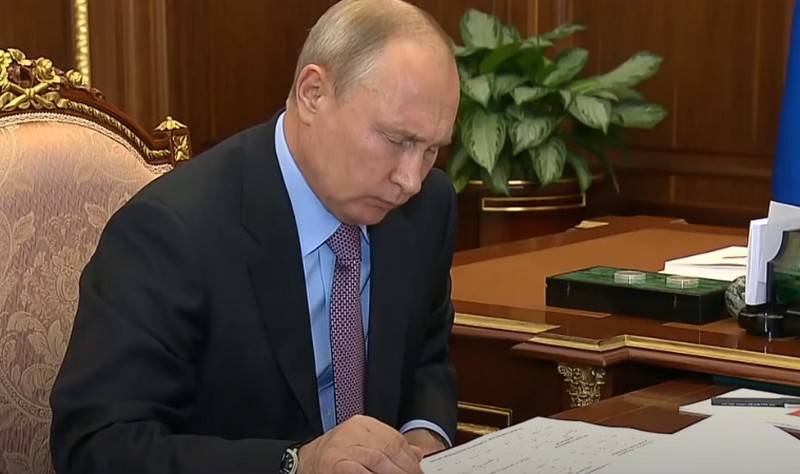 Russian President Vladimir Putin published an article in the American edition of National Interest, "75 years of the Great Victory: shared responsibility before
history
and the future "dedicated to the Second World War. The material was published in English, the Russian version was published on the Kremlin website and" Rossiyskaya Gazeta ".
According to Putin, today's European politicians are trying to reconsider the reasons for the outbreak of World War II, thereby equating the USSR with Nazi Germany. The main criticism was the resolution adopted by the European Parliament on September 19, 2019, in which European deputies are actually trying to equate the USSR and Nazi Germany.
Putin draws attention to the fact that World War II could have been prevented if Great Britain and France had acted more decisively, and the League of Nations created after World War I had shown its effectiveness, which was not done. The proposals of the Soviet Union to create a European security system were ignored.
The Russian president accused a number of European politicians, in particular Polish, of trying to withhold information about the "Munich agreement", which resulted in the division of Czechoslovakia. Putin recalled that Hitler and Mussolini, as well as the heads of government of Great Britain and France Neville Chamberlain and Eduard Daladier participated in it, and the section itself was fully approved by the League of Nations.
Putin noted the contribution of the USSR to the defeat of Nazi Germany. According to him, the contribution of the Soviet Army to the defeat of the Nazis is three quarters. Against this background, articles are increasingly appearing in the European press trying to distort the truth about World War II and the reasons for its beginning, especially the Molotov-Ribbentropp Pact.
The President called on other countries to declassify archives regarding documents on the Second World War and reiterated Russia's consent to international cooperation.
We do not know if there are any secret "protocols" or additions to the agreements that a number of countries have concluded with the Nazis. The only thing left for us is to take their word for it,
- Putin stressed.
In conclusion, the Russian president said that he did not intend to assume the role of a judge in matters of the history of World War II, but believed that everyone needed the truth about this war.
For our part, we note that the published material caused an ambiguous reaction. According to some political experts, Putin's article "blew up the Western media," however, Russia responded differently to it.