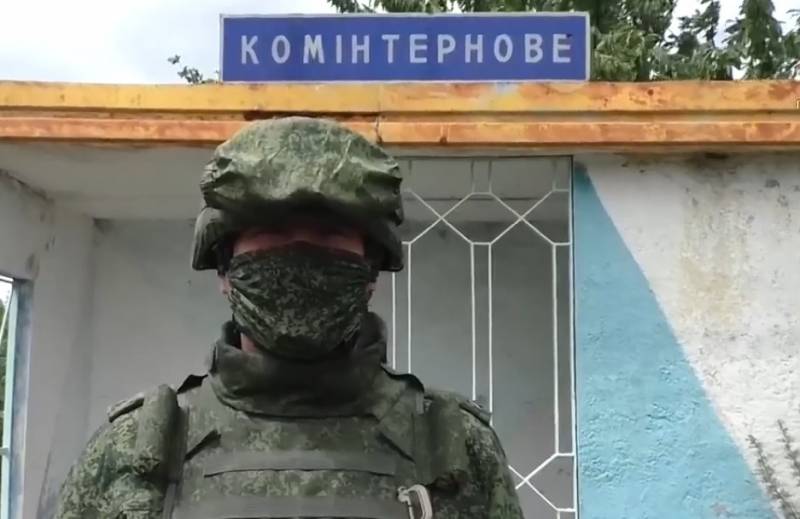 Yesterday at the Gorlovka checkpoint, better known as Mayorsk, a team of communal services workers who carried out restoration work was subjected to sniper fire from the positions of the Ukrainian Armed Forces. Fortunately, none of the workers were injured.
This was reported by the mayor of Horlivka Ivan Prikhodko.
It is noteworthy that three minutes before the shelling a Ukrainian drone circled over the checkpoint. This means that the shooters had a clear idea of ​​who they were firing at.
The DNR NM press service reported yesterday that on July 17, servicemen of the 10th Armed Forces Brigade of the Armed Forces fired on the village of Kominternovo from 120-mm mortars, the use of which is prohibited by the Minsk agreements. Recall that earlier Kiev actually announced the withdrawal from these agreements.
As a result of the shelling, a residential building and farm buildings were damaged.
The press service of the operation of the Joint Forces of Ukraine in turn today reported 14 violations by military personnel of the republics of Donbass over the past day. Among the Ukrainian military, according to the OOS, there were no losses. The day before, however, the 25-year-old marine of the Armed Forces of Ukraine, who served in the Donbass as a grenade thrower, was liquidated, as it became known from the press service of the command of the Marine Corps.
The summary also details the strikes of NM LDNR on the positions of the Armed Forces, but does not say anything about the shelling of houses or civilians on their part. This indicates a significant difference in the methods of warfare between the warring parties.
In the headquarters of the OOS, they also said that yesterday they managed to destroy a military truck and ammunition depot near the mortar position of the defenders of Donbass.