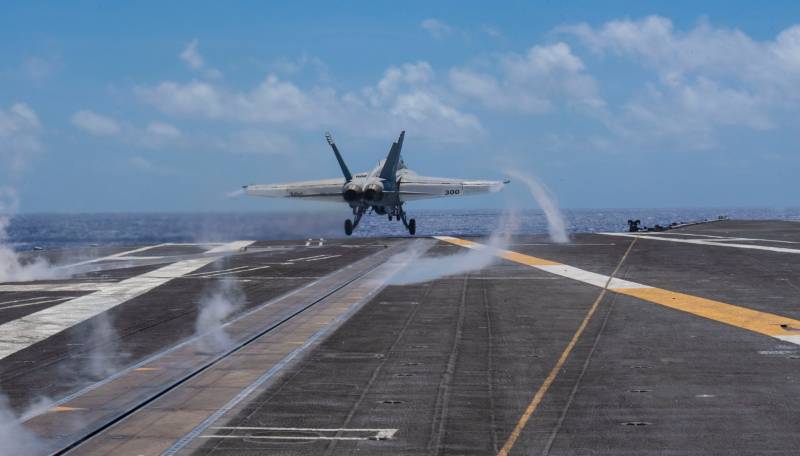 The American media publishes information about an emergency situation that arose with the carrier-based carrier-based fighter aircraft Theodore Roosevelt. American Military News reports that the F / A-18F Super Hornet, attributed to the wing of an aircraft carrier, crashed into the Philippine Sea.
According to the materials of this and other American information resources, two pilots who were in the cockpit of a combat aircraft were forced to eject. Their searches were organized, and after a while they were discovered and hoisted aboard the helicopter.
He brought the catapulted troops aboard the aircraft carrier Theodore Roosevelt.
In the publication Star & Stripes (USA), with reference to the command of the United States Navy, it is reported that an investigation of the incident with the F / A-18 aircraft has begun.
At the moment, it is stated that the condition of the pilots is good, they did not receive any serious damage at the time of the splashdown. They also managed to avoid hypothermia.
The information is confirmed by the US Pacific Command.
The aircraft carrier "Theodore Roosevelt" in recent years often appears in the summaries. Some time ago, the commander was replaced on it (in American naval terminology - captain) due to the fact that the previous one through the media spoke about the difficult situation with the infection on board the aircraft carrier. The ship was forced to be disinfected in one of the ports of the island of Guam. Not so long ago, he again went to sea. On board there are about a third fewer troops than usual. It is stated that sanitary measures are followed.