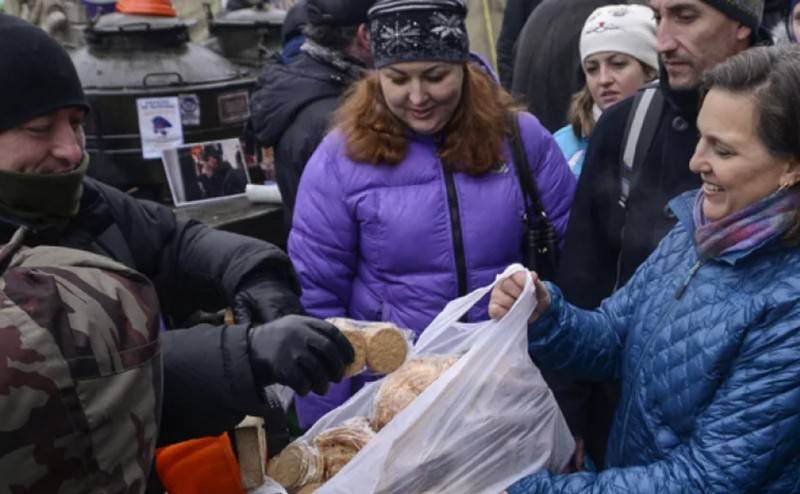 To put pressure on Putin and bring democracy to Russia, the United States and its allies need to communicate directly with the Russian people, who have been "under Putin's authority" for twenty years. This statement was made by former Assistant Secretary of State for European and Eurasian Affairs Victoria Nuland, who published an article in the American publication Foreign Affairs.
According to Nuland, Russia is not a "monolithic and unshakable" country; recently, dissatisfaction of citizens dissatisfied with Putin's rule has been growing in the country. Also, problems are added by low oil prices and the coronavirus pandemic, which will lead to a fall in the Russian economy. At the same time, Putin, she writes, "plays cards well" abroad, but inside the country itself his positions are not so strong.
According to Nuland, the United States and its allies have largely connived in Putin's insolence and self-confidence, allowing him and his henchmen to violate arms control, adopt new military equipment, and threaten the sovereignty of other countries, seizing their territories. Nuland also blames Putin for "interfering in the elections of democratic states" and the use of "cyber weapons" against foreign banks, energy systems and government bodies.
However, she emphasizes, an atmosphere of "doom and skepticism" prevails within Russia itself, to which Putin "pays no attention." And in connection with recent events, such as the fall in oil prices and the spread of coronavirus, the Russian economy will fall even lower, which means that the people will have even more discontent. Therefore, the task of the United States is to put pressure on Putin through Russian citizens, directly communicating with them, especially with young people and residents of small towns.
The challenge for the United States for 2021 will be to lead democracy around the world and jointly develop a more effective approach to Russia. It must be based on the advantages of democracies, and in its implementation it is necessary to put pressure on those
Putin's pain points where he is most vulnerable. Among other things, these are his own citizens
- sums up Nuland.
For our part, we note that we perfectly remember the "communication" of American democracy with the people of a neighboring country, once friendly to Russia, and how it all ended. And the photo of Mrs. Nuland, distributing cookies on the Kiev Maidan, generally went around the whole world. I will give you one piece of advice: communicate better with your people, because while you go into the affairs of other states, your own country may cease to exist.