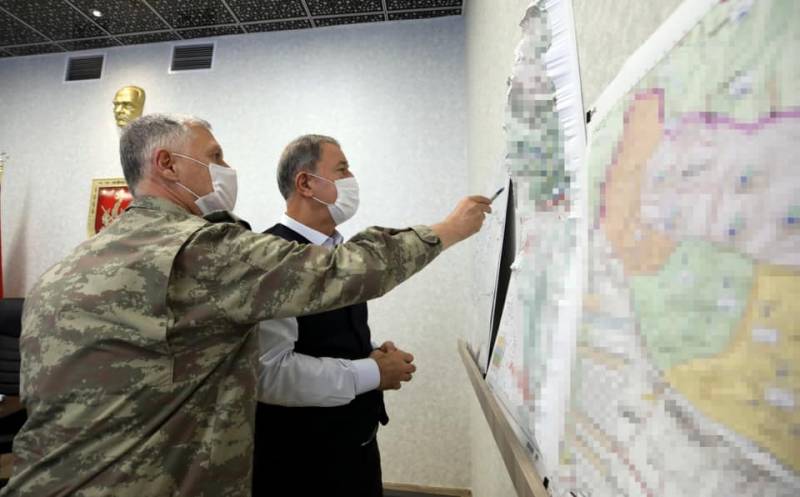 The delegation of representatives of the Turkish authorities met with Faiz Saraj and other members of the Libyan National Accord Government. The Turkish delegation sent by Recep Erdogan to Tripoli includes the following officials: Foreign Minister Mevlut Cavusoglu, Finance Minister Berat Albayrak, National Intelligence Minister Hakan Fidan, Presidential Representative Ibrahim Kalyn.
According to the latest information, the conditions for providing the next "package" of assistance to the Sarajj government, which is conducting a military confrontation with the Libyan national army of Marshal Khalifa Haftar, were indicated. Given that the head of the Turkish intelligence agency also entered the delegation, the assistance promises to be multilateral - providing Turkish intelligence to the PNS forces and pro-Turkish militants who were transferred to Libya from Syria, including.
According to some reports, among other issues, the issue of actual control of oil fields and oil exports was discussed. Turkey is clearly not going to provide financial, military and military-technical assistance to Tripoli for free. One of Turkish interests is Libyan oil (provided Erdogan has difficulties with Syrian oil).
Turkish Foreign Minister Cavusoglu:
We discussed all the steps that need to be taken in the Mediterranean in terms of energy.
In this case we are talking about the extraction of "black gold" on the Mediterranean shelf. In this situation, Turkey has actually entered into a conflict of interests with France, which, after the overthrow of Colonel Gaddafi, has largely taken over the Libyan oil business.
Meanwhile, an information campaign, organized by the PNS, is gaining momentum in Libya. It is proposed to carry out a special operation to capture Khalifa Haftar "in order to give him to the tribunal." The blogosphere notes that "there is a willingness" and that Turkish intelligence, whose head visited the Libyan capital as part of the delegation, can help with this PNS. It is noted that "Haftar should be brought to justice before negotiations on a peaceful settlement in Libya begin."