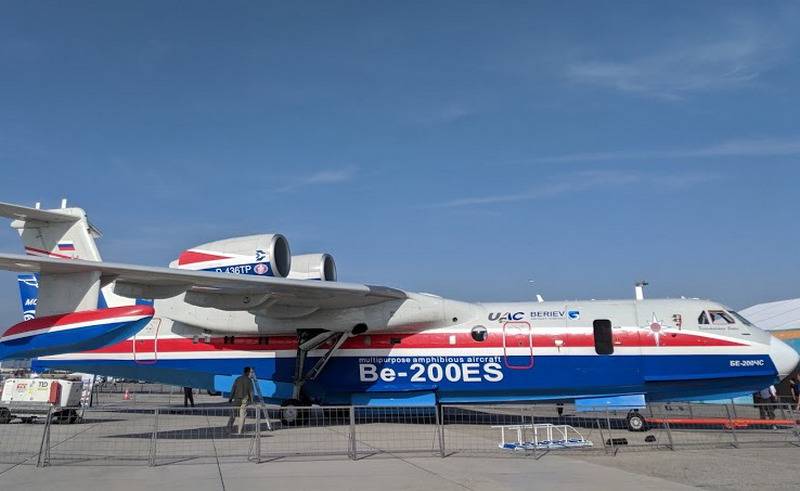 Be-200 at the TEKNOFEST-2019 in Istanbul
Ankara is considering the purchase of Russian Be-200 amphibious aircraft, which are currently rented to extinguish fires in Turkey. Such a possibility was announced by Fizuli Mollaev, a member of the board of directors of SMS Savunma Sanayi.
As previously reported, Russia leased two Be-200 aircraft to Turkey to lease fires in the country for four months. A request for assistance came from the Turkish Ministry of Agriculture and Forestry. Russian aircraft, controlled by Russian crews, will be on duty in the vicinity of Antalya, Izmir and Bodrum.
The representative of the Turkish company, which won the fire extinguishing tender, said that they had considered options for leasing aircraft manufactured in Canada and Japan, but the Russian Be-200s "won the competition."
But we were determined to work with Russian aircraft. We saw the Be-200 at the Teknofest-2019 exhibition in Istanbul, compared their potential with other aircraft. The Be-200 was created to save people, infrastructure, that is, it is a multi-purpose machine, which is much better than machines of the same type from other countries
- said Fizuli Mollaev.
According to him, the company intends to test the Be-200 aircraft and, based on their outcome, redeem in the future. At the same time, he emphasized that the option of ordering more Russian aircraft is not ruled out.
We will see how these planes show themselves in Turkey during the forest fire season, and the decision on their purchase will depend on this. With a favorable outcome of the trial period, we are considering in the future the acquisition of more aircraft
- Mollaev told reporters.