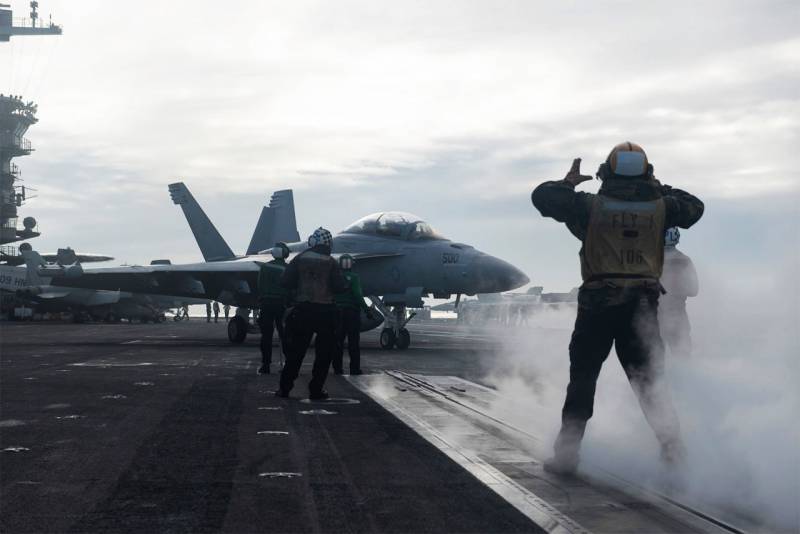 In the Chinese edition of Sohu, material was published that examined the likelihood of a direct military conflict between the United States and Iran. In particular, it is noted that "after the victory in the Cold War over the Soviet Union, the United States donned the mantle of world hegemon" and try to solve any issues with the help of economic and military pressure.
The Chinese author considers not only the deployed numerous military bases, but also aircraft carrier groups as the main striking force in regions remote from the United States. The article says that it was with the help of the AUG that the Americans at one time attacked Iraq, eventually turning the country into ruins.
From the material of the Chinese author, who offers to drown the American aircraft carriers:
Now, Iran can face the same problem. The Americans took their planes into the air from the aircraft carriers, they destroyed the important infrastructure of Iraq, the Iraqi Air Force could not take off from airfields. So what should Iran do if the United States decides to use military force against it? The best way is to drown the American aircraft carriers before they begin to rise.
aviation
.
Further, the author reflects on whether Iran has military means to destroy American aircraft carriers, and comes to the conclusion that Iran does not have such means today ...
From the article:
The huge 100 thousandth American aircraft carriers are reliably protected. AUGs have a powerful air defense system, anti-ballistic weapons. This is a real iron wall in the sea. A massive missile attack would help to sink the aircraft carrier, but Iran does not have enough missiles that could break through the air defense missile defense of the aircraft carrier group.
Where does the author get information that Iran does not have "enough" rockets, of course, he does not report.
In the end, the author, who himself actually offers Iran to drown the US Navy aircraft carriers, comes to the conclusion that if Iran tries to destroy an American warship, "in the end, the fate of this country will be even worse than the fate of Iraq." An interesting "logic" according to Sohu: in order for Iran not to be destroyed by the USA, it needs to sink American ships of American AUGs, but it cannot do this, which means that the country "will be destroyed anyway" ...
Comment by Xiao Cha: