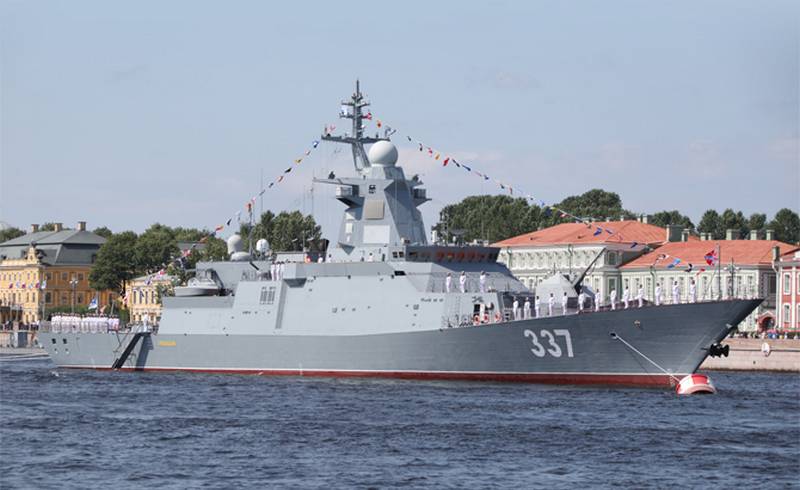 The head corvette of project 20385 "Thundering", which is completing state tests, is planned to be transferred to
fleet
In the end of August. This was stated by the general director of the "Northern Shipyard", who built the ship, Igor Ponomarev.
According to Ponomarev, this week the corvette will return to the GCC after the next stage of testing for minor improvements. After that, "Thundering" in early July will go to the final stage of state testing, after which it will be transferred to the Navy. The duration of the tests, which today have already been 9 months, Ponomarev explained by the desire of the Ministry of Defense to "thoroughly check the lead ship."
The question concerns only a more thorough verification by the Ministry of Defense of all the technical characteristics of weapons systems, energy, and so on.
- he explained.
The 20385 Project "Thundering" is the lead ship of the series. Laid down in February 2012, launched in June 2017. Construction was delayed due to the non-delivery of German MTU power plants. The corvette was completed with Russian diesel engines 1DDA-12000 of the Kolomensky plant. The unit consists of two 16D49 engines with 6000 horsepower.
The ship is a further development of project 20380. Designed to detect and destroy surface enemy ships or submarines, organize landing, guard the coastal zone, escort other ships.
Displacement - 2200 tons, length - 104 m, width - 13 m, speed - up to 27 knots, cruising range - 3500 miles, autonomy - 15 days crew - 99 people.
The armament includes the universal naval rifle complex (UKSK) for the Caliber, Onyx and possibly Zircon, Redut air defense systems, the 100-mm A-190-01 artillery system, two AK-30-mm anti-aircraft artillery systems 630M, as well as anti-submarine complex "Package".