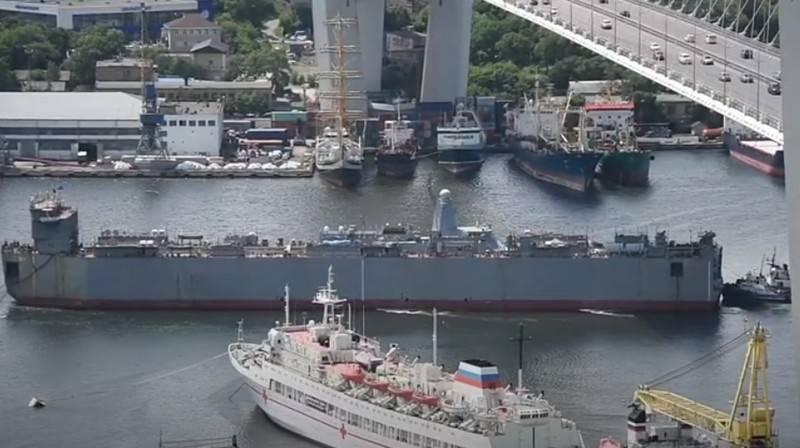 The latest corvette of project 20380 "Hero of the Russian Federation Aldar Tsydenzhapov", built in Komsomolsk-on-Amur for the Pacific
fleet
, on Tuesday arrived in Vladivostok to conduct factory sea and state tests. This was reported by the press service of the Pacific Fleet.
The transport and launch dock "Zeya" with the corvette "Hero of the Russian Federation Aldar Tsydenzhapov" arrived in Vladivostok from Komsomolsk-on-Amur. The dock, accompanied by tugboats, entered the Golden Horn Bay, proceeding under the Russian and Golden Bridges
- said the official representative of the Pacific Fleet Nikolai Voskresensky.
As explained, in the near future the corvette will be withdrawn from the floating dock and moved to the delivery base pier. According to the plans of the fleet, at the end of the month, the crew will settle on the ship, mooring, factory navigation and state tests will be carried out. According to the report, tests of the corvette will be held in the waters of the Sea of ​​Japan. The launch of the ship into the Pacific Fleet is scheduled before the end of the year.
The corvette of project 20380 "Hero of the Russian Federation Aldar Tsydenzhapov" was laid in Komsomolsk-on-Amur on July 22, 2015, on September 12, 2019 it was removed from the boathouse to the outfitting and transport-launch floating dock, and on October 21, 2019 it was physically launched from the dock. On May 25, 2020, it was introduced into the Zeya transport floating dock for transportation to Vladivostok.
Project 20380 corvettes are classified as 2nd-class multipurpose combat surface ships of the near sea zone. At the same time, NATO considers project 20380 too large for corvettes, and defines them as frigates. Project 20380 was developed by the Almaz design bureau.