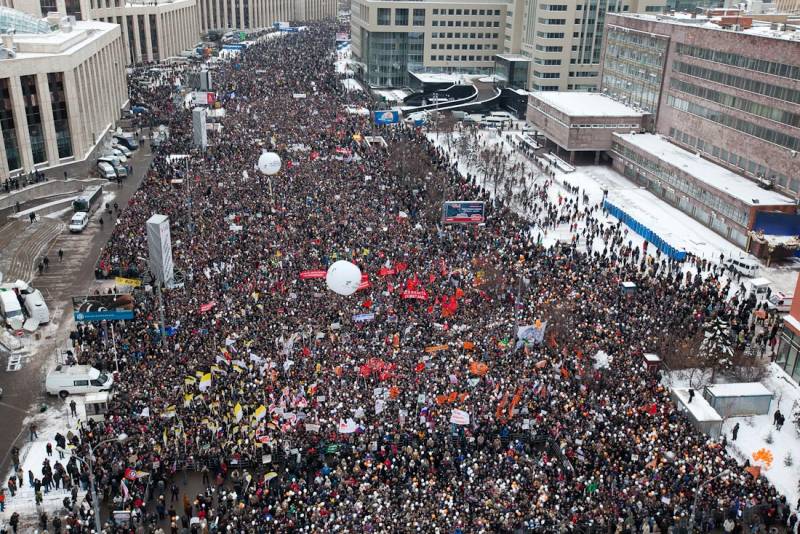 PR and its absence
The question is sometimes asked by Belarusians: why should such articles be published about relations between the two countries and what could change from that? All trouble is that: in Russia, strangely enough as it seems to anyone, there is quite an acting political system. And public opinion is even present, and people are actively discussing various acute political problems. And the funniest thing is that this very public opinion quite "presses" the politicians.
Simply, according to established cliches, there is nothing similar in Russia and cannot be by definition. Hence, these are amusing "discrepancies": there is public opinion in Russia, but practically no one is trying to work with it (seriously). It comes to the point of absurdity: Mr. Lukashenko hired "specially trained people" ... to create a "positive image in the West", but "creating a positive image in Russia" did not interest him.
Only a very wild person today is not aware of how commercial advertising works and what is "product promotion on the market". The same applies to PR-technologies: they exist, they act, and only a very naive voter can not suspect their existence (as the "case of Grudinin" shows, there are too many such "naive voters" even among politicized bloggers). Nevertheless, the presence of those same PR-technologies is foolish to deny, just as foolish to deny their use.
They are, they cannot but be. And even the very same Ukraine and Belarus tried to create
in the West
positive image of oneself, loved ones. Quite to themselves, people understand what political PR is, and are active in this direction. Ukraine (for certain reasons) is less interesting to the author, but Belarus, yes. It's interesting here. This Republic of Belarus has made and is making serious efforts to, in spite of everything, create a positive image in the West. This is bad? Well, why? Good.
The trouble is different, the trouble is that in Russia no one has such a "bright image" of Belarus
seriously
did not even try to create. For some reason, it was deemed unnecessary to do so. Again and again: PR is a serious thing, which can be easily determined by the results of its absence, such as, for example, in the direction Minsk - Moscow. Belarusians categorically do not want to admit that Russia can be any better than them, so it's absolutely impossible for them to recognize the simple fact that Russia is a much more free state. To recognize the presence of a certain public opinion and "politically active class" in Russia is also.
Therefore, a very simple formula is taken in the work: there is the Kremlin, there all decisions are made. What about the people? And the people are silent. Therefore, no one in Belarus tried
Really
work with Russian public opinion. It is believed that this is not necessary, useless, redundant. No, Mr. Lukashenko is actively working "for Russia", but ... exclusively with the Kremlin.
For some reason, a clear and stable idea has formed in Belarus that all political decisions / discussions in Russia go exclusively through the Kremlin. No other way. Even the Ukrainians did not have such an absolute conviction (there simply was Russophobia). But in Belarus there is such a mental "Putin-centricity" of Russian political discourse. What is clear to a Russian person is not quite and not immediately.
The trouble is: there is a single language space of the Russian Federation - the Republic of Belarus, but for some reason a single media / information space has not arisen. Rather, it disappeared after 1991. And for some reason, Belarusians derive an understanding of the political processes taking place in neighboring Russia ... from the Western media (with translation / adaptation of material through the Belarusian media / "independent bloggers").
From the very beginning, many Ukrainians almost openly positioned themselves as "enemies of the Horde," and with them such "identity problems" did not arise initially (at least from the author). He never sought to "persuade" the Ukrainians in something. What for? People do not like Russia because it is Russia, what can I argue with them? Why burn oxygen in vain?
Everything is much more interesting with Belarus: it reminds one of the "anti-Soviet" of the late era of the USSR, when the communists with thirty years of experience in the evenings listened to the "voices". That is, such an almost completely official "double morality". People at the same time and simultaneously almost sincerely call themselves "the last allies of Russia" and at the same time they are guided by the point of view of the Western (not Russian) media. Moreover, for some reason, the Russian media annoys them and many are actively looking for an "alternative".
By the way, there is nothing surprising here: the average person's tolerance for alternative points of view is usually greatly exaggerated. Belarusians, on the whole, were oriented "west", and
today in the Russian information field they are "uncomfortable"
, especially after the Crimea and Syria. Moreover, Russia causes them more and more irritation ("the train leaves"): they, like the Ukrainians, do not know or learn foreign languages, no one is waiting for them in the West ... and Russia is becoming more and more "wrong" .
The meaning of the Crimean-Donbass-Syrian events also lies in the fact that Russia has finally refused (was refused) from participating in the European project. But it is precisely the Belarusians (at least their leadership) who also chose the "European vector" just as uncontested. The drama of the situation is added by the fact that the permanent president of Belarus in Europe is actually "banned". Nevertheless, Europe.
Why was it necessary
That is why it's very difficult to "promote a positive image of Belarus" in Russia today. The first step, the Republic of Belarus is an "independent state", the second step is that it "shares European values". Well, and most importantly, as already mentioned: no one from the very beginning in Belarus thought about creating that very "positive image" in Russia. I didn't especially think about working with the "Russian audience".
That is why today in Russia, quite naturally, a serious negative arose in relation to the Republic of Belarus - this was the last year's leadership of Russia that the Russian leadership referred to, refusing Minsk "fraternal assistance". Even the survey was conducted, the result - "dad" Russians do not look, his policy, too. The decisions of Minsk in South Ossetia, Syria, Donbass, Crimea, except for international, interstate (Moscow - Minsk) and other different, had another aspect
impact on Russian public opinion
. And each time Lukashenko turned his back on Russia (causing for some reason the sincere delight of his electorate).
As a result, over the past 10 years (almost from scratch!) Serious anti-Belarusian sentiments have formed in Russia. And this
not
"The machinations of the pro-Putin oligarchs", this is the result of decisions of the head of the Republic of Belarus, the activities of Belarusian politicians and journalists ... For some reason, most Ukrainians / Belarusians are sincerely convinced that the Russians "think in central television", alas, this is not so.
"Official Russia" (as in the case of Kiev) actively "squeezed the pedal of tolerance and non-resistance to evil on the floor." However, public opinion in Russia regarding the "last ally" developed simultaneously and independently of the official position. Yes, colleagues, I understand that it's scary to think, but in Russia the official position may not coincide (and very often does not coincide) with public opinion on some issues. This is civil society, baby. Today, for example,
Any
a political deal with Kiev is impossible for purely domestic political reasons. The funny thing is that in Kiev, in Berlin, and in Washington they see only the "former agent and his entourage" ... And it seems to our esteemed "opponents and partners" that it's enough to "cut their hands" properly, like the whole "Putin mode "will collapse like a house of cards.
The Russian people as a political factor do not exist for them fundamentally, hence the frank schizophrenic nature of their "Russian politics": instead of working with Russian public opinion, they arrange a hunt for "oligarchs close to Putin". And this is their "last and decisive battle."
But in fact, exactly the same model of foreign policy with regard to Russia exists in Poland, and Lithuania, and in Belarus (!). They work exclusively with the Kremlin (or rather,
против
Kremlin). At the same time, constant threats and attacks are "what the doctor ordered." So, in principle, if the model "one Kremlin - one political opinion in Russia" is working, then such a policy could be considered reasonable. And then ... how to say, how to say.
In professional politics, in general, it is not customary to be offended (it is customary to react adequately), but with public opinion everything is much more difficult ... As a result, in Russia everyone does not like the Baltic States and Poland very much. But alright, NATO and the EU are there, but with "fraternal Belarus" this leads to rather strange "collisions". Russian public opinion is tuned today
much
more critical of Belarus than Russian officials demonstrate. And this
not
"The machinations of oligarchs craving the limit of national ownership in Belarus."
This is exactly the logical result of the last decade of Lukashenko's policy towards Russia (which, by and large, suited Belarusians, otherwise it would not have been carried out). And this very opinion arose just outside the studios of Channel One and in addition to Soloviev. When a Russian citizen is arrested in Minsk for visiting Karabakh and extradited to Mr. Aliyev, this first demonstration gesture is addressed to the Kremlin, and only to the Kremlin. However, there are unaccounted consequences - a powerful surge of negativity in Russia as a reaction to such a gesture.
And because nobody in the Republic of Belarus was going to take into account the very "public opinion of Russians". The hostile response is explained solely by the "anti-Belarusian conspiracy of greedy oligarchs". And we have roughly the same thing, for example, in the case of the Russian air base in Belarus, which our Defense Ministry wanted to deploy at the peak of the crisis around Ukraine. This played a monstrously negative role in creating the "image of Belarus" in Russia. In Belarus, the "decisive refusal" is assessed as Lukashenko's exceptional achievement, which is credited to him by both supporters and the opposition (that is, the same things are evaluated diametrically opposite in Russia and Belarus today).
The reason is the same: no one was going to take into account Russian public opinion, there is a "game against the Kremlin, which wants to disrupt Belarus's rapprochement with the West." Moreover, here ordinary Belarusians, breaking all horizons of the absurd, offer the Russians to "cheer" for their "right and honest leader" who pursues a "peace policy". The very idea that public opinion can be set up differently than "pro-Western" seems completely impossible for them.
That is, in fact, just in Russia, public opinion is quite present, and this is good
news
, and it has a very serious effect on politics - this is very good (and very unexpected news) ... The bad news (for Belarusians) is that it is sharply anti-Western today.
Suddenly. It's almost like in America: the masses are putting pressure on power
The serious and costly support of the warring Donbass is not just "greedy oligarchs", as practice has shown, many Russian oligarchs quite like themselves to continue relations with Kiev. Donbass support is Russian public opinion. Exactly. Russian public opinion as a factor in world politics.
The funny thing is that they do not want to notice this "elephant" either in Ukraine or Belarus. Politically disadvantageous because. This whole theater of political absurdity is flowing from here, which we are witnessing: in the same Ukraine (especially after Maidan-2) numerous demonstrative anti-Russian gestures were made, such as an attack on the Russian embassy in Kiev and Russophobic statements, with growing anti-Ukrainian sentiments given out as the result of the "Kiselev's propaganda".
Only in this way, and nothing else. People are hostile to Russia, and it seems to them that this
only
normal attitude. The only thing. They categorically do not understand how a normal person can positively relate to Russia. Therefore, even before the second Maidan, communication between Ukrainians and Russians on political issues was extremely difficult (to put it mildly). With people of the West, there are: a) a language barrier; b) Russia is not always interesting to them; c) we don't have any special "integration projects", and our economies are not so closely connected.
The paradox of Ukraine was that it was very closely tied to Russia, there was no language barrier, but from the socio-political point of view, the discrepancies were already terrible in the zero years. For all the surrounding events, the picture in Russia and Ukraine was already very different in the zero years, and, as practice has shown,
normally
communicate with people who are used to pouring water on Russia and her
history
dirt is absolutely impossible.
It is usually customary to reason that people themselves will agree on everything, yeah, of course. You can agree within
one
concept. When the "contracting" parties proceed from two different (hostile) concepts, it is absolutely impossible to agree. Therefore, from a certain moment, communication with the Ukrainians lost any rational meaning. Ukrainian society categorically did not want to show at least some respect and understanding for the culture and history of the neighboring country (which were once their culture and history) - that is why.
And the most interesting thing is that quite a Russian-speaking Ukrainian propaganda (even at the level of commentators / bloggers) from a certain point in time in Russia ceased to be perceived
fully
, roughly, like Russian propaganda in Ukraine. And the basic historical / political concepts are different. At the same time, for some reason, gentlemen, Ukrainians, by default, believed that the concept of self-derogation and denial of their own history would be adopted in Russia.
When this did not happen (and this did not happen, forgive us, Leah!), Then productive communication on social and political topics became completely impossible. And this is not only and not so much "Kiselyov-Solovyov propaganda", but just the mismatch of the basic concepts of worldview.
It turned out much more interesting with Belarus: unlike Ukraine, it was officially an ally of Russia. But the system of the Belarusian worldview very much resembled the Ukrainian one and was far from the Russian one. As a result, sooner or later, but in the Russian Federation and Belarus, the same political events began to be evaluated in very different ways. And from the point of view of Belarusians, their country is doing "good and right", and the growing anti-Belarusian sentiment in Russia is the result of Kremlin-oligarchic propaganda.
But meanwhile, as already mentioned, this is the result of the fact that: a) there is public opinion in Russia that is not directly dependent on the Kremlin; b) this opinion, for objective reasons, since the defeat of Yugoslavia and as a result of NATO's eastward movement, has been increasingly anti-Western; c) Belarusian media / officials have long chosen the pro-Western / anti-Russian vector of foreign policy; d) these same Belarusian media / politicians / diplomats did not even try to work with Russian public opinion.
As a result ...
Anti-Belarusian sentiments are growing in Russia. But how else to explain that 78% of Russians want to return the visa regime with their neighbors, according to a survey conducted by VTsIOM?
"Only 16% of respondents believe that the border between the countries should be preserved only as a formality.
More than half of the survey participants (56%) do not support discounts on oil and gas for the Union states, even in exchange for their support. Most Russians (60%) are against the sale of oil and gas to Belarus at a price lower than the market. "
(
Source. February 2017
..)
And this is mostly "outside the Kremlin" and besides the Kremlin. Public opinion in Russia is set towards the same "Kiev fascists" much more radically than Mr. Lavrov, but the majority of Ukrainians do not even know about it ... For them, "public opinion" can be only one thing - pro-Western and anti-Russian. They cannot imagine another (that is, Russia as a state is needed only by Putin, but no one else). But any anti-Ukrainian actions of the Kremlin are met with the full and absolute support of the Russian electorate because of its well-defined political orientation.
Public opinion is always there
Now the same thing has finally touched Belarusians, a holiday has come to their street. Often in the comments from Belarusians there is that simple, at first glance, very understandable idea that, they say, that we are breaking spears here - the leadership of the "two fraternal countries" will understand everything without us. However, not everything is so simple: public opinion is in Russia, and public opinion is in Belarus. Even in Ukraine it exists: Poroshenko initially could not complete Minsk-2 due to the tough opposition of the radicals.
That is, as we all understand, even in medieval Europe even the prince of blood could not completely ignore public opinion. Because we do not live in the forest. It's as if we live in a human society. The trouble is that the public opinion of the Russian Federation and Belarus is very differently oriented, often diametrically opposed. And there is no general political truth for everyone and there are no universal values. There are various opinions that understandably do not coincide. And today (living by no means in medieval Europe), Russian and Belarusian politicians are forced to take these opinions into account.
And this already makes some agreements and agreements very, very unattainable. Today, relations between the two states cannot be built solely on backstage intrigues and secret agreements. Even if it were not for Lukashenko's frank attacks on Russia (which for some reason has not been surprising in Belarus for a long time), some kind of "secret agreement" would be unpromising today - we are living in the wrong era, gentlemen. The era of cabinet politics remained in the distant XVIII century.
Once again: there is no one correct look at the reality surrounding us - this is just an annoying propaganda illusion. And the attempt to promote universal values ​​is just an attempt to impose its rules and norms on the entire planet. So the sincere bewilderment and indignation of the Belarusians about the "wrong" actions of Russia in the international arena only testifies to the fact that
the program for the formation of the Belarusian national consciousness, different from the Russian, as if already held
.
First of all, Lukashenko's ugliness basically had a choice: to carry out pro-Russian propaganda or anti-Russian. Well, he chose: first, in my opinion, he did not like Russia very much; secondly, it seemed to him a guarantee of independence; thirdly, it allowed to associate itself with Europe. Well and so on. Today, he has no particular choice: he will not win great popularity in Belarus with pro-Russian steps. For a quarter of a century, people have been popularly explained that Russia is very, very bad. And what do you suggest? So take it all and replay?
In a most paradoxical way, the current foreign political situation requires Lukashenko to seriously approach Russia (
weapon
, loans, market access), but the domestic political alignment (the habit of blaming Russia for everything) and semi-official Russophobia categorically hinder this. That is, even if Lukashenko decided today to drastically change the alignment, this would be impossible due to the presence of
Belarusian public opinion
. If tomorrow the president of the Republic of Belarus had suddenly announced the deployment of a videoconferencing base, recognition of the Crimea and full support for Russia's foreign policy, it would have sounded like a bolt from the blue. And not the fact that after that he would have retained control over the situation.
But about the same thing applies to the decisions of the Kremlin, which is forced to take into account the public opinion of Russians when making decisions. And there is public opinion, and there. And they, alas, are very different.