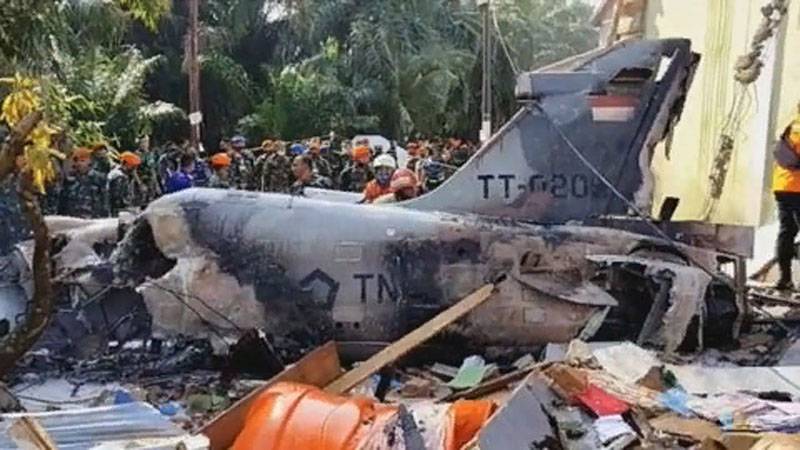 In Indonesia, the country's Air Force plane crashed. According to some reports, we are talking about a British-made Hawk Mk200 attack aircraft with a twin-shaft turbojet engine.
It is reported that the attack aircraft crashed in the Nurjadin Kampar region in the province of Riau. This region is located on the island of Sumatra and has a maritime border with Malaysia.
According to local sources, the Hawk 200 pilot survived. He managed to catapult. Possible casualties on earth are not reported.
According to recent reports, the Indonesian Air Force plane crashed into a residential quarter of the village. When falling, at least one building is destroyed, a fire broke out. At the crash site, rescuers and firefighters work. They disassemble the rubble and spill it with water so that the fire does not spread to the forest.
As can be seen from the published photo, the plane did not collapse completely. Its central and tail parts remained almost intact.
There are no details at what point the flight fell at the moment. Perhaps this happened when trying to take off. Official data on the causes of the accident has not yet been published.
Pesawat tempur TNI AU type Hawk 200 jatuh di Kampar Riau Pilot berhasil melontarkan diri dari pesawat menggunakan ejection seat & Selamat pic.twitter.com/YgWn7w0WOy

- PopKoЯn. (@HurryKoRn) June 15, 2020
BEEAKING NEWS; Pesawat Jatuh di Area Kubang, Pekanbaru - Riau pic.twitter.com/OWbdVmg72I

- Roemah Madu Sumatera (@Roemah_Madu) June 15, 2020