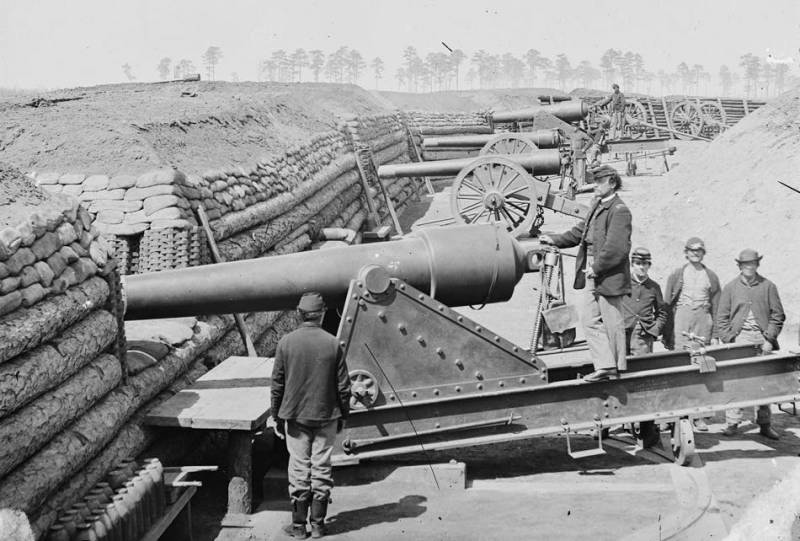 Parrotte's 100-pound cannon at one of the forts of the American Civil War. Photo from the Library of Congress Library
But flashes and explosions are getting closer and closer,
There is no salvation there, nor here
There are walls settling down the roar
There is a flame of fierce howl
And the city, quarter after quarter,
Forever overgrown with grass.
Herman Melville. Swamp angel. Translation by D. Schneerson
Weapon from museums.
Exit to the "IN" article
"A gun with a faceted bore"
caused not only a positive reaction from its readers, but also requests to continue the story about the tools of the Civil War in the United States. Well, well, this topic is really very interesting. Therefore, today it will be continued. Well, the story in our material will go about the tools of Robert Parker Parrott (Robert Parker Parrott), or simply "parrots", as they were called Yankee soldiers, because the word parrot is translated into Russian as "parrot".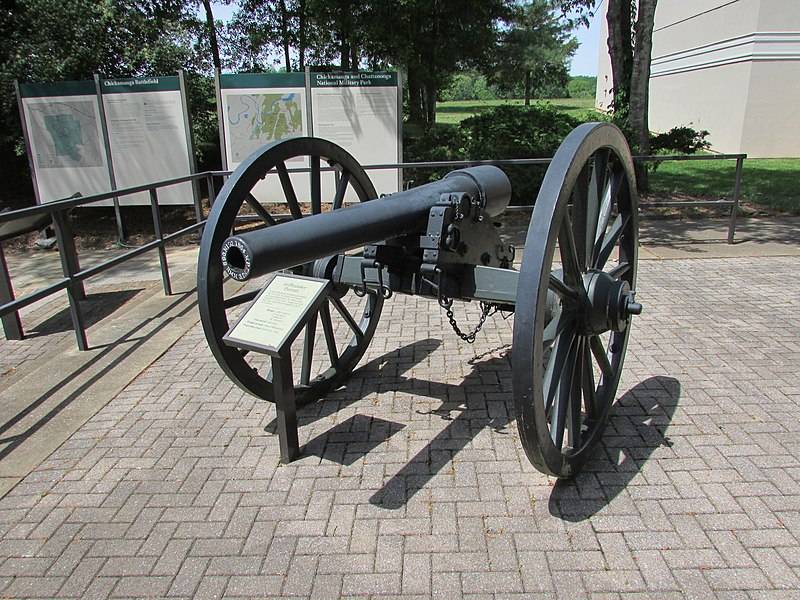 10-pound parrot on the battlefield in Chicamauga
Let's start with his biography, since it is also very instructive. The future creator of the guns of his name was born on October 5, 1804 in the town of Lee, the county of Strafford, New Hampshire (USA). He was the eldest son of a famous shipowner from Portsmouth and Senator John Fabian Parrott. His mother, Hannah Skilling (Parker) Parrott, was the daughter of Robert Parker of Kittery, Maine, a shipbuilder and caper commander during the Revolutionary War.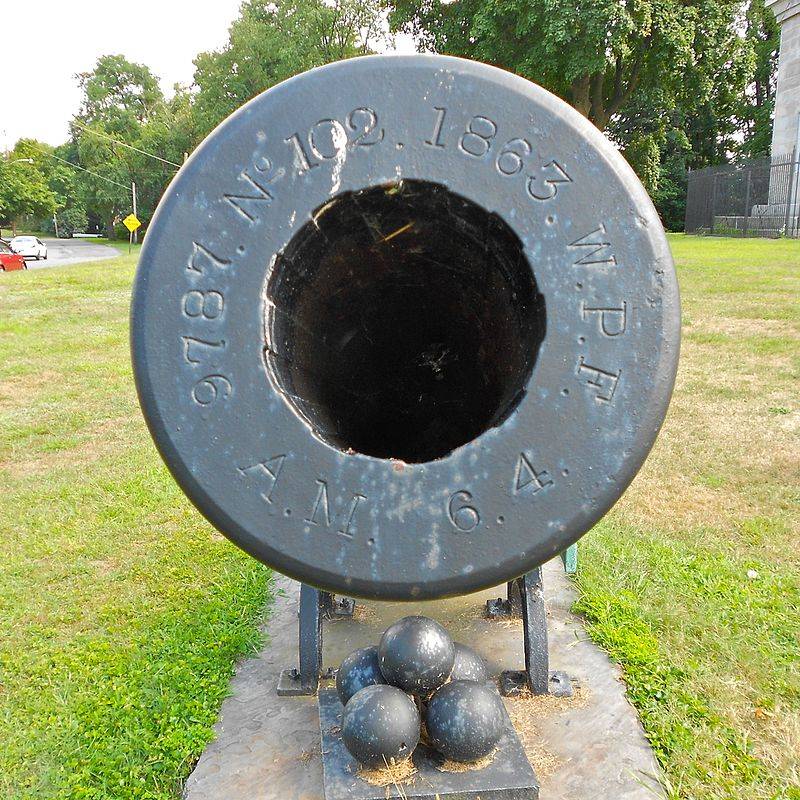 6,4-inch Wyoming Parrot
After graduating from school in Portsmouth, young Parrott July 1, 1820 entered the US Military Academy at West Point, which he graduated in 1824, the third in performance from thirty-one cadets in the class. He received the rank of 2nd lieutenant, but was left at the Military Academy, where he served for five years as an assistant professor of the Department of Natural Sciences. Then two years of garrison service at one of the forts near Portsmouth followed, he received the rank of first lieutenant, after which he was appointed to the rank of captain in 1836 to Washington as an assistant chief of the ammunition bureau. Soon, his abilities and knowledge attracted the attention of Kemble, the president of the West Point Foundry Association, who invited Parrot to leave the army and become the manager (superintendent) of the foundry at his enterprise.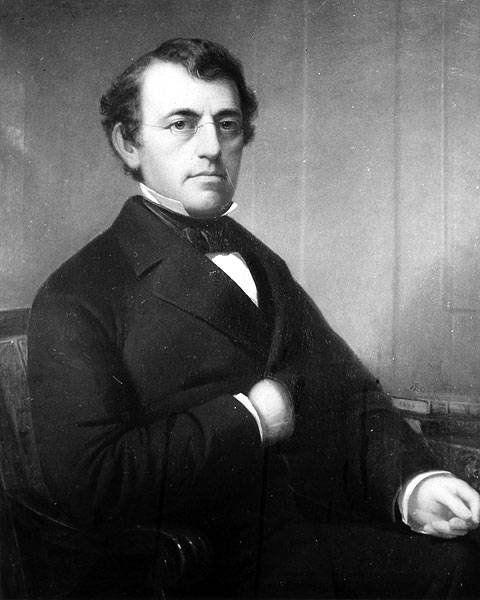 Young Robert Parker Parrott
And just three years later, he replaced Kemble at his post, bought a 7-acre site in Orange County, New York State and, together with his brother Peter, organized the most modern foundry of the time, which he managed for almost forty years. In 000, he learned about the secret production of the Krupp rifled gun in Germany and focused his attention precisely on rifled guns and their ammunition.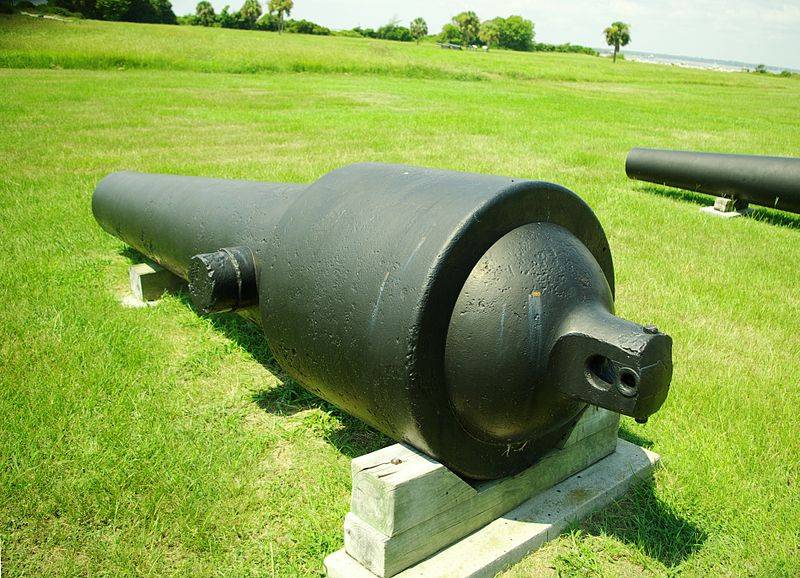 10-inch (300-pound) parrot in a fort on Sullivan Island in South Carolina
For more than ten years, he continued his experiments with the goal of creating an effective rifled gun, which would be simple in design and cheap in cost. October 1, 1861, he patented the design of the gun, which had a wrought iron bandage worn on its breech. A unique feature of the invention was also a barrel of wrought iron bar of rectangular cross section, which was folded into a spiral and welded into a single unit. He also developed and patented a projectile for rifled guns on August 20, 1861, which had a brass ring superimposed on the shell and attached to it, but under the influence of powder gases it could expand and press into the rifling of the barrel. Parrott proposed his development to the government at cost, and with the outbreak of the Civil War he received large orders for both guns and shells. Under wartime laws, he was exempted from income tax, but ... he paid it and only laughed when asked why he did it. Parrotte's guns participated in the first battle of Bull Run, and later in almost every important battle, both on land and at sea. They were available in different calibers, from 10 to 300 pounds, and it is believed that the 200-pound and 300-pound Parrott guns were the most formidable rifled guns ever existing at that time. In addition, their strength was significantly higher than that of rifled cannons in Europe.
Parrott 300 pound gun at Fort Chatfield, Morris Island
With the cessation of hostilities, Parrott also stopped the production of weapons. In 1867, he entrusted business management to his brother, and in the spring of 1877 he completely sold his share to him, retired, but continued to do experimental work and even patented several new advanced shells and fuses. After retiring, Parrott remained an active member of the community, serving as first judge of the Putnam County General Court of Justice in New York State: a position which he undoubtedly owed his well-known honesty and insight. He died on December 24, 1877.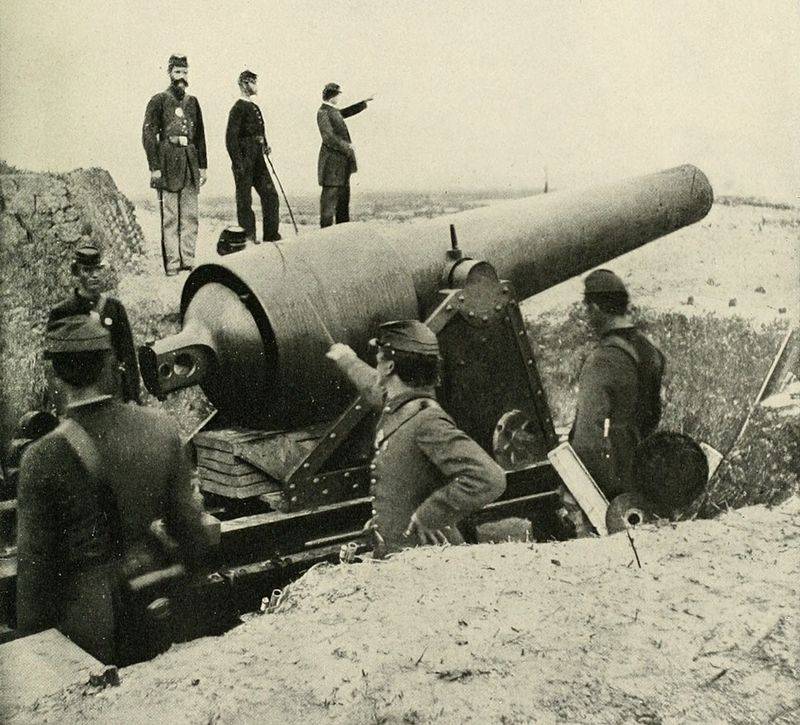 The battery of Fort Chatfield (Morris Island), on which the Parrotte gun was mounted, 1864
Parrott's steel cannons were good construction, but their barrels were laborious to manufacture. Therefore, he decided to simplify it. Now the standard "parrott" was an integral cast-iron barrel, on which a hot bandage in the form of a steel pipe was put on with an interference fit. In this case, the barrel was intensively cooled with cold water, so that the bandage tightly pressed the breech of the gun. Rifling inside the barrel used a variety of, including polygonal. The drawback of Parrott's cannons was that the shell, accelerating in the barrel along spiral cuts, happened to tear off the muzzle from it. This was unpleasant, but still better than if the gun burst in the breech. Many army officials did not like this feature of Parrott guns. Even attempts were made to ban them in the army, but it turned out that due to their cheapness, replacing them with something of equal value would be very difficult. It so happened that the gunners continued to shoot from guns with a detached muzzle, without paying any particular attention to this. Well, except that they tried to grind the jagged part!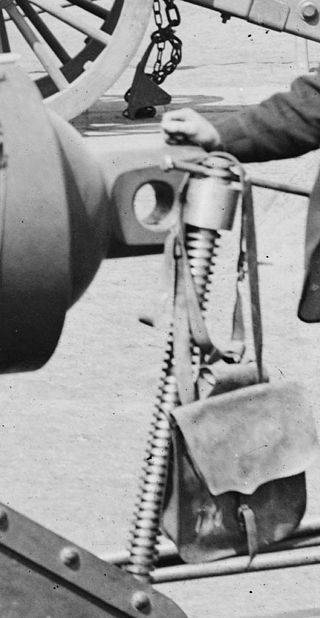 Parrotte's 100-pound gun
As already noted, Parrott guns were available from the popular 10-pound caliber to the rare 300-pound caliber. Field 10- and 20-pound guns were used by both armies, both northerners and southerners. The 20-pound gun was the largest field gun used during the war, with its barrel alone weighing more than 1800 pounds. 10-pound guns were available in two calibers: 2,9 inches (74 mm) and 3,0 inches (76 mm). This made it difficult to supply batteries with ammunition, and the Confederates were particularly affected. At the same time, the firing range of both guns practically did not differ and amounted to 2000 yards (1800 m). The projectile also had the same weight - 4,5 kg, but the flight time to the maximum range was slightly different. The calculation of both guns consisted of six people.
Parrotte's 30-pound field gun at Fort Macon State Park
Union naval forces also used the naval versions of Parrott cannons of 20, 30, 60 and 100 pound caliber. A 100-pound naval "Parrot" could reach a range of 6900 yards (6300 meters) with an elevation angle of 25 degrees, and an 80-pound projectile 7810 yards (7,140 m) with an elevation angle of 30 degrees.
Parrotte's large-caliber guns (100 pieces or more) were used in the US coastal defense from 1863 to 1900, when they were replaced by more modern models. Along with Rodman's cannons, they were put on alert during the Spanish-American War in 1898, as the US military was afraid that the Spanish fleet would bombard the east coast of the United States.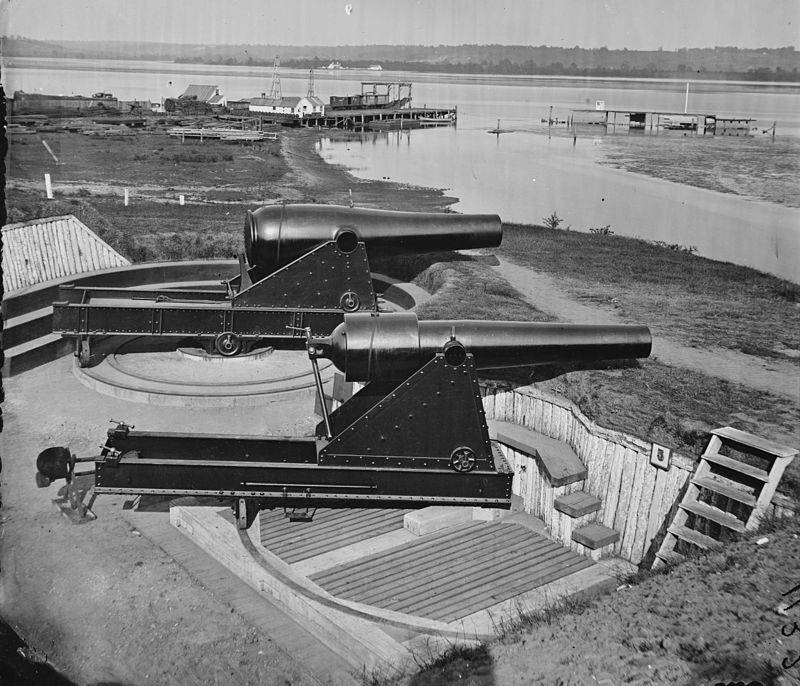 Washington, 1862-1865, view of the Roger battery equipped with Rodman Columbiads and Parrot cannons
In the summer of 1863, Union forces again attempted to take Fort Sumter, which was bombarded with two 80-pound Whitworth cannons, nine 100-pound parrots, six 200-pound parrots and one 300-pound gun. It was believed that the penetration of a 10-inch shell into the brickwork would be from six to seven feet, that is, the southerners would not be knocked down. However, despite intensive shelling, the fort surrendered only in February 1865.
At the same time, federal brigadier general Quincy Adams Gillmore used a 300-pound Parrott gun to bombard the city of Charleston from the island of Morris captured by the northerners. From August 22 to 23, 1863, a gun called the "Swamp Angel" fired 36 shots at the city; on the 36th shot, his muzzle was torn off. This episode was even immortalized in poems - a poem by Herman Melville, which was called: "Swamp angel".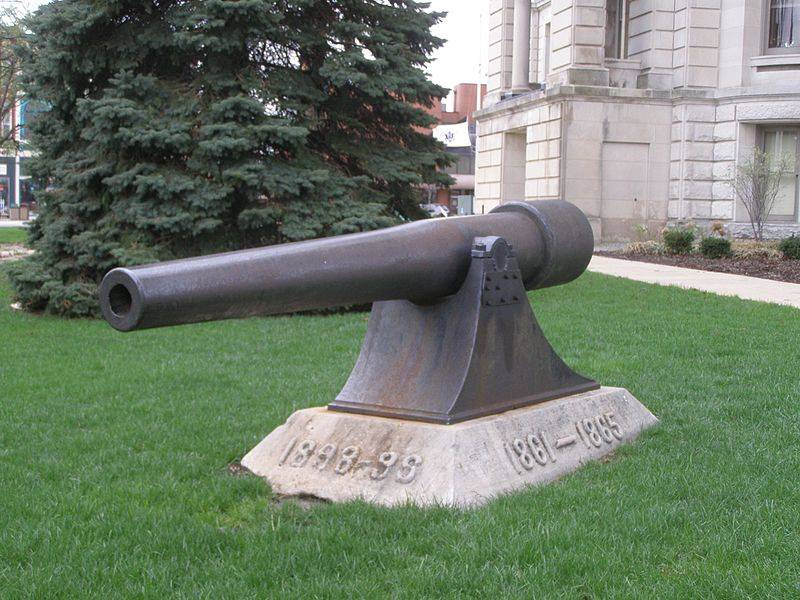 Parrott Memorial at Courthouse Square, Frankfort, Clinton, Indiana
After the war, this damaged gun was transported to the city of Trenton, New Jersey, where it is today stored as a monument in Cadualader Park.