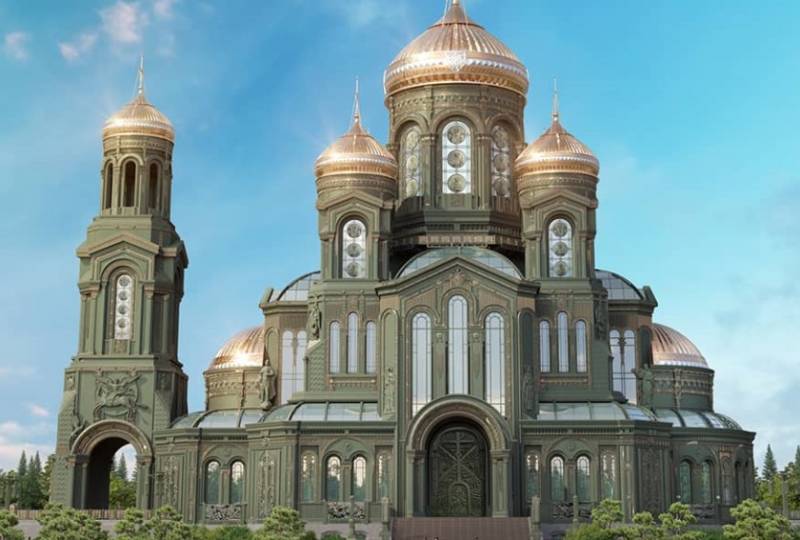 According to Patriarch Kirill, he personally will stand at the head of the new church of the Armed Forces of Russia. We are talking about the Patriarchal Cathedral of the Resurrection of Christ built in the suburbs of Moscow.
In May last year, the Patriarch of All Russia, Kirill, by his decree appointed Bishop Stephen, who heads the Synodal Department, engaged in interaction with the Armed Forces and law enforcement officers, by his order.
But after the ceremony today, at which the church was consecrated, and the first solemn service, the patriarch declared that he himself would become the rector. The event was attended by representatives of the Russian Orthodox Church, the head of the defense department Sergey Shoigu, his deputies and other officials.
A day earlier, icons were brought to the main temple, which depict the patron saints of the clans and types of Russian troops. They were then installed in their respective aisles. Before the icons were sent to the Cathedral of the Resurrection of Christ, a solemn liturgy was held in the Moscow Church of St. Sergius of Radonezh.
The new main Russian military temple and museum of the Armed Forces of the Russian Federation appeared in the Patriot Park in Kubinka at the initiative of Russian Defense Minister Sergei Shoigu. The grand opening of the Cathedral of the Resurrection of Christ will take place on June 22.
RT Videos:
The temple was reportedly built solely on private donations.
Today Sergey Shoigu and Sergey Lavrov were to leave for Turkey on a working visit. But the trip was postponed.