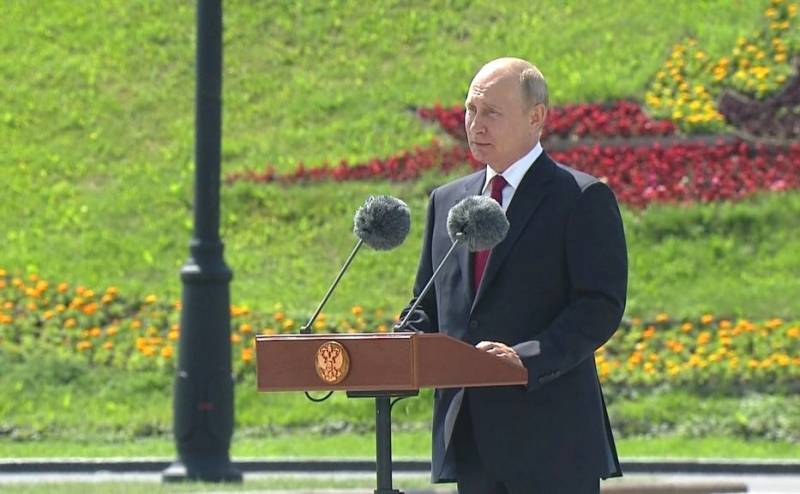 Yes, in one of
past materials
we touched on the fact that in our country there are liberals, and there are liberals. Some are Putin and his team, that is, guardians of the future of Russia, the second is the Dark Lord Navalny and someone else. It is completely incomprehensible who, but the presence of dark forces in the country is not called into question by the majority of residents.
Therefore, personally, I absolutely cannot understand how some liberals theoretically differ from others. All for freedom, equality and a bright future. It's not entirely clear for whom exactly, but now it's not so significant.
So Putin is a liberal. The media is talking about this, Peskov is talking about it, Putin is talking about it ... Putin himself!
Putin, with the support of his team, is conducting (as he himself says) liberal reforms in the country. Liberalization in the economy, private sector, culture, education, medicine. Reforms.
Moreover, reforms and projects are often very, very good. And there are national projects - just gold.
Well, tell me, who is opposed to development projects in the field of demography, healthcare, road construction? New and safe roads?
Even the Dark Lord does not mind, he ride on them and ride yet.
I repeat, the essence of the projects proposed by Putin and set forth in the decree "On national goals and strategic objectives of the development of the Russian Federation for the period until 2024", signed on May 7, 2018, is to continue the work on national projects that began in 2005, is very useful and interesting. On paper, at least.
It is worth saying that "the programs adopted in 2005 are considered unsuccessful in terms of implementation."
I translate: not completely completed.
2018 is the second attempt. Aleksey Kudrin (I hope no one will dispute Kudrin's liberalism) praised the program, saying, however, that the fate of national projects and national goals lies outside of national projects. And there are many obstacles to the execution of projects. And the selective application of legislation requires the establishment of order in the judicial and law enforcement systems.
By the way, the Duma also criticized the execution of national projects. The percentage of completed projects is appallingly low, more than half of the projects completed by less than 20%. In general, the effectiveness of the implementation of state programs in itself was called into question.
The Prosecutor General's Office also rated the implementation of projects as unsatisfactory. The Russian Prosecutor General Yuri Chaika during a meeting of the Presidium of the Council on National Projects in November 2019 announced problems in their implementation:
"According to the national project" Digital Economy ", only 15% of the 108 billion rubles allocated for this year have been spent. According to the national project "Ecology", only a quarter has been spent. "
According to the information voiced by the Prosecutor General's Office, in 2019 alone, more than 2,5 thousand violations of laws were detected in the execution of national projects, of which the largest number were in the implementation of the national projects "Demography", "Health Care", "Education", "Housing", "Urban Environment" ".
And this year, Secretary of the Security Council of Russia Nikolai Patrushev announced numerous corruption violations in the implementation of national and federal projects.
Patrushev stated that
"When conducting public procurements by unscrupulous officials, fraudulent schemes are widely used to transfer contracts to organizations affiliated with them."
The Security Council Secretary noted that they steal most of all in the national projects "Housing and Urban Environment", "Safe and High-Quality Roads", "Demography", "Education", "Culture", "Health Care".
What is the result?
It turns out that the idea is good, but the execution ... But there is no execution.
What is the problem?
Indeed, it turns out very strange nationwide. Plans are being made, approved, decrees signed and ... and not executed. Then the money is stolen, and so on.
What, again, the king is good, the boyars are bad?
But no, not everything is as simple as it seems at first glance.
The biggest problem is that Putin is a liberal. Yes, that's it. The implementation of liberal reforms and development programs of Russia is hindered by liberalism!
At first glance it looks crazy. However, in a country like Russia, this is not possible. And here is what we have today, and generally easily.
Judge for yourself.
The prosecutor general's office gives 2,5 thousand violations of the law. This is at least 2,5 thousand guilty. And since there could have been a group, and by prior conspiracy ... Well, even in the minimum configuration, 2,5 thousand cases.
Question: where are they? Where are the high-profile investigations, landings, huge fines?
Silence in an abandoned cemetery ...
And now we make an excursion to
history
.
Knowledgeable readers, what would Comrade Stalin do with these 2,5 thousand? Well, yes, indicative cases of embezzlement and completely unreasonable executions. And those who were lucky would go to build another important channel and reeducate. But Stalin was a communist to the core.
When Khrushchev also planted. And no worse than under Stalin. At least Nikita Sergeevich has had experience since then - you will admire. But Khrushchev was a communist. Yes, democratized, but a communist.
Brezhnev? Communist. Because he had everything who could not find himself in business, engaged in the construction of BAM and many other objects.
But Putin is a liberal. But the liberals did not accept executions, landings, and all the rest. No, they can imprison them, but for criticizing the authorities, for throwing a plastic cup at the policeman and so on. And for the fact that projects of national importance were disrupted - no, we are not in 1937.
Well, shootings are not necessary. Yes, civilization, development, liberalism.
Herein lies the first of three reasons that things often go awry. Of course, sometimes someone is punished. But so ... without a twinkle. Probably, based on the message "what if it comes in handy?"
Serdyukov came in handy. Yes, and Vasiliev, who served 34 days out of 5 years, is also a good example.
The first reason.
There are no persons responsible for execution - one, and no responsibility for those responsible - two. And for those who fell into the cage - and in general beauty, they are outlawed in the good (for them) sense of the word. For those Russians certainly do not abandon their own. Proved by Serdyukov, proved by Vasilyeva, proved by Chubais, proved by Rogozin.
The law in Russia really allows such twists that sometimes you wonder. You don't have to go far for examples. The killer who killed the man while drunk and smeared with drugs is under house arrest. And the person who is suspected of not understanding that the foundation of the workshop gives the sediment, the arrest is serving in jail.
And such examples are just wagons. But their essence boils down to one thing: the legal system is not only imperfect, but also allows its manipulation in the right direction.
The second reason.
We talked about her more than once. Personnel hunger and ruined social elevators. If in TOY Russia the appearance at the top of immigrants from the people, both positive (Lomonosov) and negative (Rasputin), was at least theoretically, but possible, today excuse me.
A clearly built system simply rejects everything that does not belong to it. And today you can see the former presidential guard in the chair of the minister or governor, but alas, the man from the side. The same applies to the judicial system and the lawmaking.
And here it is worth recognizing that the modern system of the vertical of power in Russia was not brought by the Martians or the Americans. This is a domestic development, whatever one may say. And do not blame Yeltsin, with him that mess was still in the appointments. And now everything is quite stable, the same clip is spinning around the ministries and departments. Yesterday there was a minister - today is the governor. There was a deputy minister - he became a minister. And so you can twist to infinity.
And it will spin. Because the system is quite durable and does not allow external influences. Only for their own, so to speak. But the efficiency is minimal, because it uses only an approved resource.
And if problems with the law can still be somehow shoved to their creators (consider the State Duma), then this architecture of power is the result of 20 years of work of Putin and his team.
Well, in fact, it's not for Obama to blame that this is the case with us ...
And finally, the third reason. Model.
Yes, no matter how strange it may look, but - a model. It is clear that it is not Soviet. Everything Soviet was definitely bad, galoshes were not edible, blue hens and so on. But it was necessary to take some model to follow. Like TU Constitution, which the Americans copied.
They took the American one. But with our amendments. And now it is more like a model in tsarist Russia. On the one hand, all leaders are taken from "their" circle, on the other hand, this circle is very, very limited. "New nobles", anyway.
Another question is that their effectiveness, to put it mildly, is low. An example is our health care.
M. Zurabov (2004-2007). By the way, a cybernetics economist by education. The father of the monetization of medical services, who left after the arrest of almost the entire MHIF management, which he oversaw, on charges of varying severity. After that, Zurabov became the ambassador of Russia to Ukraine (2009-2016). It worked so efficiently that ... no, you shouldn't even talk about it.
T. Golikova. Minister from 2007 to 2012. Economist. This Golikova combined the basic and insurance parts of the pension, replaced the unified social tax (UST) with insurance contributions, then returned the UST and at the same time increased it from 26 to 34%. Then there was work in the Accounts Chamber (2013-2018). Today - Deputy Prime Minister for Social Policy.
V. Skvortsova. Minister from 2012 to 2020. Doctor. She is famous for having the maximum anti-rating (4%) for her "optimization programs", in accordance with which hundreds of feldsher-obstetric centers, hospitals and clinics were closed. Now he commands FMBA, a biomedical agency about which the most ominous rumors are creeping.
As you see, all the people from the "cage", no one was left without a place, with Zurabov it's not clear where he is now. But did we feel good in terms of medicine? Yes, just great, and the pandemic only confirmed it.
And so in everything. Without exception. And most importantly - no responsibility for what has been done or not done.
It comes to insanity, only after another angry shout of the president, local officials start working, and not engage in outright foolishness such as per-second tariffing for ambulance teams working with infected people.
This is Putin's main "merit", and the main problem that he is already forced to fight personally today. The system of power vertical that he created, which simply does not want to work. Which you need to scare, kick, direct and so on. But officials should not be fired, imprisoned or confiscated.
Yes, by the way, about embezzlers.
It would be effective if the property of a thief, and in no other way the person who has millions and billions of rubles in the garage, cannot be called, would be seized.
Moreover, not only what was thief was seized, but also a super-lucky wife (business woman) and very gifted children. Everyone has.
But no, this would obviously violate certain rules of the game, which we are not aware of. And so Putin endlessly shuffles a very small deck of participants, simply moving them from one place to another.
It does not bring benefits.
So in the end we got such a power that does not want to work as expected, disrupts the execution of the president's projects and so on. Plus, frankly brazenly stealing wherever possible.
And no responsibility for that.
And the farther, the greater the tale that the king is good and the boyars are bad, they were becoming status for me. I begin to believe that this is so. Spoils the big picture only the complete reluctance of the king to part with these boyars. The "resignation" of the government this year is the best confirmation of this.
We really expected a lot. But in the end, the resignation did not bring us anything. Yes, several of the most unpopular ministers led by the prime minister were fired. And what, someone left overboard? No, not a single one. Everyone found a place.
And it seemed that here he was, Putin's last term. You can spit on the opinions of everyone around and do something that will really improve the lives of Russians. But it turned out that the deadline was by no means the last, the boyars were still the same, nothing could be done with them.
Liberalism in all its glory. Let me remind you that liberalism is a political and economic trend proclaiming the inviolability of human rights and personal freedoms.
It is a pity that the circle of liberals, for whom all this is true, is limited by the very circle of "clip".
But while liberal laws are valid for a narrow circle of associates, one should not even talk about any "jerks forward and up". Everything will remain in the same place where it was. Because we have not the year 1937.
I am really sorry that the projects of Putin and his developers, which he, as president, submitted for consideration and implementation, are really being destroyed by those whom Putin put into power. Bees versus honey, system versus developer.
And in the end, we are in a very strange position. The country has developed and is trying to implement projects that should improve our lives. As a result, we do not see this improvement, but we observe a constant increase in prices for everything, inflation and other pleasures.
And - most importantly - complete impunity for those who are to blame.
How can one not believe that liberalism is to blame for everything?