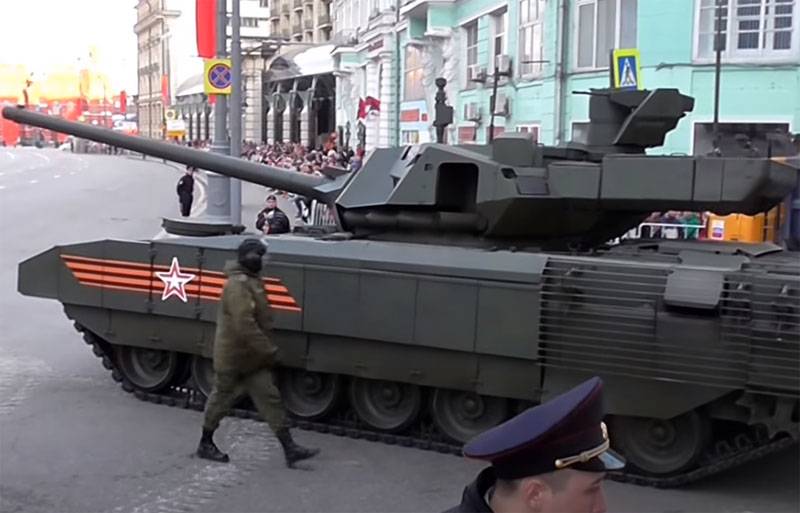 On the pages of the Chinese information portal Sohu published material on the upcoming putting into service
tank
parts and formations of the RF Armed Forces of new generation equipment. We are talking primarily about the T-14 Armata tanks.
At the same time, the author in the Chinese media expresses a kind of concern that one of the main geopolitical opponents of the PRC, India, may become the first foreign buyer of the newest Russian T-14 tank.
Sohu:
It is expected that next year this tank will be officially exported, and India may become the first buyer of this tank. To date, India has ordered 464 improved T-90 main battle tanks in Russia and is interested in ordering 500 T-14 Armata main battle tanks. For India, which has recently attached particular importance to the development of its army, this Russian tank will become a real gem.
However, the author notes that India is not ready to act without looking back at the United States. This is a kind of hint that the United States may have an impact on India - similar to that which they have under the CAATSA package of restrictive measures. It is worth recalling that American politicians have repeatedly tried to scare India with sanctions when they purchase the S-400 Triumph anti-aircraft missile systems from Russia. To prevent the deal from being blocked, India has to sign major military contracts with the United States. However, recently in New Delhi they announced their readiness to reject the American proposal for the supply of the F-21 fighter (modernization of the F-16 specifically for India), which has already caused, to put it mildly, disapproving exclamations from the United States.
It should be noted that from India itself there is no official confirmation of readiness to acquire up to 500 Russian T-14 Armata tanks at the moment.