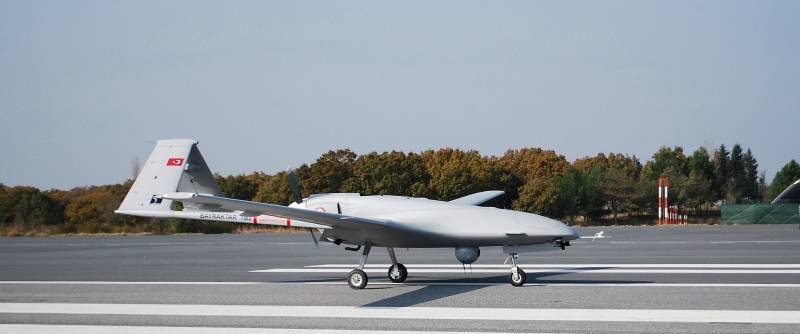 During the recent battles in Idlib and now in Libya, the outcome of the battles was often decided in the confrontation between Russian air defense systems and Turkish drones. We do not have a complete picture of these events, but we can conclude from individual pieces of available information that the struggle was fought with great stress and loss of equipment on both sides. In this article, we will try to analyze, without focusing on disputes about the number of downed drones or shot down air defense systems, how it happened that yesterday's aircraft models became one of the main means of waging a modern war.
UAV tactics
First of all, you need to understand exactly what technique is used against the "Shell" and what tactics are used.
It is well known that in Syria and Libya, Turkish-made UAVs Bayraktar TB2 and Anka were operating against our air defense systems.
Depending on the practical ceiling, modern UAVs are divided into low-, medium- and simply high-altitude. Bayraktar and Anka occupy a mid-high niche with a ceiling of 8200 and 9 m, respectively. High-altitude UAVs Turks are just preparing to take into service.
Anka UAV is a development of a state-owned enterprise, and Bayraktar was created by a talented engineer, "Turkish Sikorsky", Bayraktar, the owner of a private company. He created his UAV with an emphasis on stealth. We dwell on it in more detail, since it is produced in large quantities (about 200 units are contracted) and is used much more widely. Anka has more EPR and lower stealth, but more ability to install equipment.
Bayraktar TB2 is a strike UAV that can carry guided missiles (up to 4 pcs.), Which can hit targets at a distance of 14 km. It can be equipped with an OLS module with a thermal imager, several daytime cameras and a laser range finder, or alternatively, radar with AFAR with radar aperture synthesis (obtaining a radar image of the earth's surface similar to a photo). It is likely that capture of ground moving targets is also possible. An EW container on Bayraktar is not installed (but can be installed on Anka).
The Turks use UAVs of many configurations, including Anka with EW containers, effectively using the tactics of a swarm of drones, where roles can be distributed: some of the cars interferes, another carries out reconnaissance of targets, and drummers destroy them. Also, for reconnaissance purposes, a low-altitude (at a height of several hundred meters) flight is used with communication with the monitoring station through an unmanned repeater flying at an altitude at a safe distance. Such a radar target will be detected only at a very short distance, from where the drone can attack it with kamikaze-style missiles, as it will be mutually destroyed. So special kamikaze drones can be used.
Shell-C1 vs Bayraktar TB2
An attentive reader has already noticed that the author has not yet touched on such a key point as the EPR Bayraktar TB2. Indeed, without it, it is impossible to analyze the confrontation with air defense systems. I answer a silent question: we ask the EPR as 0.01-0.1 (depending on the angle) for the drone without missiles on the suspension. We make a reservation that Turkish sources do not provide information on the EPR, only indicating that it is very small. On what grounds then do we take these values?
There are several reasons for choosing them:
- in the EPR directories 0.01-0.1 is given for the generation of new drones made by stealth technology;
- The Greeks, who spotted Bayraktar with their radar, gave information about its EPR at the F-35 level;
- the geometry of this UAV shows that it was designed taking into account the reduction of EPR;
- Turks have access to modern RPMs, producing components for F-35;
- With a large ESR, a Turkish drone could not resist our air defense systems.
So, according to Bayraktar, we have all the necessary information, but what about "Shell-C1"? The detection range of targets with an EPR of 2 m2 is approx. 35 km. This means that the Turkish drone of the Pantsir radar will be detected at a distance of 9,3-16,5 km. The range of missiles at the "Shell" is up to 20 km, and its OLS can accompany such targets as Bayraktar, at a distance of up to 12 km. In disputes over the effectiveness of the "Shell" in Libya, the shortcomings of a specific Emirate modification of this system were often pointed out. In our opinion, the nuance is insignificant, which will become clear after reading the article to the end.
The use of drones involves two main types of tasks: reconnaissance and strike. A typical reconnaissance mission of a medium-high UAV is a flight at an altitude of approx. 6000 m. In this case, the Pantsira-C1 radar can detect Bayraktar at a horizontal distance of at least 7,0 km. With the most successful combination of circumstances - at a distance of 15,3 km.
The range at which the "Shell" will be detected by the drone's OLS is not constant, since it depends on many parameters: the degree of illumination, atmospheric interference, camouflage, the configuration of the OLS cameras, etc. The Wescam CMX-15D US military module is installed on Bayraktar. whose capabilities are widely known. This OLS is used in many countries, civilian and military. On Youtube, you can easily find a video of work indicating the range. OLS daytime cameras have maximum reach: for example, a tank-type target, according to some catalogs, can be detected up to 80 km. It is not necessary for us to prove the veracity of this statement; just watch the video with confident guidance from a 20 km convoy of trucks. The quality almost allows you to see in the driver's cab. Obviously, this OLS is significantly superior to the Pantsira OLS and can detect it from outside the radius of the destruction of its missiles (the detection distance with a thermal imager is much shorter - about 12 km). Most likely from outside the radar detection range as well. The CMX-15D is equipped with laser rangefinders with a range of up to 20 km. Accordingly, from 20 km, that is, from outside the scope of the SAM, the UAV has the ability to accurately determine its location. Of course, the work of the OLS depends on atmospheric factors, the level of camouflage, etc., but on the whole we can see that the reconnaissance drone has a chance to detect an air defense system first, which means taking the initiative. Next, an impact drone is activated, which from 14 km will launch inertial-guided missiles / GPS on the air defense system. Laser target illumination is optional (but possible). Much will depend on the training of operators, but it is clear that the outcome of the confrontation is not obvious. Drones have a chance of a very uncomfortable rapprochement with the air defense system. In addition, the Turks often used drones in Syria in swarms and actively supported the electronic warfare systems KORAL and REDET EW. This is despite the fact that the noise immunity of the Pantsir-C1 radar is weak, unlike the Pantsir-SM radar, it is only VFAR and operates at the same frequency (frequencies vary, but in a predictable range). The interference is especially effective when the drone is inconspicuous. There is a direct proportionality between the interference power and the EPR of the target they cover. To mask a stealth drone, you need interference power that is 50-500 times less than, for example, for the MiG-29 with its EPR of 5 m2. Missiles "Shell" do not have GOS and depend on the radar air defense systems. If the radar receives inconsistent data as a result of interference, it will not work to hit the target, even if the target is visible. It's possible to get there only when the target approaches very close and a small distance eliminates the interference (as we saw in a recent video with a UAV shooting down in Libya at a distance of 4 km).
As for the use of Bayraktar in the radar version, there are a number of advantages over the OLS. The radar scans the terrain with high resolution, and conventional camouflage, smoke, clouds, etc. are not an obstacle for it. On Bayraktar, of course, you can only place mini radar with AFAR like the French Picosar from Leonardo, which is actively exported. Scanning range with a resolution of 1 m - 20 km. With a resolution of 0,3 m, when it is guaranteed to detect the "Shell", Picosar scans up to 14 km. Anka UAV is equipped with a much larger and more powerful new Turkish radar with AFAR Sarper, the parameters of which we do not know, but it is obvious that it greatly exceeds mini-radars, at least one and a half to two times.
Also, the Turks are experiencing high-altitude drone Akinci, which "Shell-C1" is unlikely to be able to hit in principle. It has a ceiling of 12 km, that is, missiles can get it only much closer than 20 km declared in the performance characteristics. Akinci will be equipped with a full-fledged AFAR radar capable of detecting ground targets much further than the Bayraktar mini-radar, as well as working on air targets. Akinci will be able to use Jdam bombs with a launch range of 28 km, KR (range up to 250 km) and air-to-air missiles. The OLS will also be there much more powerful, capable of detecting ground targets over several tens of kilometers. This is a threat that should be taken seriously.
Conclusions
Obviously, the "Shell-C1" does not meet modern requirements and cannot be used at the forefront against modern weapons. He is too vulnerable. In response to new challenges, we created a new SAM "Shell-SM" with radar with AFAR. In terms of capabilities, it is an order of magnitude superior to the old version - in terms of detection range, noise immunity, firing range and other parameters. At the same time, the air defense system is only a passive means of defense. Passive air defense always loses
aviation
, since the latter can create an overwhelming local superiority in forces. The threat from the use of drones is not removed by the use of a new generation of air defense systems. The use of radar with synthesizing aperture allows UAVs to detect and hit ground targets from altitudes of more than 15 m (000 m at RQ-18), where they are invulnerable to missiles of the new "Shell" and "Torov". This, incidentally, applies to Bayraktar in the version with a radar: it can rise from the standard 000 m to 4 m of its ceiling, which will reduce the range of missile defense systems.
The war of the 27st century is already at our doorstep. It will be carried out using UAVs, which can be mass-produced, unlike modern aircraft. UAVs from aircraft models have become a formidable force thanks to modern electronics and stealth technologies. They are not stopped by the interference that cost modern communication systems (including satellite) and the placement between the UAV and the control station of the unmanned relay transponder. Drones can hang around the front for days (Bayraktar - up to XNUMX hours), providing reconnaissance of targets (extremely important for targets that can only be hit in a narrow temporary corridor), striking at the enemy, which gives them an advantage over manned aircraft. UAV attacks on air defense systems, regardless of the degree of success, indicate if not air supremacy, then significant presence. This means that other ground equipment was also subjected to numerous blows, and this is unacceptable. The objective of the air defense system is not self-defense, but the protection of ground forces from air strikes. We see that in Libya, pro-Turkish forces are advancing with the support of almost exclusively drones, replacing aircraft. And they come successfully. And in Syria, the predominant use of UAVs foiled Assad's offensive in Idlib.
There is another important advantage of the use of unmanned aircraft. The attacking side can afford to lose a large number of UAVs during the attack, attacking a swarm of a narrow section of the front. In the event of the destruction of air defense and equipment, the front will inevitably be broken and the losses will be paid off by seizing the initiative and killing the running enemy, as is happening in Libya. UAVs can be produced very quickly, in Turkey only in the aircraft and only Bayraktar TB2 - about 120 pieces. The political damage from the loss of drones is minimal. If even one downed plane is discussed in the society of any state and causes criticism of the leadership, then the loss of even many drones does not have such an effect. The pilots do not die: they shot down "some of our drones there," and okay. To fight off massive raids, you need to create a layered air defense from a variety of air defense systems: it would probably be more cost-effective to use UAVs with explosives, which can also strike at ground forces of the enemy.
Recent events have shown that the development of stealth drone drones, ammunition for them and compact radars with AFAR should be high on the list of priorities in our military construction. Serious attention should be paid to camouflage ground equipment, to introduce RPMs and additional means of camouflage.