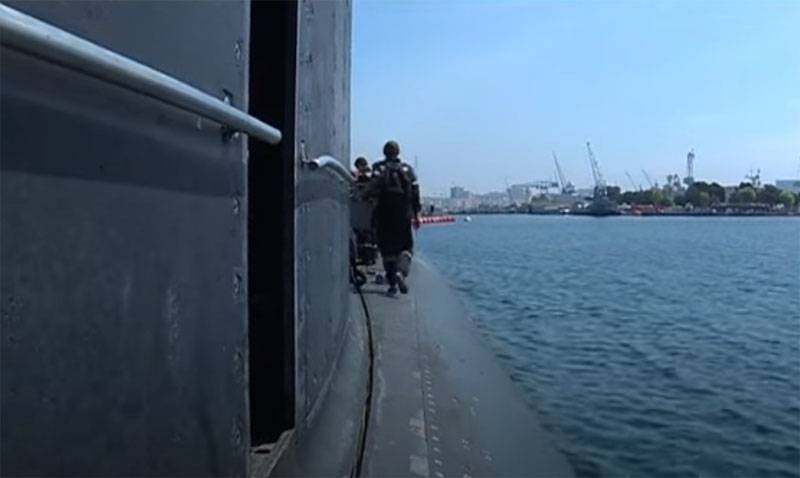 In France, a maintenance nuclear submarine caught fire. A fire broke out at a submarine moored at a naval base in French Toulon, according to the Mediterranean Sea Prefecture.
According to data published by local media, the incident occurred on the Perle nuclear submarine, belonging to the class "Ryubi" (Rubis). The submarine has been under maintenance since January of this year, the fire could be caused by work being carried out on it. It is emphasized that at the time of the fire, there were no weapons or batteries on board the submarine.
The smoke from a fire at Perle is not radioactive. There is no nuclear fuel on board. We remind you that throughout France there are sensors that record all the anomalies associated with the level of radioactive elements
- stated in the prefecture.
It is clarified that not only local fire brigades arrived to fight the fire aboard the submarine, but Marcel also helped, which can indicate the power of fire. There is currently no information about the victims.
The multipurpose nuclear submarine Perle (S606) was laid down on March 27, 1987, launched on September 22, 1990 and became part of the French Navy on July 7, 1993.
Above-water displacement - 2 449 t, underwater - 2713 t, length - 73,6 m, width - 7,6 m, draft - 6,4 m. GEM: CAS-48 nuclear reactor with a capacity of 48 MW with an integrated heat exchange system; two turbogenerators working on one propeller shaft; standby diesel generator.
The maximum underwater speed is 25 knots, the working immersion depth is 300 m, the maximum is 500 meters, the autonomy is 60 days, the crew of 68 people, including eight officers.
Armament: four 533-mm bow torpedo tubes, anti-ship missiles SM-39 "Exoset", torpedoes F-17 mod. 2, mines FG-29.