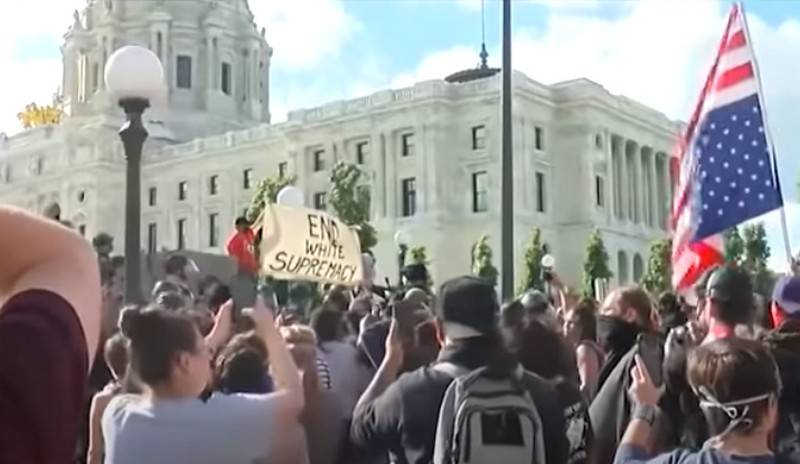 The United States expects the fate of the Soviet Union, 30 years after the collapse of the USSR, the United States is also on the verge of collapse. About this in his article for Le Figaro wrote the French columnist Nicolas Bavre.
According to Bavre, the policy of the current president, Donald Trump, who "plunges America into a civil war" will lead to the collapse of the United States. Currently, the author claims, the United States is experiencing four crises at once simultaneously, and all of them are associated with the coronavirus pandemic.
Firstly, the spread of COVID-19 infection claimed at least 110 American lives, a pandemic in the United States has already been compared with the wars that were fought in the 20th century. The second factor was unemployment, which has reached 45 million over the past three months and continues to increase. The third factor was the fall in the country's GDP; it is forecasted that in 2020 the decline will be at least 6,5%. And the last factor that gave the impetus was the murder by police in Minneapolis of African American George Floyd. This incident stirred America and brought thousands of protesters to the streets.
"Oil to the fire" is added by Donald Trump, who, trying to save his face against the background of riots and win the next election, sometimes makes mixed decisions. What is Trump's statement about the intention to resort to the 1807 law on the suppression of uprisings and entrust the restoration of order in the army's country? All this further plunges the United States into chaos.
As the French journalist notes, all these events, including the struggle for power, can lead to the collapse of the United States. However, Bavre emphasizes that Trump's power is still strong and if he wins the election, he can save the state, especially since his "opponent from the Democrats" Joe Biden is not a strong political figure.