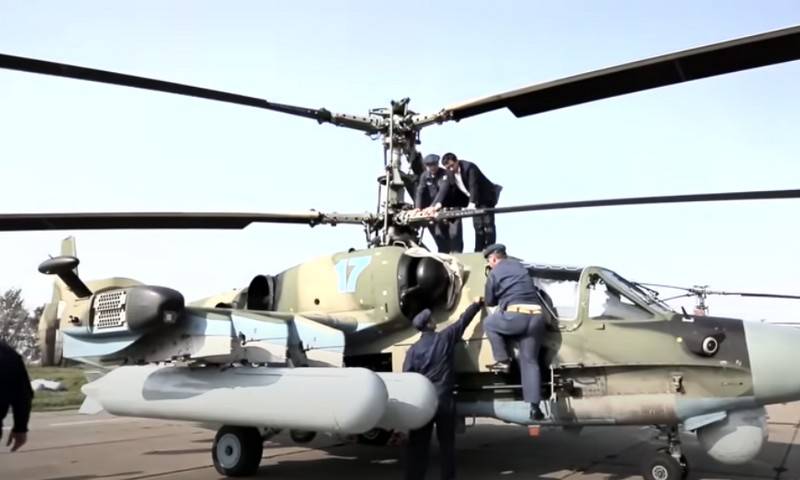 The development and testing of the first prototypes of the modernized Ka-52M Alligator helicopter with new weapons will be completed by the end of 2022. According to the government procurement portal, the National Center for Helicopter Engineering named after Mil and Kamov placed an order for the manufacture and testing of two prototypes of the Ka-52M, created on the basis of serial machines.
According to the document, the finalization of production vehicles in a modernized version should be completed by the end of 2020, followed by preliminary flight and joint state tests. During the modernization, the helicopter will receive new airborne systems: navigation, sighting, fire control and communications systems, as well as new weapons. At the same time, the car will retain the previous glider, but will acquire additional fuel tanks.
The full test program should be completed in September 2022. In total, it is planned to get into service 114 modernized helicopters.
The creation of a new version of the Ka-52 helicopter became known in 2018. According to the CEO of Russian Helicopters Holding Andrei Boginsky, the Ministry of Defense, having studied the experience of using helicopters in combat conditions in the Syrian Arab Republic, set the designers to create a modernized version that would take into account the proposals of the flight and engineering personnel participating in the battles.
As previously repeatedly reported, unlike its predecessor, the Ka-52 helicopter, the upgraded Ka-52M received enhanced armor and a new airborne defense system that protects the machine from anti-aircraft missiles. Armament was unified with another rotorcraft - Mi-28NM. The Ka-52M arsenal will include long-range Hermes-A missiles, guided by Vikhr-M anti-tank missiles, as well as Product 305 -
aviation
cruise missile with a range of up to 100 km.