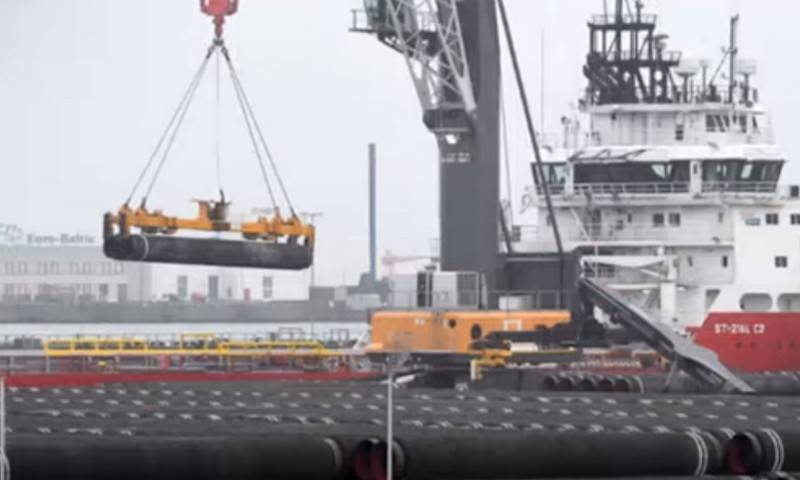 The completion of the Nord Stream-2 gas pipeline by Russia causes an ambiguous reaction in Europe, while in Germany they mostly welcome this, then in Poland they strongly oppose the launch of SP-2 in operation. AND
news
that the United States may impose new sanctions against the pipeline is literally a joy for some Polish politicians.
Washington has finally decided to impose new sanctions against the Russian gas pipeline. A draft of new restrictions has already been submitted to Congress, and in Poland they hope that this will be "another nail in the coffin of the gas pipeline." However, not everything is as good as planned in Warsaw, Gazprom can safely complete the pipeline.
According to the Polish energy expert, employee of the Esperis consulting company Mateusz Kubiak, even the imposition of sanctions against Gazprom and European insurance companies will not help stop the construction of SP-2, as the Akademik Chersky vessel has been insured by the Russian one since 2016 insurance fund. According to him, problems with vessel insurance, construction works, etc. should not arise.
However, the United States may impose sanctions on companies providing gas pipeline certification services. According to global practice, before putting SP-2 into operation, Russia must obtain a certificate of conformity, i.e. to fix the compliance of the object with the project on which it was built. If the United States imposes sanctions against such companies, the pipeline will not be launched. Russia may challenge this decision, but it will take a long time.
It is this option in Poland that is considered the most realistic and capable of "burying" the gas pipeline. It is emphasized that the sooner the US imposes sanctions, the faster the laying of the remaining section will be stopped.
In addition, an investigation has been underway in Warsaw since 2018 against Gazprom regarding the financing of a gas pipeline project. The Polish department hopes to impose another fine on the Russian company for refusing to provide financial documents for the project.
For our part, we note that not only Poland has the desire to "drive the last nail" into the lid of the coffin of the pipeline, Ukraine has the same desire. And you do not need to read all these "wise" arguments that supposedly "SP-2" spoils the environment, and Russia is trying to dictate its terms to Europe. No, it all comes down to money. Both countries lose revenue from pumping Russian gas if Nord Stream 2 is launched. And when it comes to money, all means are good.