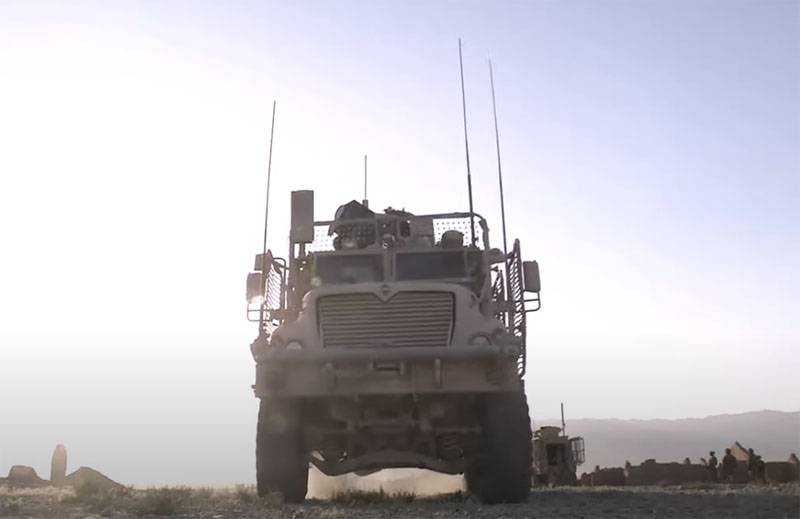 A new incident involving US and Russian military patrols occurred in Syria. And this time, the Americans tried with their armored vehicles to block the patrol route in the north of the ATS. However, everything ended in a complete fiasco for the "blockers" themselves.
The American armored car M1235 MRAP set off on a special mission, trying to block the way for Russian military vehicles. In the immediate vicinity of the Russian patrol, he pulled over to the sidelines, but the unexpected happened. The armored car "boiled", white steam began to pour out from under the hood cover. Moreover, the armored car began to slip and eventually stalled.
On this occasion, in the network, beating the famous call of Donald trump about America, they joked:
Let's make MRAP great again!
Engine cooling systems in American armored vehicles do not always cope with Syrian summer conditions, especially when drivers try to give "extra loads" to the engine.
This situation was ridiculed in the American blogosphere, noting that "trying to block the way for the Russians, they themselves were in an awkward situation." The term "awkward situation" is perhaps the mildest that can be imagined from all that ordinary Americans and not only Americans write about the situation on the network.
A few comments from the network:
Ask the Yemeni Hussites how to deal with this technique.
One word can be said: disgraced
Another road accident in the east # Syria between the Russian and American #convoy... Why the Americans so unlucky the last week. Let's make #MRAP great again! pic.twitter.com/yhQx2cbzUF

- Alexwarcorr (@alexwarcorr) June 10, 2020