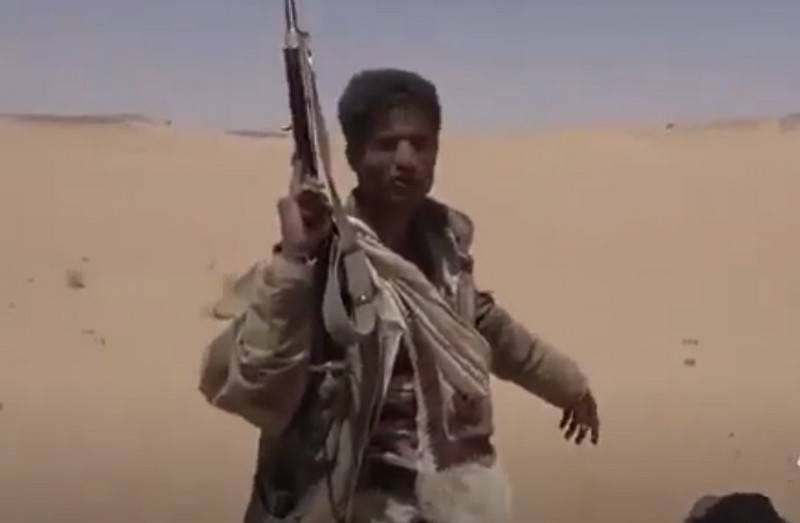 The confrontation of the Yemeni government army and the Hussites in the country continues. According to the press service of the coalition forces led by Saudi Arabia, the coalition forces managed to capture new military depots in the Sirwa region of Marib province.
According to a published statement, in the course of the previous air strikes and the ensuing strike, the government forces managed to seize two warehouses with
weapons
belonging to the Hussites. Both warehouses, as well as two vehicles belonging to the Hussite militias, were destroyed. It is also reported that there are dead and wounded by the militia, but more detailed figures are not given.
The Arab coalition accuses the Hussites of assaulting settlements in the west of the province of Marib, controlled by forces of the Yemeni militia of the Hussites. In turn, the Al-Masira TV channel, controlled by the Hussites, announced the application of more than ten air strikes in areas controlled by them.
Meanwhile, information comes from Aden about another clash in the province of Marib between the forces of the Yemeni government and the Hussites. During the shoot-out, at least 12 people died, dozens were injured.
At least nine Hussites destroyed, three soldiers killed by the government army
- write local media with reference to an anonymous source in the security forces of Yemen about the local defeat of the Ansar Allah group in Marib.
Meanwhile, it became known that Turkey intends to transfer militants from pro-Turkish groups in Syria to Yemen. All information came from the same well-known and London-based Syrian Observatory for Human Rights (SOHR).
So, according to SOHR, Turkish intelligence ordered militants controlled by Turkey to prepare lists of fighters ready to be deployed to Yemen. The militants are promised "high payouts," but not everything is as rosy as they think in Ankara. It is known that many groups are opposed to sending militants to Yemen, since forces are very dispersed. Field commanders did not want to let fighters go to Libya, and then Yemen "drew up".
Another obstacle to sending Syrian fighters to Yemen may be rumors spread by fighters who left for Libya. According to them, the Turks "throw" mercenaries without paying them salaries, and official Ankara, as it were, has nothing to do with it.
Recall that the war in Yemen has been going on since 2015. On the one hand, there is a government supported by the Arab coalition led by Saudi Arabia, and on the other, the Ansar Allah group (simplified - Husites), supported by Iran.