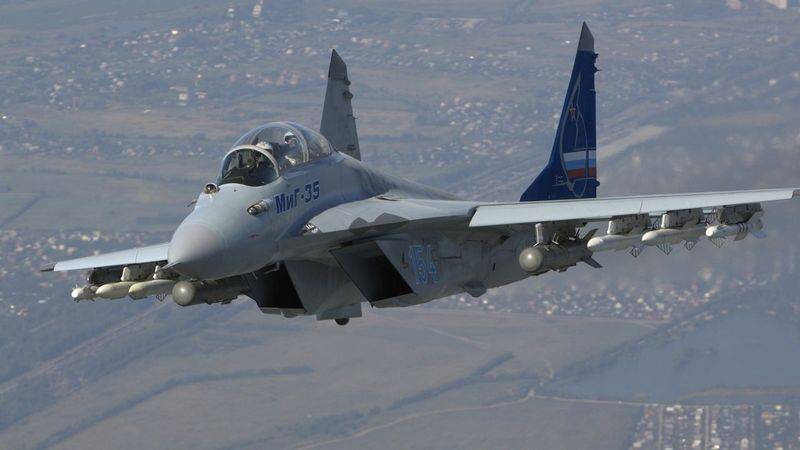 The Russian MiG-35 fighter can get promising weapons, aircraft tests are ongoing. As told in an interview with RIA
News
MiG Corporation test pilot Dmitry Selivanov, almost the entire range of available
weapons
.
According to Selivanov, almost all weapons were tested on the MiG-35, but there are still those that are not yet ready for use in flights, so not all weapons have been tested as part of the complex.
There are promising types of weapons that our aircraft are able to use, but, for example, the developer of these weapons is not yet ready to begin its practical tests.
- he said.
The pilot explained that in addition to testing weapons, there are many other tasks that need to be addressed, so testing of the aircraft continues. At the same time, he draws attention, if any flaw is found, now there is no need to redo the plane, it is enough to "reflash" the program to fix it.
To eliminate it, it is enough to "reflash" the program responsible for a particular node or unit. Almost everything is done in digital, it is very convenient. Reminds a personal computer that can be updated without touching the hardware
- he explained.
Also, a new expert system will be installed on the fighter, which will prompt the pilot in many difficult situations. Now there is a voice informant on the plane.
We call her Rita - a speech informant. The girl speaks in a pleasant, calm voice, even if a fire in the engine happens. She doesn't always talk, but tells only if the plane comes to some restrictions. For combat use, there are also clues
- said the pilot.
The MiG-35 is the newest multipurpose fighter of the 4 ++ generation, which is a further development of the MiG-29К / KUB and MiG-29М / М2 aircraft. According to the developers, the MiG-35 will be able to use the full range of existing and advanced aircraft armament.
In August 2018, the Ministry of Defense of the Russian Federation signed a contract with the United Aircraft Corporation JSC (UAC, which includes MiG JSC) for the supply of the first six serial fighter MiG-35S and MiG-35UB. In total, the state armaments program provides for the purchase of 2027 serial MiG-24 fighters by 35.