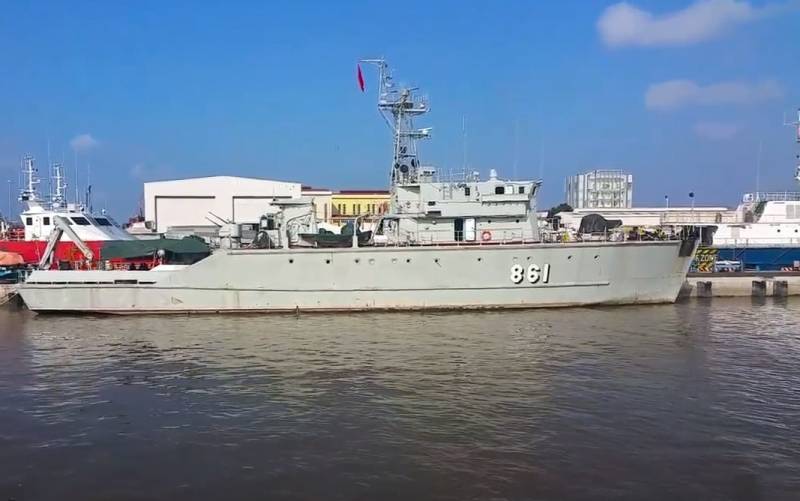 Project 1265 Sonya
The naval potential is characterized not only by powerful strike pennants, but also depends on combat support ships, providing, in particular, the logistics necessary for operations.
One of the strengths of Vietnamese
fleet
is a mine sweeping fleet, according to KienThuc. According to him, the main ship for this purpose is Sonya Project 1265: these are composite minesweepers with a wooden coating. They are designed to detect, mark and neutralize various types of mines. The ship has a total displacement of 450 tons, has a maximum speed of 15 knots. This type carries one radio and sonar, sonar buoys.
The minesweepers of the original project 1265, developed for the needs of the USSR Navy, were equipped with two 30-mm AK-230 cannons, which were placed in front and behind the ship, but in the export version it remained only aft.
In 1987-1990, the Soviet Union provided us with four pennants [...] These were the last warships transferred as aid
- writes the Vietnamese edition, indicating that they have proven their worth: for example, HQ-861 took part in protecting the sovereignty of the Spratly Islands, demonstrating "the dominance of the fleet in the region."
The following are two pennants of project 266 (donated in 1981 from availability), also created in the USSR. They have a displacement of 873 tons. Ships are made of low-grade steel, equipped with two M-503 diesel engines, which allow you to work at a maximum speed of 16 knots.
The third type of minesweepers are two ships of the Soviet project 1258. They have a very small tonnage, less than 90 tons, a crew of 10 people and develop a maximum speed of 13 knots. Pennants are able to work only near the coast. Currently, they are serving at the Naval Academy, where they are involved in training purposes.
The minesweepers of the Vietnamese Navy currently completely dominate the region [APR], because only countries with a really powerful fleet possess these ships
- KienThuc believes.