Civilian equipment
The first electric cars appeared before cars with internal combustion engines (ICE), in 1828. At the beginning of the XNUMXth century, electric cars accounted for more than a third of the entire US fleet. However, then they gradually began to give up their positions, yielding to cars in range, ease of refueling and other parameters.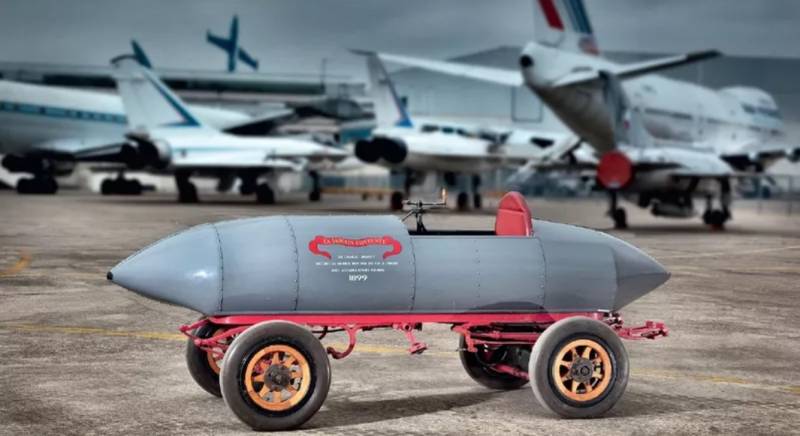 On an electric car equipped with two 50-kilowatt motors and a hundred two-volt battery cells, the Belgian race car driver Camille Zhenatsi April 29, 1899 for the first time in stories reached a speed of 100 km / h
Several design options for electric vehicles can be implemented. A classic electric car receives electricity from rechargeable batteries charged at a charging station. An electric vehicle with an external supply of electric energy receives electric power from external conductors by a contact method or by means of electromagnetic fields. To recharge the batteries of an electric vehicle, an internal combustion engine with a generator can be installed, or electricity can be generated from liquid or gaseous fuels directly using catalytic fuel cells. All of the above schemes can be combined in various ways.
Periodically, interest in electric vehicles was renewed, usually during an increase in the price of oil products, but quickly faded away: ICE cars remained out of competition. As a result, electric-powered equipment has become widespread in the segment of vehicles with an external supply of electric energy: electric trains, trams, trolley buses, and in the niche of warehouse equipment.
Special equipment can be distinguished as a separate segment, for example, mining dump trucks with a carrying capacity of over 100 tons, on which an electromechanical transmission is used.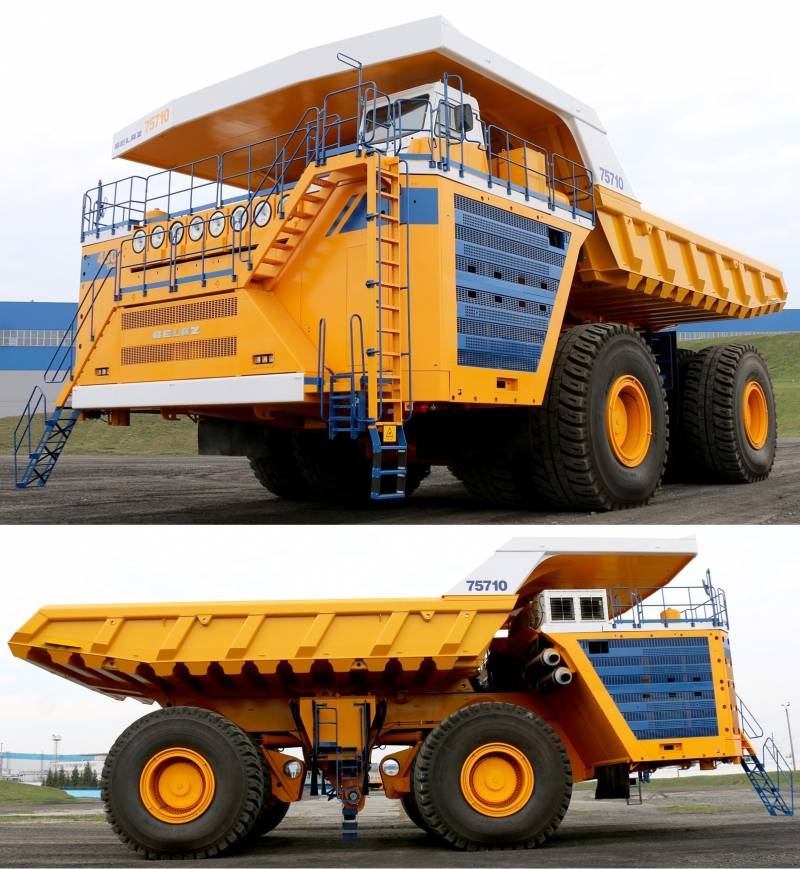 BELAZ-75710 mining dump truck with a loading capacity of 450 tons. The power plant includes two electric generators, each of which is connected to a V-shaped sixteen-cylinder MTU Detroit Diesel 16V4000 diesel engine with a capacity of 1715 kW (2330 hp), the generated current is supplied to four motor wheels with a capacity of 1200 kW
At the beginning of the XXI century, interest in electric vehicles resumed at a new level. The determining factor was not the rise in price of oil products, but the demand of environmental activists to reduce harmful emissions. The manufacturer, who has ridden the "ecological wave" as much as possible, has become the American company Tesla of the adored (hated) by many Ilona Mask.
But who and no matter how relate to Ilon Mask, it is impossible to deny that a lot of work has been done by Tesla: in fact, a separate segment of the car market has been created, electric cars have become a direction in which the auto giants have begun to actively invest. If development is being actively pursued in a certain direction, then the result will be achieved sooner or later. There will be new batteries with increased capacity, high charging speed and an extended temperature range of application, more efficient and compact electric motors, with integrated gearboxes that can be placed in a wheel motor with a small unsprung mass and other developments.
There is no doubt that in the foreseeable future, electric cars will practically supplant ICE cars, and not for environmental reasons, but because of the general technical superiority of electric vehicles.
Military equipment
In 1917, the French company FAMH launched 400
tanks
"Saint Chamond" with an electric transmission "Crochat Collendeau", in which the Panhard gasoline engine was connected directly to an electric generator, which supplied electric power to two electric motors, each of which was connected to a drive wheel and a caterpillar. Also in 1917, a tank with electric transmissions from Daimler and British Westhouse was tested in the UK.
Later examples include the German heavy self-propelled artillery mount (self-propelled gun) Ferdinand (Elephant) weighing 65 tons. The Ferdinand power plant included two Maybach HL 12 TRM V-shaped 120-cylinder carburetor water-cooled water-cooled engines with a capacity of 265 liters each. pp., two Siemens-Schuckert Typ aGV electric generators with a voltage of 365 volts and two Siemens-Schuckert D149aAC traction motors with a power of 230 kW each, located in the stern of the hull, which powered each of its wheels through a reduction gearbox made according to the planetary scheme.
With the relative novelty of Ferdinand, there are not so many complaints about its work. As such, one can note the greater complexity and cost in comparison with power plants of a classic design, as well as the need to use a significant amount of copper that is scarce in Germany.
In addition to the self-propelled guns Ferdinand, the use of electric propulsion was also considered in the German superheavy tank of the 188-ton tank Maus (Little Mouse).
Around the same period, in the USSR, the experimental heavy tank EKV with an electromechanical power plant was developed on the basis of the KV-1 tank. The technical design of the EKV tank was developed in September 1941, and in 1944 a prototype EKV tank was put to the test. It was assumed that the use of an electromechanical transmission on the tank will reduce fuel consumption, improve maneuverability and dynamic characteristics of the tank.
The electromechanical transmission of the EKV tank included a DK-502B starter-generator connected to a V-2K diesel engine, and two DK-301V traction electric motors, with two final drives and control equipment.
EKV tank image
According to the test results, the design of the EKV tank was recognized as unsatisfactory, the project was curtailed.
Projects of "electric" tanks were carried out in Britain, the USA, the USSR, Germany and France, as well as in other countries throughout the XNUMXth century. Nevertheless, at the current moment, tanks and armored vehicles of a traditional layout have received maximum development.
Benefits and Prospects
Why is there always a return to the issue of providing electric movement for ground combat vehicles, despite the large number of closed pilot projects?
On the one hand, there is a development of technologies, the use of which in electric propulsion systems allows counting on obtaining positive results, previously unattainable.
Permanent magnet motors and asynchronous motors, high-efficiency electric current generators, energy distribution systems, batteries for fast charging and much more are being developed.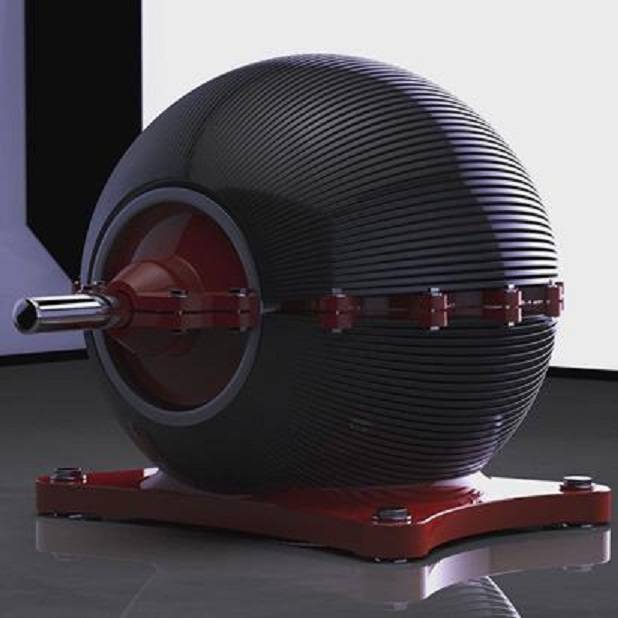 High-performance electric motor of the American company HELV Motors (Buddha Energy Inc.)
Recently, it has been a question not only of ground-based vehicles with electric propulsion, but also of the creation of all-electric aircraft up to fairly large passenger models.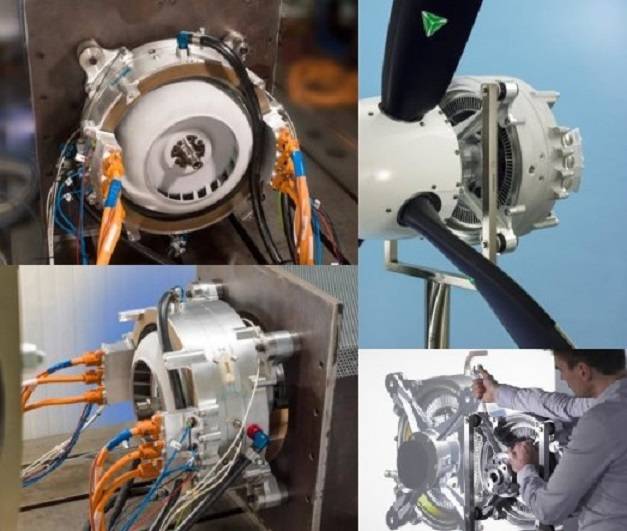 Siemens electric motor weighing a little over 50 kg, 260 kW, designed for light aviation
On the other hand, the advantages that electric propulsion of ground-based military equipment can provide are more and more popular:
- the possibility of a flexible layout of the combat vehicle due to the lack of electric transmission units with a rigid mechanical connection provided by the shafts;
- increased survivability of military equipment due to the possibility of redundancy of electric transmission components;
- the possibility of abandoning fire hazardous hydraulic drives in favor of electric ones;
- the possibility of movement of military equipment on limited sections of the track in the mode of maximum camouflage, with minimal unmasking by sound and thermal signs;
- the possibility of energy recovery during braking;
- the best dynamic characteristics and permeability parameters of armored vehicles equipped with electric transmission;
- greater ease of control of armored vehicles with electric propulsion;
- the ability to provide a sufficient amount of electricity to an ever-increasing amount of equipment, sensors, advanced weapons.
Let's consider these advantages in more detail.
The main source of energy - diesel or gas turbine, in machines with electric transmission will have a longer resource and economy due to the fact that initially the optimal engine speed can be chosen at which it will have minimal wear and maximum fuel efficiency. Increased loads during acceleration and vigorous maneuvering will be compensated by buffer batteries.
For example, in combination with a generator, a high-speed gas turbine can be installed, which will operate in the "on / off" mode to recharge the buffer batteries, without changing the speed.
In electric transmission there is no need to install bulky shafts and gearboxes. The mechanical connection in the electric transmission is available only in pairs of the engine-electric generator and electric motor-wheel, but these blocks can be made in the form of a single unit. The remaining units are connected by flexible cables.
Unlike mechanical connections, electrical connections can be repeatedly redundant. For example, at the stage of housing assembly, protected cable channels can be laid in which a universal power and data bus will be placed, including power and data cables.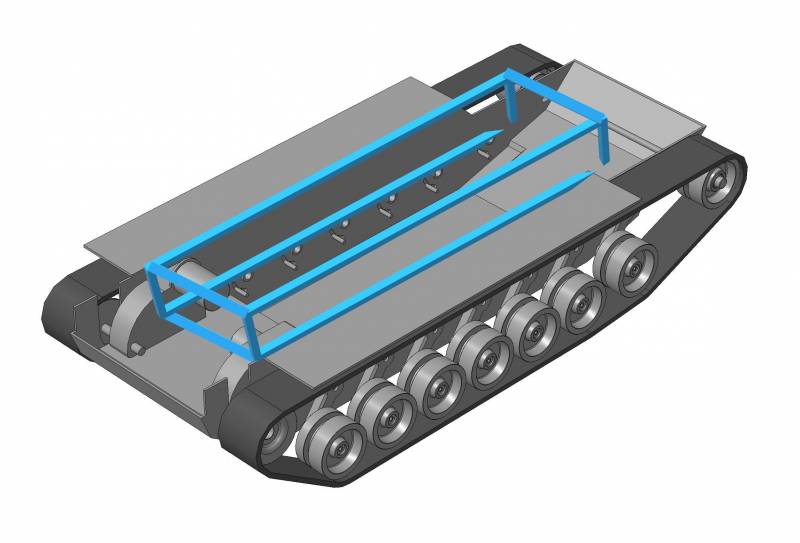 Cable channels can be placed in armored casings around the perimeter of the inside of the case, which will provide multiple backups of power and data transmission
Spatial separation of energy sources, supply and communication channels, as well as engines and propulsion systems with an increased probability will allow the combat vehicle to maintain mobility and situational awareness when damage is received, which will make it possible to withdraw the combat vehicle from the firing zone and evacuation from the battlefield.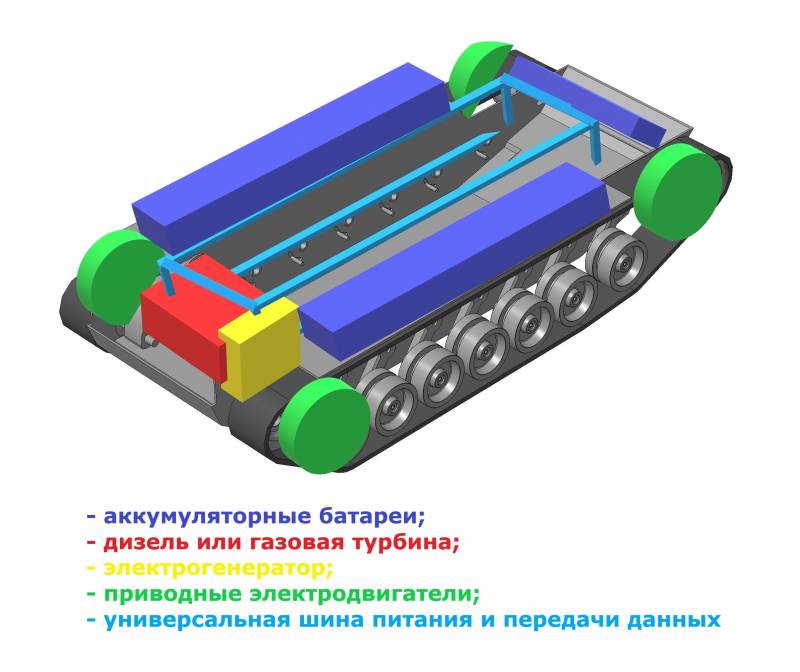 Ground armored vehicles with electric transmission will have high survivability in case of damage from one or more angles
The abandonment of hydraulic actuators in favor of electric ones will also help to increase the survivability of ground combat vehicles, both because of the lower fire hazard of the latter and because of their greater reliability. The Russian Air Force plans to abandon hydraulic drives on the fifth-generation fighter Su-57 by 2022.
The presence of buffer batteries allows you to maintain mobility without turning on the main engine, albeit on a fairly limited distance. This will allow promising combat vehicles to implement new tactical scenarios for conducting combat operations from an ambush when the armored vehicle is in standby mode in standby mode, while its thermal signature will be comparable to the ambient temperature.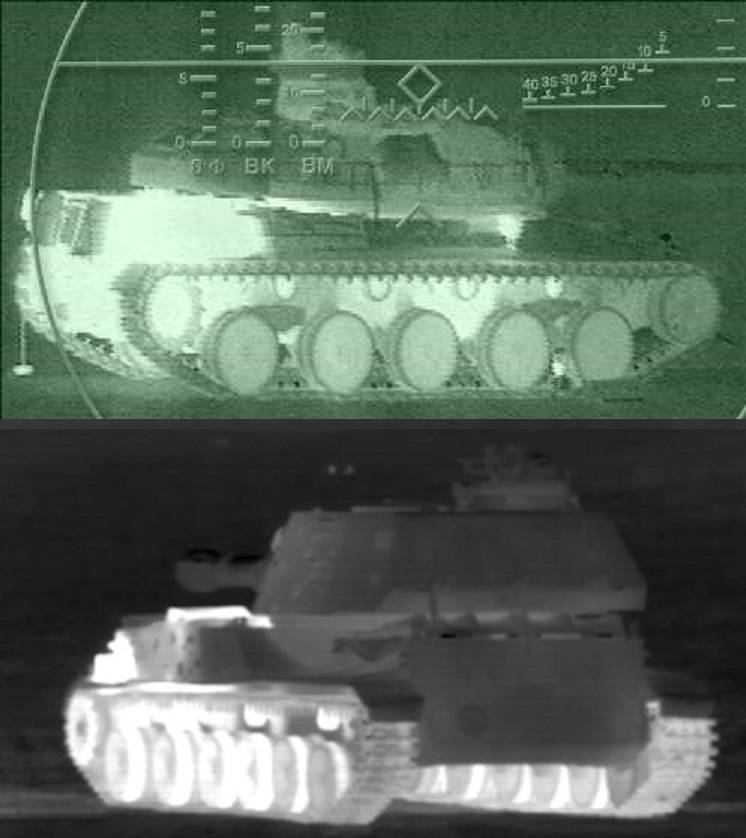 The heating of the power plant greatly unmasks the armored vehicles in the thermal range
Rechargeable batteries will also provide the ability to move in case of failure of the main power plant, which will allow armored vehicles to leave the battlefield on their own. In some cases, to evacuate a combat vehicle with electric transmission, it will be enough just to connect it to an external energy source. For example, an armored repair and recovery vehicle in this way can simultaneously evacuate two other armored vehicles with partially damaged electrical transmissions, simply by transferring power cables to them.
As in civilian electric vehicles, in armored vehicles with electric transmission, energy can be recovered during braking.
Ground combat vehicles with electric transmissions will have better mobility and controllability characteristics due to the stepless transmission of power to the propulsion devices, as well as the flexible distribution of power between the left and right side electric motors. For example, during a U-turn, a decrease in power on the lagging side motor will be compensated by an increase in the power of the outboard motor.
One of the most important benefits of electric transmission will be the ability to provide power
equipment and sensors
, for example, radar stations (radar) reconnaissance, guidance and all-round defense complex active defense.
In the near future, an integral part of ground combat vehicles will become
laser weapon
, which will be able to largely level the threat from small unmanned aerial vehicles (UAVs), anti-tank guided missiles and cluster-based striking elements with thermal and optical homing heads.
Electricity may be required for active camouflage systems of armored vehicles in the thermal and optical wavelength ranges.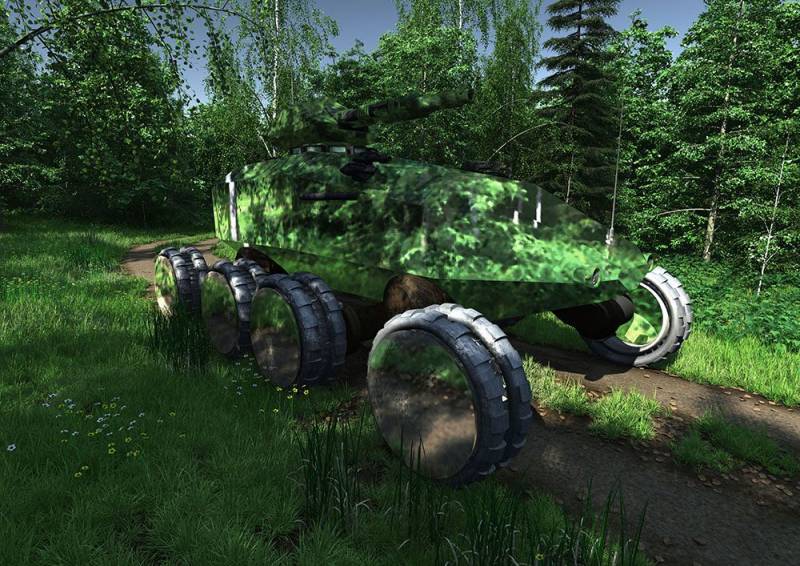 Promising armored vehicles can be equipped with active camouflage in the thermal and optical wavelength ranges
conclusions
The creation of ground-based combat vehicles with electric propulsion is likely to become inevitable as technology improves and requirements for the energy supply of airborne equipment and weapons increase. The civilian market of electric vehicles can have a significant impact on the pace of implementation of ground-based combat vehicles with electric propulsion.
Promising ground-based combat vehicles with electric transmissions will surpass the "classic" models in terms of dynamism, maneuverability, ease of control, survivability and security, as well as the possibility of placing promising weapons and sensors with high energy consumption on them.