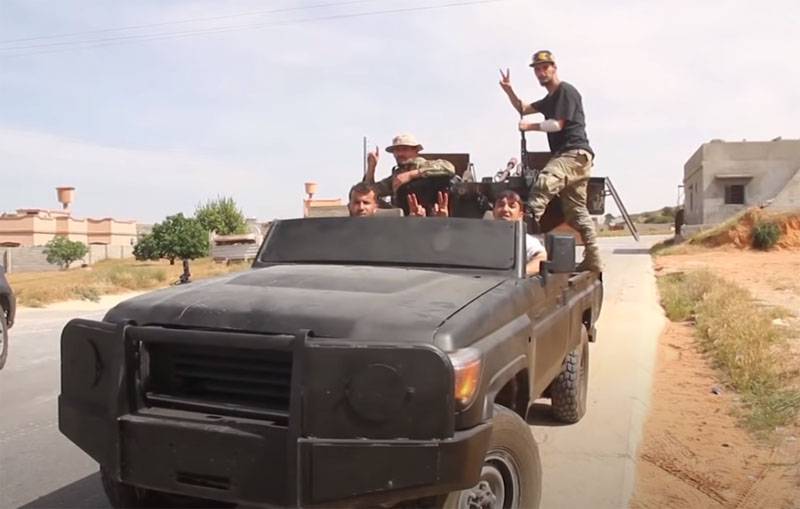 In Libya, fighting continues in the area of ​​the city of Sirte. A few weeks ago, the city was under the complete control of the Libyan National Army, but now the forces of Marshal Haftar are faced with the advance of the enemy and barely contain the onslaught.
It can be noted that, by and large, the PNS forces and pro-Turkish militants do not have a united front in the region of Sirte. The offensive is carried out according to the scheme worked out under Tarhuna: the use of Turkish attack drones and ground attacks by relatively small groups from several directions at once. Often, at key road sections, road junctions, and entrances to settlements, single military equipment is used that fires under "control" from UAVs, which also act as aircraft guides for ground targets.
It should be noted the ease with which the PNS forces, supported by Turkey, are moving both south and east of Tripoli. This suggests that the forces of Marshal Haftar for all the months of "operations to capture the capital of the country" have not created any effective lines of defense.
LNA troops advanced to Tripoli, leaving no reinforced rear. That is why the system works like a chain of dominoes - as soon as its first element fell over, the fall covered the subsequent ones. One gets the impression that the marshal is ruined by excessive self-confidence and confidence in the forces that he commands.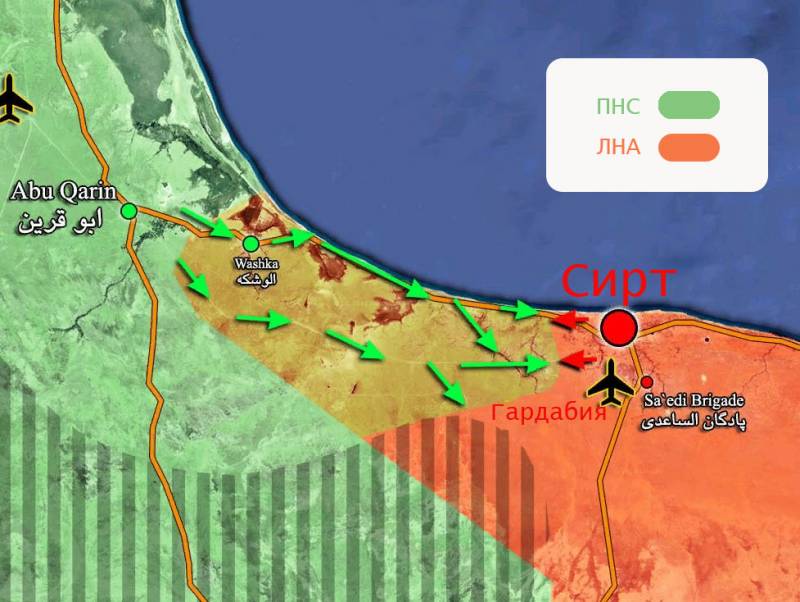 Middle Eastern expert Alayedin Mahmari names a specific reason:
Haftar forces acted without actually creating a rear military infrastructure. They drove all the equipment to Al-Vatiyah, and the blow that was received there became too painful for Haftar and his troops to recover. Now they are forced to retreat, but without the defense lines created earlier, this retreat can go all the way to Benghazi.
Meanwhile, reports came from Egypt that Cairo had invited the Tripoli (PNS) authorities to stop the offensive and remain in their positions, moving on to negotiations on a comprehensive peace. But in the command of the PNS troops, the decisions on whose behalf are made, apparently, not in Tripoli, but in Ankara, the Egyptian proposal was rejected and the attack on Sirte continued.
Recall that earlier Egyptian troops were deployed to the Libyan border. Apparently, Cairo understands that pro-Turkish militants can quickly reach the east of Libya and enter Egyptian borders. And if they are not met there in a timely manner, then they may well leak into the territory of Egypt, which already has enough problems with terrorists - in the Sinai.
PNS forces lose their "mobile firing point":
Video shows the moment a #GNA military vehicle was targeted by the Libyan National Army. #Libya #LNA

pic.twitter.com/XToTz7guAq

- M.LNA (@ LNA2019M) June 9, 2020