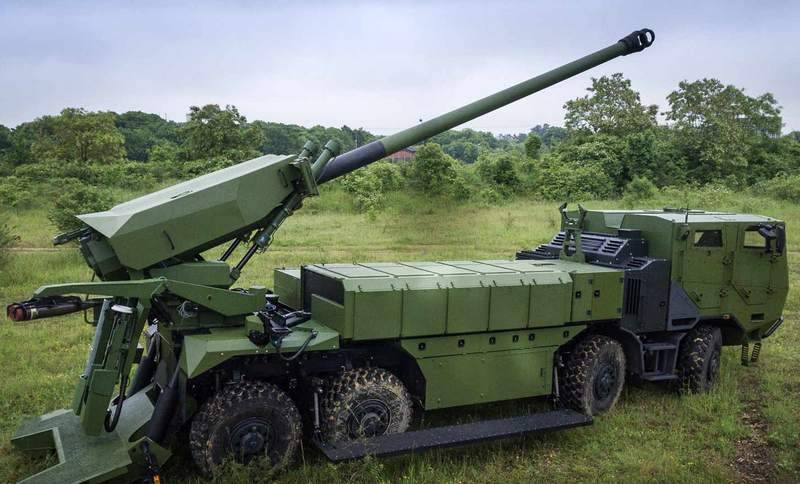 The Czech armed forces will adopt French 155-mm / 52 caliber CAESAR self-propelled howitzers on a wheeled chassis. This was stated by Czech Minister of Defense Lubomir Metnar. A contract for the purchase of new howitzers may be signed before the end of the year.
The Czech Ministry of Defense decided to purchase French CAESAR howitzers, which should replace the Dana 52 systems in the Czech army. It is also specified that howitzers purchased by the Czech Republic will be carried out on a Tatra T815 chassis with an 8x8 wheel arrangement manufactured by the Czech company Tatra Trucks. In total, it is planned to order 52 CAESAR artillery systems with an option for another 12 self-propelled guns. In addition, the supply of two simulators and ammunition will be included in the contract price. Deliveries are provided for the period from 2022 to 2026.
The French company Nexter Systems produces CAESAR self-propelled howitzers on three chassis: Tatra T815 (8x8), Renault (Arquus) Sherpa 10 (6x6) (the main production version) and Unimog U2450L (6x6) (for the National Guard of Saudi Arabia). The CAESAR self-propelled gun version, performed on the Tatra T815 (8x8) chassis, was first introduced in 2015, and Denmark was its first customer.
The CAESAR self-propelled howitzer, executed on the Tatra T815 (8x8) chassis, has an armored cabin and a gross weight of 32 tons, equipped with a 8 hp Tatra V410 diesel engine. Calculation reduced to three people. The installation accommodates 30 rounds of ammunition (12 more than the self-propelled guns on a 6X6 chassis).
SAU CAESAR is currently in service with France, Saudi Arabia, Indonesia, Thailand. At the same time, the base chassis for CAESAR self-propelled guns is Renault Trucks Defense Sherpa 5 with a 6x6 wheel arrangement, all Saudi systems were made on the Mercedes / Unimog U5000 (6x6) chassis.