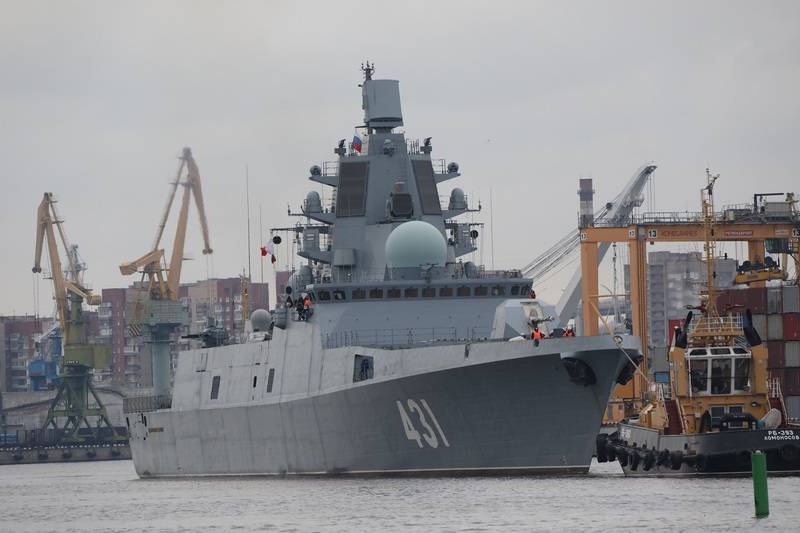 The first serial frigate of project 22350 Admiral
fleet
Kasatonov "completed state tests and arrived at the shipyard" Severnaya Verf "to conduct an audit before being handed over to the customer, the press service of the company said.
As follows from the press release distributed by Severnaya Verf, the ship's revision will take place during June. During this time, specialists of the enterprise will carry out maintenance of the mechanisms and prepare the frigate for transfer to the Russian Navy. After the audit, "Admiral Kasatonov" will make a control exit to the sea and will be transferred to the fleet. Like the lead ship of the series - Admiral Gorshkov, Admiral Kasatonov will become part of the Northern Fleet.
We reached the finish line and are approaching the main event for the ship - the raising of the St. Andrew flag. For ten months, the ship passed the test phases in two fleets - the Northern and Baltic, (...) The delivery team, together with the crew, fleet support services, carried out a thorough check of the frigate, (...) "Kasatonov" is a modern powerful ship of the distant sea areas that will strengthen the domestic fleet
- said the Director General of the Northern Shipyard Igor Ponomarev.
The frigate Admiral Kasatonov is the second ship of the 22350 project and the first serial after the lead frigate Admiral Gorshkov. Displacement of 5 thousand tons with a length of 135 m and a width of 16 m. The frigate is able to travel 4500 miles, while developing a speed of up to 29 knots. Autonomy of navigation is 30 days. The crew is from 170 people.
Main power plant: gas turbine engine with a total capacity of 65 thousand liters. pp., diesel generators with a total capacity of 4 thousand kW.
The frigate is armed with: 130-mm A-192 artillery mount, Poliment-Redoubt anti-aircraft missile system, launchers for 16 anti-ship missiles Onyx or Caliber, anti-submarine complex Package, anti-submarine helicopter Ka-27.