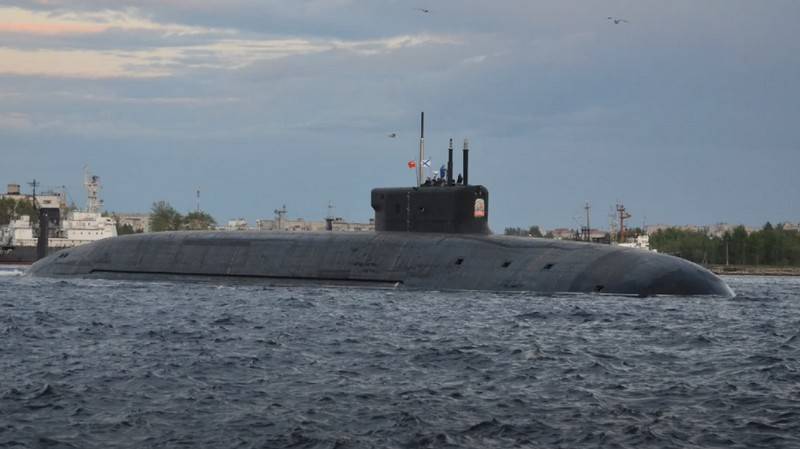 Strategic nuclear project nuclear missile cruiser project 955A (code "Borey-A") "Prince Vladimir" will officially form part of the North
fleet
as expected next week. It is reported by Interfax, citing a source in the industry.
The ceremony may take place next week. It depends on a number of factors, including the situation with coronavirus
- stated the source of the publication.
Recall that the acceptance certificate of the submarine was signed on May 28 at Sevmash. However, officially it will become part of the Russian Navy only after the ceremony of raising St. Andrew's flag.
On June 1, 2020, the Commander-in-Chief of the Russian Navy Nikolay Evmenov approved the acceptance certificate for the nuclear submarine. According to him, the date of the official ceremony will be determined in the near future.
In the near future, the date of the solemn ceremony of admission of the submarine to the Navy will be indicated. The strategic submarine cruiser Borey-A, Prince Vladimir, will carry out missions as part of the submarine forces of the Northern Fleet
- the press service of the Northern Fleet quotes the words of the commander in chief.
Strategic nuclear project "Prince Vladimir" of the modified 955A Borey-A project was laid down at Sevmash in Severodvinsk on 30 on July 2012 of the year, and the conclusion from the workshop took place on November 17 of 2017 of the year. The Borey-A project is distinguished by less noise, more advanced systems of maneuvering and retention at depth, as well as control
weapons
.
To date, the 955th fleet of the Russian fleet is powered by three 4th-generation project 955 (Borey) nuclear missile submarines - the strategic missile cruisers Yuri Dolgoruky, Alexander Nevsky and Vladimir Monomakh. In addition, four more serial ARPKSNs of this project 27A are under construction at the Sevmash - Prince Oleg (officially laid down on July 2014, 26), Generalissimus Suvorov (laid down on December 2014, 18), and Emperor Alexander III (laid down on December 2015, 23 years) and "Prince Pozharsky" (laid down December 2016, XNUMX).