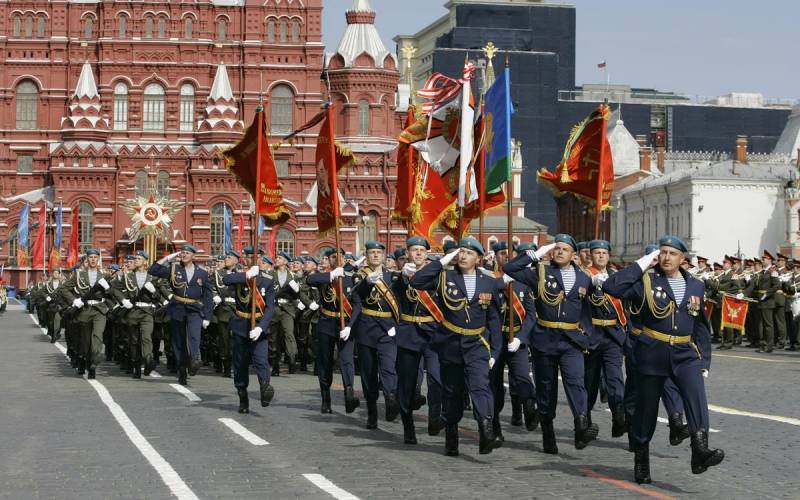 We are all (or almost all) in anticipation. June 24 is declared the day of the Victory Parade, and in connection with this fact several questions arise.
On the one hand, it seems like the whole country is in an incomprehensible position of self-isolation, and even burdened in some cities by a mask regime. It's funny to observe, by the way, how people frantically pull out of their pockets (mainly) these dirty rags, which used to be masks, before boarding a minibus. And clings to itself.
But now this is not about that. Now we are talking about figures and facts.
But the facts are such that the commander of the parade, that is, the person who directs the preparation and is responsible for holding the parade, the commander-in-chief of the ground forces, Army General Oleg Salyukov, voiced figures and plans in an interview with Red Star.
"Military parades will be held in 28 cities, including nine hero cities and 19 cities, where the headquarters of military districts, fleets, combined arms armies, the Caspian are deployed
flotilla
army corps.
In total, over 177 thousand military personnel and more than 4,5 thousand weapons and military equipment are involved in the festivities. "
However, a week later, Defense Minister Shoigu announced slightly different figures at a board of the Ministry of Defense. This was written by the same "Red Star", "Moskovsky Komsomolets" and many other publications.
And Shoigu coincided only with the number of cities where parades will be held. The number of participants has tripled.
"It is planned to attract 64 thousand people, 1 pieces of equipment and 850 aircraft. "About 511 thousand people will be involved in the parade on Red Square, including more than 14 pupils of pre-university educational institutions and Unarmeans."
And here the first question arises: which figure is correct? Why did the number of participants suddenly decrease?
The reason is this: nevertheless, the Ministry of Defense realized that such a quantity of personnel in ceremonial calculations would certainly and unequivocally provoke the very second wave of diseases that we were told about.
After all, 177 thousand people are actually one sixth of all the armed forces and one fifth of the ground forces. It's a lot. In case of infection - prohibitively much.
So the comrade defense minister decided to reduce the number of participants.
This is quite expected and quite logical. But here in Shoigu's quotes lies another inconsistency, which I consider necessary to voice.
"Only military personnel who are immune to the coronavirus COVID-19 or who do not have symptoms of an infectious disease will participate in the parade."
However, it is no longer a secret that COVID-19 may well pass without symptoms. This is a fact that cannot be turned away.
In the same speech, Shoigu announced the figure:
"... since the beginning of March, 6,5 thousand people have been infected in the armed forces"
.
This is the first part, that is, those who have been ill. In fact, 10% of the declared amount. Everything is clear with them, I have no questions. The question is for the remaining 90%, in which no symptoms were found. How are they with them? Is the critical mass too high? And if there are at least a small number of infected people in these almost 60 people?
With immunity (with the exception of patients who have it really), everything is complicated. And it's not entirely clear. Especially - with the army and cadets.
And with the number of ill. Given how we are dealing with honest coverage of the topic, the figure of 6,5 thousand people openly raises doubts.
Apparently, not just me.
Perhaps this is precisely why the head of the military-medical department of the Ministry of Defense Dmitry Trishkin said in his report that more than 2 thousand beds were reserved for participants in the parade in military hospitals. In Moscow.
Let me remind you that 14 people will take part in the parade in Moscow.
With the help of the most elementary calculations, it can be said that the Ministry of Defense and the Military Medical Department plan that every seventh will fall ill.
Not so bad ...
As far as one can understand, this is only in Moscow. That is, in the worst case scenario, every seventh of the participants will get sick.
Meanwhile, if you look at the statistics that are published daily, you can joyfully say that in Moscow there really is a certain decrease in the incidence.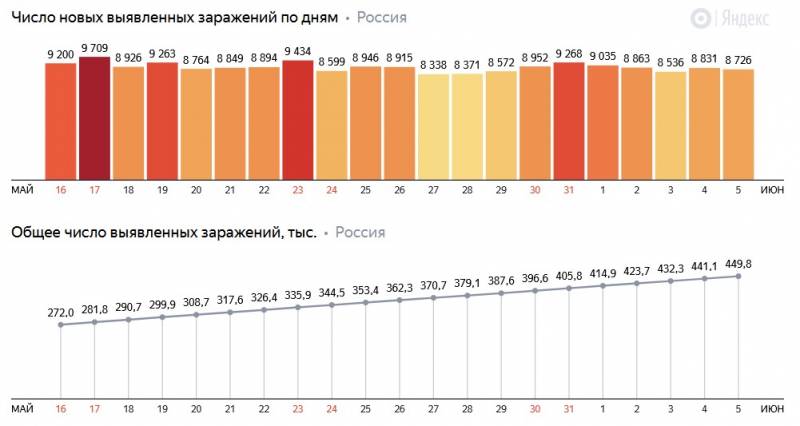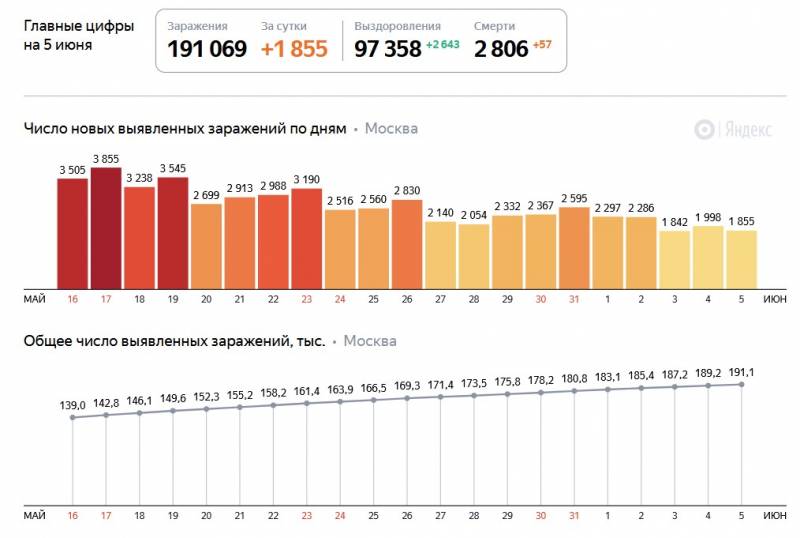 But, for example, about Voronezh, where they also promised an unprecedented parade, you can't say the same at all.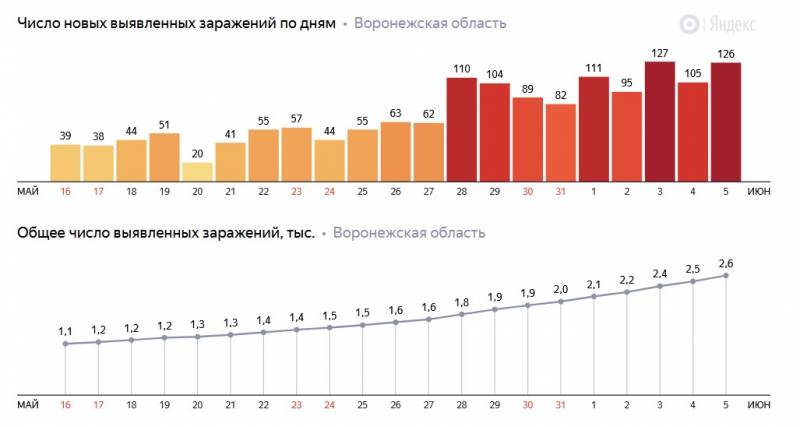 And here the third question arises: how will the parade be held?
The stands in which people will sit / stand staggered, wearing masks and gloves?
Ceremonial masks?
And really, here in our city a mask regime is declared. And in crowded places, they are required to wear masks.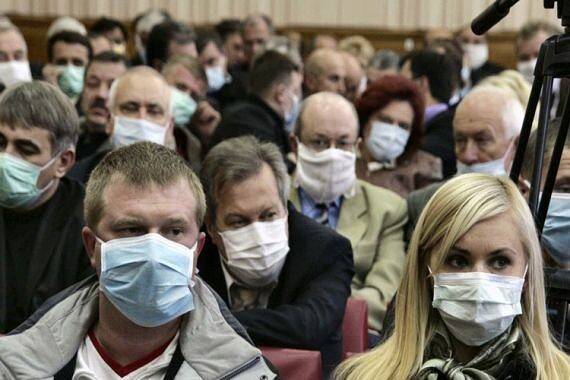 And the ceremonial calculation is an unsafe distance and everything else.
Or immediately in gas masks?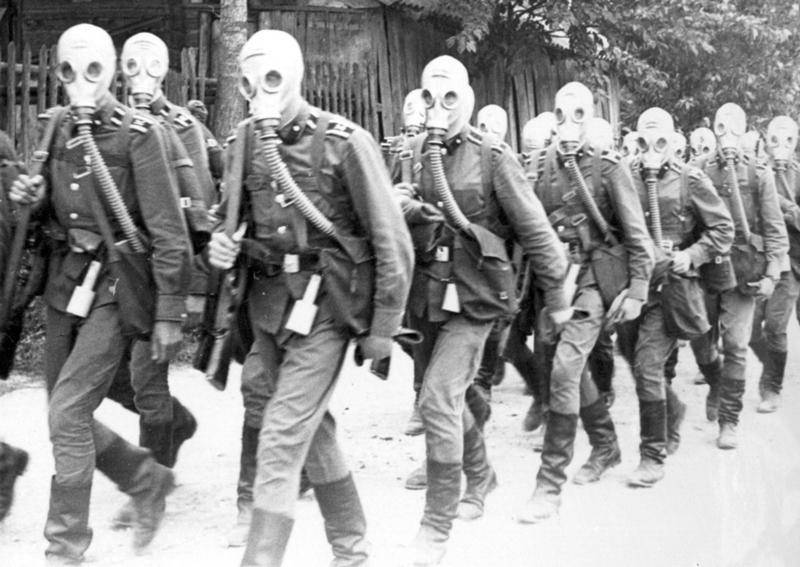 In any case, somehow everything looks strange. Especially in light of the extension of this strange regime. Somewhere it was extended until June 15, somewhere up to 21, and somewhere (in Novosibirsk) - up to 30.
Of course, you can take and declare that the coronavirus is defeated, self-isolation is removed, and parades are held as if nothing had happened. And announce this number that way on the 22nd. And all questions are removed.
But how much will it be right, truthful and justified?
Is it worth the parade, which may well give this new wave of disease, that? Having burnt yourself at completely incomprehensible events on May 9 with flights of planes somewhere above the city and fireworks somewhere outside the city, you start to look at all this from a slightly different angle.
In any case, we cannot compare with Belarusians. They had a parade, was held on May 9, honor and respect.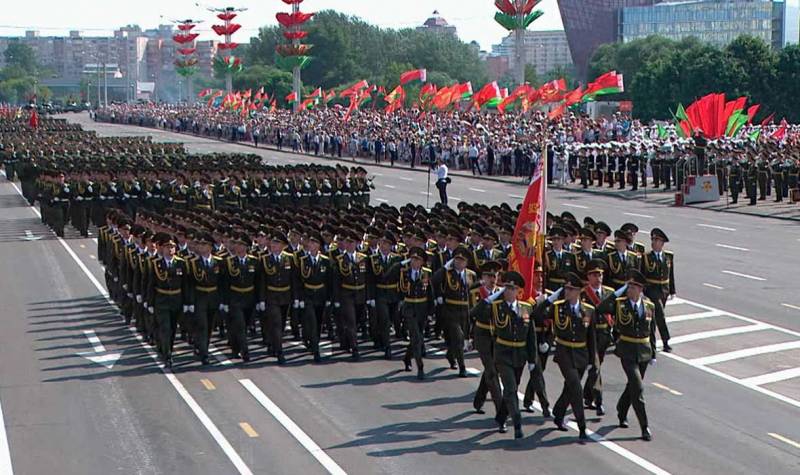 What do we have? Everything is strange and incomprehensible here. Is everything that was hitherto not so serious, and the parade must be held at all costs, or ...?
And how serious are you? And is he really needed now, this parade? When on one side of the scale the health of citizens (real), and on the other ... It is difficult to say what's on the other.
It is clear that to cancel this mode anyway. July 1 is just around the corner. Everything goes to him, but even for the sake of such a necessary event, it would be nice to think through everything well. So that it doesn't come out as always.