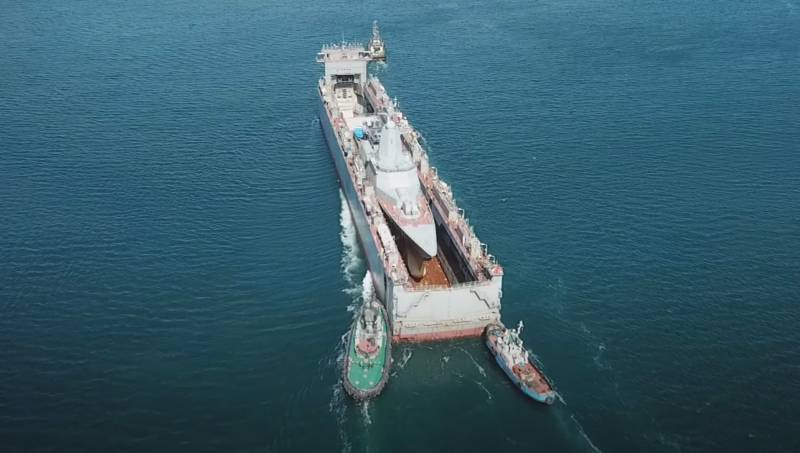 Built at the Amur Shipyard in Komsomolsk-on-Amur for the Pacific
fleet
corvette of project 20380 "Hero of the Russian Federation Aldar Tsydenzhapov" sent to the delivery base in Vladivostok. This was announced by the city resource komcity.ru.
According to the resource, the new corvette, loaded onto the Zeya transport floating dock, went to Vladivostok on June 3, 2020. The float dock was brought to the water area with the help of tugboats, along the Amur River "Zeya" you will only go during daylight hours. It is noted that the transportation of the corvette was postponed several times due to bad weather conditions.
It is reported that at the delivery base, the corvette will undergo mooring tests, verification of all systems and weapons. The act of technical readiness of the ship for the settlement of the crew was signed on May 29, the official settlement of the team on the corvette is scheduled for June 25.
The corvette of project 20380 "Hero of the Russian Federation Aldar Tsydenzhapov" was laid in Komsomolsk-on-Amur on July 22, 2015, on September 12, 2019 it was removed from the boathouse to the outfitting and transport-launch floating dock, and on October 21, 2019 it was physically launched from the dock. On May 25, 2020, it was introduced into the Zeya transport floating dock for transportation to Vladivostok. The commissioning of the Pacific Fleet is scheduled for the end of this year.
Project 20380 corvettes are classified as 2nd-class multipurpose combat surface ships of the near sea zone. At the same time, NATO considers project 20380 too large for corvettes, and defines them as frigates. Project 20380 was developed by the Almaz design bureau.