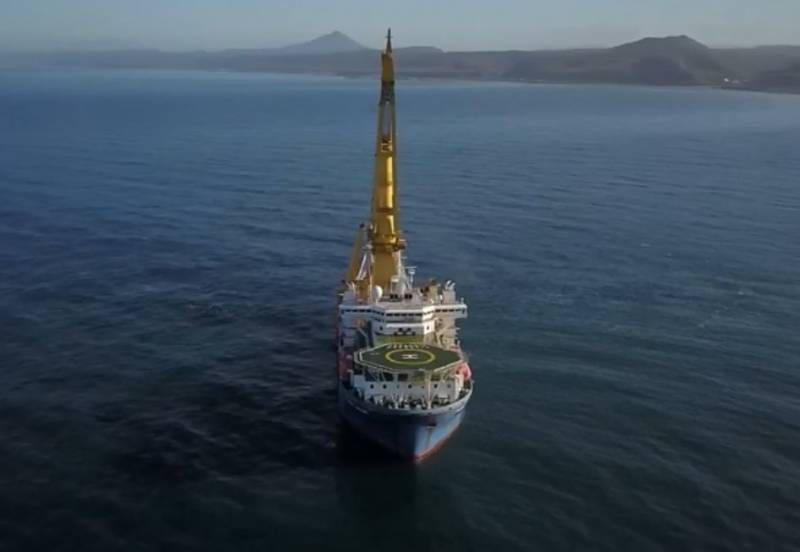 The Akademik Chersky pipe-laying vessel, which could have completed the Nord Stream 2 pipeline, has been idle for the last month on the pier of the Danish island of Rügen. And in July it will be impossible to carry out work. About this writes the German edition of Heise.
It can be said that the construction of Nord Stream 2 is only 150-160 kilometers of unsettled pipes, which is about 6 percent of the route. At the most inopportune moment last year, the Swiss-Dutch company Allseas refused to continue work due to the threat of being sanctioned by the United States. This forced Gazprom to drive across the world from the Sea of ​​Japan to the construction site its own ship, the Academician Chersky, which is now idle.
The situation is further complicated by the upcoming cod spawning season, which will begin in late June - July. At this time, work at sea is prohibited. It is the cod spawning, according to the German press, that, in addition to American sanctions, it can become a deterrent to the implementation of the SP-2 gas pipeline project.
But, for sure, the inactivity of the pipe layer is due to objective reasons. It is possible, for example, that the conversion of the vessel to carry out new tasks has not yet been completed.
In addition, the performance of "Academician Chersky" is extremely low, because he is able to lay no more than one kilometer of pipes per day. A more productive Russian pipe-laying machine "Fortuna" is not allowed by the Danish authorities to work because of its technical characteristics. It is not equipped, unlike Cherskiy, with a system of dynamic positioning in stormy weather. Therefore, if Denmark allows, Fortuna will lay the pipes, and the functions of the Academician Chersky will be reduced to "just being near this pipe layer."
There are enough obstacles to Nord Stream 2, because the United States uses all its forces and all its influence to freeze the construction of an almost completed pipeline. Now they are preparing a second package of sanctions, which provides for the seizure of the assets of individuals and organizations participating in the project, as well as a ban on calling ships involved in construction at ports.
In Russia, they believe that all these measures are manifestations of unfair competition, as stated by the press secretary of the President of the Russian Federation and other officials.
The Russian industry magazine Neftegaz even suggested that natural gas destined for Nord Stream 2 would be redirected via the completed Power of Siberia gas pipeline to China. Such an assumption should be a reason for Europeans to think.