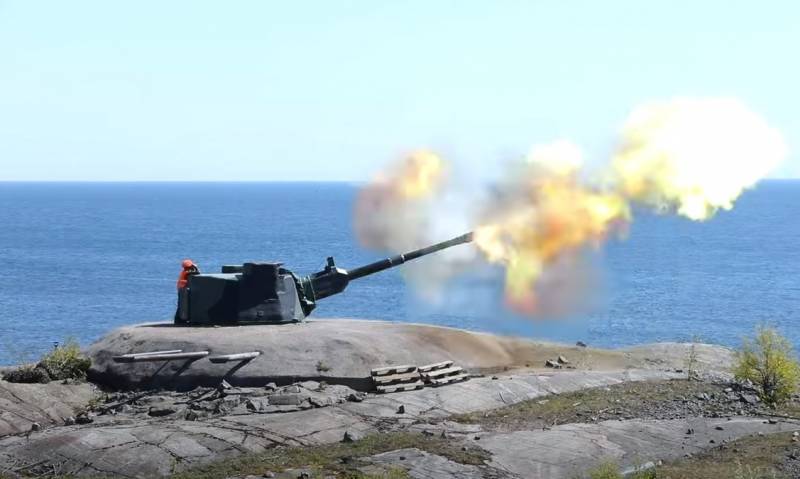 The Finnish Navy conducted exercises, during which artillery fire was carried out from coastal systems at surface targets.
According to the country's military department, more than 20 soldiers, 1100 pieces of equipment and about 30 ships took part in the Lotta 10 maneuvers. During the exercises, observation of sea space, mine clearance, firing, combat against submarines and other tactical techniques were practiced. The brigade of the province of Uusimaa was responsible for the ground part of the exercise, which was entrusted with the task of training ground units of coastal defense, including coastal artillery.
The main armament of the Finnish coastal artillery batteries is represented by 130 mm guns 130 53 TK. This system was produced in 1982 - 1990 by Oy Tampella Ab. The first guns were deployed in 1984, the last in 1990. Currently, this company is actively cooperating with the Israeli company Solel Boneh.
The maximum range of the projectile is 25 km, and in the case of the use of special ammunition - more than 30 km. The gun is capable of firing 3 shells in 20 seconds. The standard rate of fire is 6 rounds per minute. The gun 130 53 TK weighs 16 tons, the calculation totals 10 people (3 sergeants and 7 privates).
However, the main means of defeating enemy ships are the RCC 85M MTO, located on the chassis of trucks (such as Sisu SK242). These missiles are a version of the widely used Saab RBS15 missile in the RBS15 SF-III modification.
MTO-85M, operating at a distance of 100 km, is responsible for the external defense circuit, in the depths of which (at distances of about 30 km) 130 TK batteries are already starting to work. At short distances (up to 8 km), ATGM RO2006 (Eurospike-ER) are connected.
# Lotta20 -meritaisteluharjoituksen tykistöammunnoissa #rannikkoprikaati harjoittelee tulenkäyttöä merellä. Samalla varusmiesten osaaminen tulee testattua, koska toimiakseen tulipatterin jokaisen taistelijan tulee hallita tehtävänsä.#merivoimat #meriv #rpr #meritaisteluharjoitus pic.twitter.com/Xv6LfTosJ2

- Rannikkoprikaati (@rannikkopr) May 2, 2017