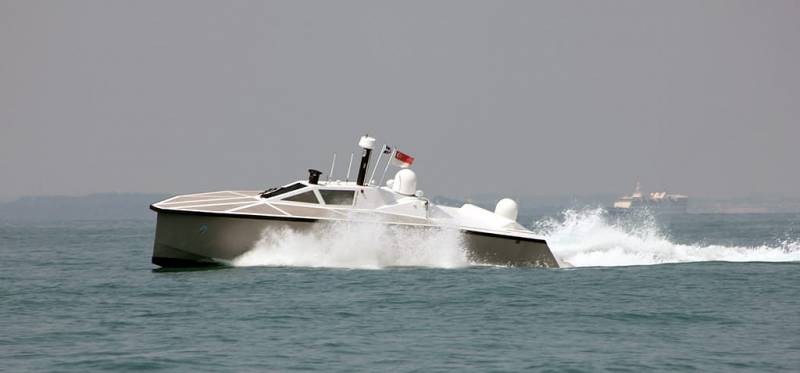 Longrunner's crewless boat, the lead in the Vigilant IUSV series, performs high-speed maneuvers in Singapore
The IUSV Vigilant autonomous boat has been involved in many days of hiking since launching eight years ago. To date, the main design work has been completed, and the developer intends to expand the range of tasks. What changes have occurred on board recently?
Singapore-based Zycraft, a specialist in the design and manufacture of automatic surface boats (ANCs) for civilian and military applications, continues to improve the prototype of the Autonomous ANC Independent Unmanned Surface Vessel (IUSV) class Vigilant called Longrunner by adding new features.
In March, Zycraft installed a remotely controlled fire barrel and an electric fire pump along with accessories and software to test remote fire fighting concepts. Autonomous fire extinguishing equipment has demonstrated its ability to deliver water to a maximum distance of 40 meters, although the company plans to refine the system to increase the range.
According to Zycraft President Mr. James Sun, a crewless fire platform is one of several concepts explored on the Longrunner platform. He added that at different stages of design or construction there are other specialized options, for example: anti-submarine warfare, naval reconnaissance and surveillance, mine action and search and rescue.
"The smaller ANCs are dependent on the launch vehicle and the corresponding launch and return methods, and as the systems evolve, operational problems will persist, especially with heavy waves. In addition, an increase in range reduces the ANC payload and increases the cost of a carrier ship. When using the IUSV concept
fleets
there is also no need to build larger ships only for transporting small ANCs, instead they can rely on the carrying capacity of a larger IUSV and the inherent longer sailing time for transporting the necessary target equipment ... warships should focus on where the enemy's ships are, and not be burdened by the management of a small ANC. "
"Having left his base, IUSV can go to the area of ​​operation and then stay there for a long time, requiring only infrequent refueling in order to increase the length of time at sea",
- he added.
Design and powerplant
According to Zycraft, in contrast to the refinement of traditional boats or ships, the Vigilant IUSV was designed from the very beginning as an uninhabited platform so that the final product could be easily optimized for various tasks. However, it can be optionally habitable, the tandem wheelhouse accommodates up to two operators sitting on shock-absorbing military-standard SHOXS outboard seats.
Construction began in early 2010 with the lead ship Longrunner, launched in October 2011. The entire line is based on a lightweight body 16,5 meters long and 3,6 meters wide, empty weight is about 8500 kg and a total displacement of 16000 kg, including payload and 7000 kg of fuel.
The case of the Longrunner apparatus is characterized by high elongation, which reduces the hydrodynamic resistance. It is made from Arovex's proprietary carbon fiber-reinforced carbon nanotube composite material. According to Zycraft, such a case is 40% stronger and 75% lighter than a similar sized case made of traditional aluminum or marine standard fiberglass, which allows the ANC to achieve high speeds without the need for large and heavy engines. The combination of a hull made of light material and engines with a small displacement allows you to take on board more target load and fuel to increase the cruising range and expand capabilities.
According to the specifications provided by the company, Vigilant IUSV has a maximum speed of 40 knots and has a sailing duration of more than 30 days, and the standard cruising range at an economic speed of 12 knots is up to 1500 nautical miles.
"We believe that the duration of the voyage is a key characteristic for the ANC, since during deployment, the device must monitor at low speeds for long periods of time," said Song. "The maximum speed of 40 knots is quite adequate for the ANC, since a vessel of this size with higher speeds cannot be used effectively at wave heights of more than a meter."
.
The ANC has two Yanmar 6LY3-ЕТР turbocharged diesel engines with a volume of 5,8 liters and a dry weight of 640 kg each, which generate a total power of 960 hp. The engines are connected through the ZF Marine ZF 280-1 box to the Konrad Marine 680 swing-out columns with counter-rotating coaxial propellers, which were specially selected for their ability to provide optimal efficiency in the speed range up to 40 knots.
"We also have experience using the Arneson ASD10 direct drive system equipped with Rolla five-blade propellers in a boat with a similarly shaped hull," Sun explained. - Both configurations provide good fuel economy, especially during low-speed patrol operations, which are one of the main tasks of the ANC.
With such a propulsion system, we have fuel consumption of about 10-15 liters per hour at a speed of 6 knots under favorable conditions, that is, the duration of sailing significantly increases with the existing volume of fuel tanks. "
Set of equipment
The Vigilant 1USV is equipped with a sensor kit that includes an automatic recognition system installed on the roof of an optical-electronic station for view reconnaissance Current Corporation Night Navigator 3 and a mast radar Simrad Broadband 4G with a declared detection range of 36 nautical miles, as well as stabilized all-round cameras.
Survey optical-electronic station incorporates an uncooled high-resolution thermal imager with a 640x480 matrix size and a double field of view of 20 ° and 6,8 °, as well as 3x optical zoom and 12x digital continuous zoom; high-resolution night-time electron-optical converter with a field of view of 20 ° and a continuous digital zoom of 12x; high-resolution daylight camera with a resolution of 1080i / 720p and fields of view from 50 ° to 5,4 °, optical magnification 10x and digital magnification 12x.
Meanwhile, the 360 ​​° all-round viewing system consists of six 4-megapixel low-light cameras AXIS Communications Q16 with a frame rate of up to 120 frames / s, combined into a single network. According to Sun, the cameras are housed in a self-cleaning module, which uses air jets to clean the lenses, which guarantees excellent visibility in all weather conditions.
"The video is stabilized by software algorithms so that the output image remains stable even with the IUSV rolling on-board. This simplifies object detection. We use software to instantly enlarge an object's image automatically in order to reduce the operator's workload. "
The onboard power supply is provided by a 12 kW generator from Fischer Panda, while the 5 kW generator provides additional energy for functional systems and provides continuous operation in the event of a breakdown in the main generator.
The IUSV is equipped with a Seakeeper Model 7000A gyroscopic roll stabilizer designed to stabilize ships with a total weight of 15 to 25 tons. According to the specification, the 7000 A model with dimensions of 910x990x710 mm and a weight of 455 kg can provide a damping moment of up to 15000 Nm and compensate for the kinetic moment of up to 7000 Nm / s. For its full promotion, it takes 45 minutes (although it can go to operating modes approximately 20 minutes after switching on) and a power of 3000 watts, in stable mode, a power of 1500-2000 watts and 8 l / min of sea water are required for cooling.
Song noted that such stabilization systems are typically used in crewed ships to reduce pitching and increase crew and passenger comfort, although they offer significant advantages for uninhabited platforms. For example, a stable ANC can help optimize the output and tracking characteristics of optronics and radar with a higher sea score.
"It actually removes the side rolling, thereby significantly increasing the capabilities of the radar and optoelectronic devices due to additional stability," he explained. - Since the vessel most likely uses a satellite system for overseas communications, the Seakeeper damper also helps to improve the reliability of the connection by reducing the load on the stabilization subsystem of the satellite communications system.
In addition, any ANC performing missions to combat submarines or mine clearance must certainly move slowly and needs good stabilization during the descent and return of the target load. IUSV can now work with significantly greater sea swell. We found that even a stationary IUSV behaves relatively calmly when it hits a wave 1,5 meters high, because it simply rises and falls smoothly, which would not have been possible without a stabilization system. "

The Vigilant IUSV is equipped with the Cobham SAILOR500 FleetBroadBand500 satellite system for overseas operations, while the mast radar and all-round camera increase the level of knowledge of the situation
Command and control
The Longrunner boat is typically driven from a dedicated command center located at Zycraft's facility in western Singapore. The IUSV can be controlled using standard broadband radios or cellular modems, while the Cobham SAILOR500 FleetBroadBand500 (FBB500) L-band satellite communications system supports all-weather, horizontal operation.
"With one antenna, all control and data sets are encrypted and pass between the ANC and the coast station," Song explained. "The bandwidth of the data transmission channel allows you to transmit radar images, images from the optoelectronic station and all cameras, information of the automatic recognition system and the parameters of the boat without delay."
"Adaptive bandwidth adjustment is used to control communications so that the connection remains reliable," he added. "The current solution for over-horizon control of the device was tested in extended tests in 2013 and in 2017, when the IUSV boat was deployed for 22 days for continuous crewless operations."
The company has developed a proprietary command and control software that is downloaded to the IUSV on-board computer. It uses built-in algorithms for collision detection and prevention, allowing the vessel to independently navigate in ports and on waterways with heavy traffic.
To equip the command center, civilian computers and large displays were used. The information from the radar, from the optoelectronic station and all-round cameras and ANC control operations is displayed on three display screens.
"We have a high-quality radar image on our display, which also shows information about tracking targets," Sun continued. "We are proud of the radar picture because it gives the operator a very good sense of the IUSV environment - the operator has almost the full feeling that he is on board a real boat."
Meanwhile, the IUSV subsystems interact via a local area network and are controlled by the host computer, which exchanges information and sends data packets to the coast station via a radio or satellite channel. According to Sun, the principle of open architecture allows Zycraft to easily integrate and configure new features in the ship.
The host computer also offers a separate collision detection and prevention function, receiving information from an automatic recognition system, lidar, radar and imaging devices and then analyzing it. In order to increase accuracy and reliability, collision avoidance software was updated in 2013-2016.
"When creating a collision avoidance program, most of the efforts were spent on the platform's increased adaptability to external conditions, which allows it to move in areas with heavy traffic, as well as in open water without operator intervention. International rules for preventing collisions at sea are used as the basis for decision-making, but the most important rule is self-preservation, he added. "The minimum safe distance determines the response of the ANC even when it has the preemptive right to pass."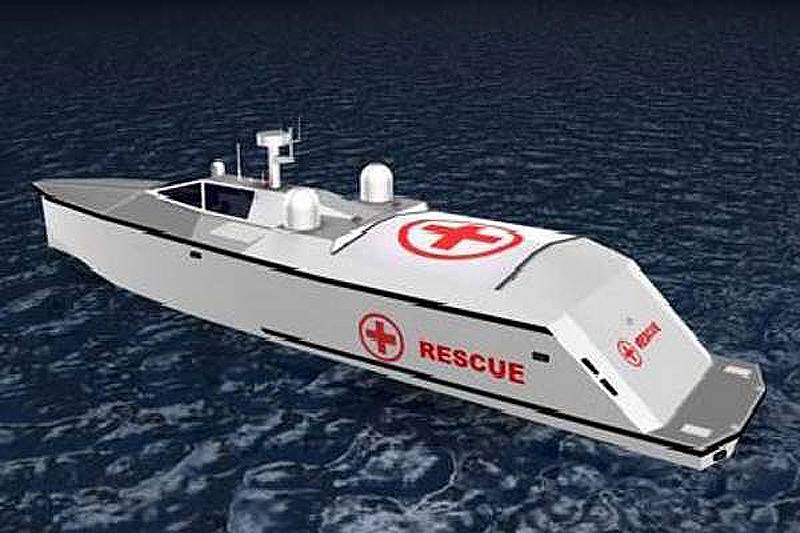 Zycraft also developed a search and rescue version of the Vigilant IUSV
Ship development
Zycraft completed the initial development of the Vigilant IUSV in September 2013, after which Longrunner completed 2000 nautical miles in 24 months of marine testing in Singapore. According to Zycraft, the unit took part in a demonstration for an unnamed fleet, and also took part in several operations lasting more than 48 hours, including sea trials in May 2013 at a distance of 150 nautical miles.
The company also conducted a series of assessments of the properties of the hull in real marine conditions, focusing on the duration of the voyage, range and seaworthiness of the hull structure, taking for this Shomari class long-range vessels - IUSV crew options that Zycraft offers to shipping companies in the region to combat pirates and logistics.
Shomari ships have the hull of the same shape as the Vigilant IUSV, the same total displacement of 16 tons and similar balancing, which allows the company to use crew vessels as test platforms.
Since 2014, the Shomari LRV has passed a series of life tests, including a seven-day voyage at a range of 1100 nautical miles. LRV boats also passed stability tests at wave heights of up to 4 meters, during which they reached a maximum speed of 34 knots at full load.
In the spring of 2017, the company tested the IUSV in the South China Sea, during which it went non-stop for 22 days at an average speed of 6 knots with periodic accelerations, eventually covering a total distance of 1900 nautical miles. The ship went for testing with a little more than 6000 liters of diesel fuel and returned to the port with 2800 liters.
Two operators ashore controlled the IUSV, monitoring the vessel 24 hours a day, although the company also provided an escort boat to solve all the problems.
It is clear that the latest resource tests reinforced Zycraft's expectations regarding the fuel efficiency of the IUSV boat, the reliability of its electronics and mechanical systems. Sung said that these resource tests provided data on the operation of sensor and navigation systems in real-world conditions.
"Since IUSV during the tests had the opportunity to observe marine traffic and other events for a long time, we were able to recognize clear shipping patterns and even witnessed several dangerous approaches of commercial vessels."
Song shared, but refused to voice the details.
"There were some difficulties, but we were able to find ways to overcome them and optimize the capabilities of IUSV in real time by updating the software."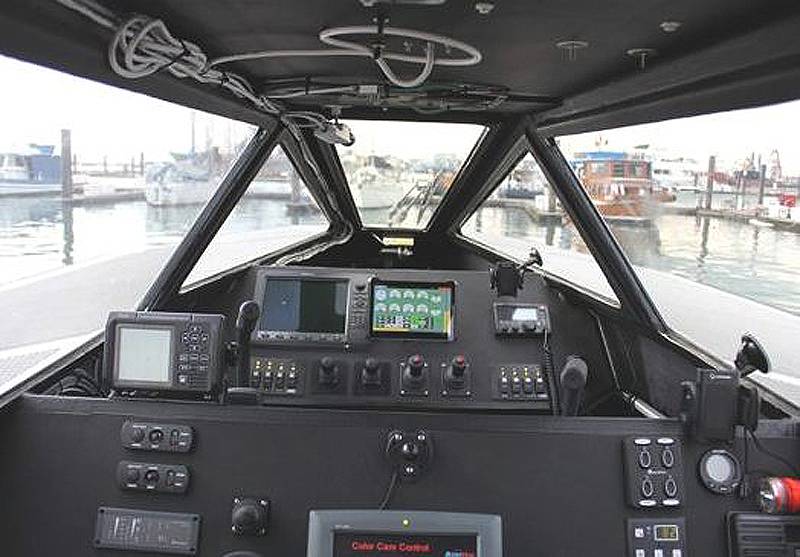 The Vigilant IUSV can be optionally inhabited, two operators are located in a tandem cabin on shock-absorbing seats
Future opportunities
The company pays great attention to expanding the set of tasks for the vessel through the use of its sealed modular compartment for the target load measuring 3x3x2 meters with a maximum capacity of 3 tons.
"This compartment is designed specifically to accommodate the target load, which requires specialized handling equipment," said Song. "To ensure this target load, auxiliary equipment, such as cabinets with electronics, can be installed in the allotted volume of the cargo compartment."
In the proposed low-cost anti-submarine defense concept, the IUSV will be equipped with a complete active / passive sonar supplied by one of Zycraft's technology partners. The boat will work as a replacement for the anti-submarine platform, allowing crew combat ships not to be distracted and perform other tasks.
Zycraft has developed the YZDDS-920 DDS diver detection sonar (diver detection sonar). The compact sonar system with a height of 300 mm and a diameter of 425 mm can be installed on board the Vigilant IUSV, other ANCs and ships, or used as a stationary device for protecting ports or coastal infrastructure.
According to the company, DDS is designed to detect scuba divers with open-cycle devices at distances up to 600 meters and divers equipped with regenerative breathing apparatus, at a distance of up to 400 meters in all directions to a maximum depth of 50 meters. The system includes an antenna unit weighing 45 kg, a processing unit and a graphical user interface on a laptop. It can track up to 100 objects at a time and independently issue an alert signal when a threat is detected.
The company is currently looking for a partner to integrate the sonar system into the IUSV, planning to conduct another long-term voyage test in the near future, focusing on underwater research and observation. Song noted that integration work on sonar could open the way for the introduction of anti-submarine warfare technologies in the future. Zycraft also expects an increase in demand for search and rescue operations.
The company noted that the IUSV apparatus, equipped with the appropriate sensor systems and coordinate transmission detectors in emergency situations, can be an excellent choice for countries with a long coastal strip and vast sea areas.
Configured for search and rescue, the IUSV can remain for a long time at sea during such operations, while a specially designed module allows the operator to remotely rescue survivors through a robotic arm and carry up to seven stretchers with wounded.
Patient monitoring devices can be included in equipment for monitoring the psychological state of victims and forwarding information to the coastal service even before arriving on shore.
For reconnaissance and information gathering, Zycraft is considering deploying off-board sensors, such as tethered drones, for long-term visual observation. However, custom modules with a payload can be deployed to meet specific customer requirements for both civilian and military purposes.
The company also wants to enter the market of training and modeling, and therefore began the development of a new project M75 Unmanned Target Boat. An AHK target weighing 0,9 tons has a total length of 5,9 meters, a width of 1,6 meters and a draft of 0,33 meters. An outboard motor Yamaha F115 is installed on the boat, which allows you to reach a speed of 35 knots, a fuel tank with a capacity of 220 liters allows you to stay at sea for up to 23 hours at a speed of 12 knots or 5 hours at stable maximum speeds.
The Vigilant IUSV ANC is part of a small but expanding line of universal uninhabited large-displacement platforms being developed in the Asia-Pacific region.
Among the countries involved in ANC platforms longer than 11 meters, China and Singapore are particularly notable, developing respectively the 20 ton JARI multi-task boat (China Shipbuilding Industry Corporation) and the Venus 22 16 ton boat (ST Engineering), optimized for mine action.
Large automatic surface ships offer several advantages for fleets. For example, larger hulls, as a rule, have a larger volume for the target load, as well as a fuel reserve, which gives operators greater flexibility and a control radius. Larger platforms can be optionally managed in tasks that require better knowledge of the environment and the adoption of complex decisions.
However, due to the large size and displacement, large automatic vessels, as a rule, operate from coastal bases, since for most vessels, with the exception of universal landing ships, which have large landing docks, they are too bulky and difficult to lower and raise on Board.