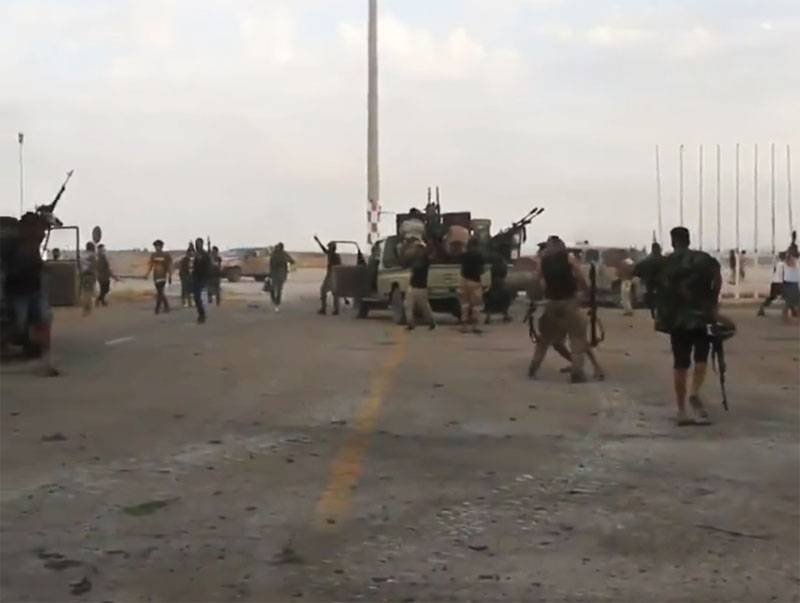 There was confirmation of evidence that the PNS (Government of National Accord Fayez Saraj) regained control of Tripoli International Airport. The airport is located in the area of ​​Qasr bin Gashir, it was held by the Libyan national army of Khalifa Haftar for the past few months.
Initially, the seizure of the airport was reported on social networks by representatives of PNS forces associated with militants deployed in Libya from Syrian Idlib. Today, information is confirmed by the PNS command. Footage appeared on which you can see the PNS and militants deployed by Turkey, who celebrate another local victory - at the airport of the capital.
Meanwhile, the LNA accuses the forces supported by Turkey not only of trying to disrupt the emerging negotiation process, but of committing war crimes. It is noted that during the attack not on Qasr bin Gashir civilians became victims.
At the Tripoli airport, a considerable number of destroyed LNA military equipment remained. The largest number are SUV pickups that were destroyed by artillery fire. According to some reports, Turkish shock drones were again used.
Airport videos:
Government of National Accord forces reportedly retook control of #Tripoli International airport from the #LibyanNationalArmy on Wednesday, according to local media affiliated with the #GNA.

Footage shows a number of armed individuals celebrating on the runway of the airport. pic.twitter.com/cXiI1XyZob

- Ruptly (@Ruptly) June 4, 2020
Libya Ordusuna ait Askerlerin, Trablus Havalimanından başka bir videosu.#libya #gna #umh #hafter # türkiye pic.twitter.com/g8fYFOkO3r

- Subay (@turk_subayi) June 3, 2020
Another video from the territory of Tripoli air harbor (destroyed planes are visible, their fragments are scattered across the runway and adjacent areas of the airport):
Video recorded by 154th Protection & Support Battalion of #GNA after capture of #Tripoli Intl Airport from #Libya National Army today shows what is left of #Libya's civil aviation. A bunch of wrecked passenger airplanes which are damaged due to a war waged by #Turkey & #Qatar! pic.twitter.com/2FCKjRKVUJ

- Babak Taghvaee - Μπάπακ Τακβαίε - بابک تقوایی (@BabakTaghvaee) June 3, 2020