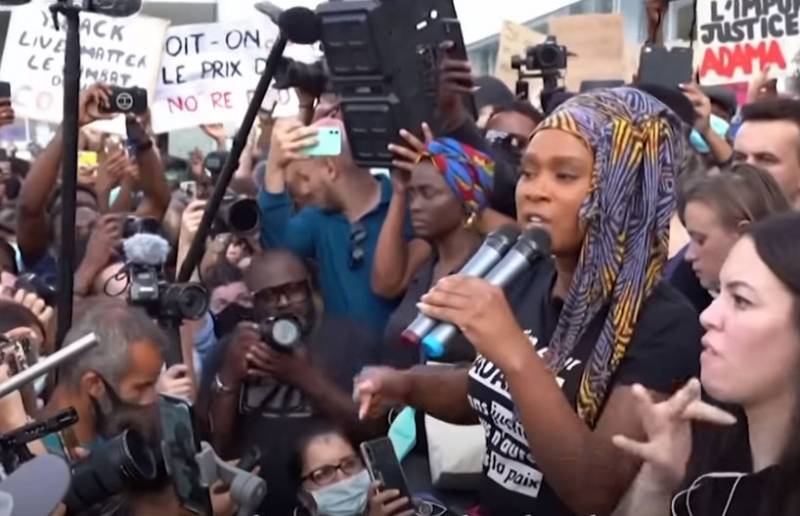 From the US, reports come that protesters violate curfews in dozens of cities across the country. The most massive curfew violation was recorded in the largest city in the United States, New York.
New York Mayor Bill de Blasio decided to shift the curfew hours from 23:00 to 20:00. At the same time, the president's proposal to enter the National Guard in the city of de Blasio has so far been rejected.
With American protesters, protesters are actively solidifying on the European continent.
European media write that the most massive protests in Europe are held in Paris. In total, over 20 thousand people took to the streets of the French capital. At the same time, French activists decided to raise the issue of an unfair investigation in the case of Adam Traore, a black Frenchman who died in prison in 2016.
Member of the National Assembly E. Coquerel commented on the Paris protests:
You need to understand that today the problem of racism is not only in the United States. Racism continues to flourish throughout the EU.
Protests take place in other EU countries. Crowds of people appear on the streets of Amsterdam, The Hague, Berlin, London. Moreover, not only black people are protesting.
As a sign of solidarity with the protesters, some players from leading football clubs organized an action - the players stopped training and dropped to one knee.
Promotions in Paris:
Paris says Black Lives Matterpic.twitter.com/YquMEv6sT5

- Yasmina Bennani (@YASMINAREBEL) June 2, 2020
Illegal migrants protest to ask for their regularization in #Paris (France) today.pic.twitter.com/TMLH5IAQi8

- Oh boy what a shot (@ohboywhatashot) May 2, 2017
Netherlands:
Protest happening in Amsterdam at the moment #BlackLivesMatter #Amsterdam #BeSafe #GeorgeFloyd pic.twitter.com/vZ8JKsVXKm

- Gideon (@gideon_fm) June 1, 2020
In Germany:
We out here #Hermannplatz #Berlin #Berlinprotest #BlackLivesMatter #PoliceViolence #GeorgeFloyd pic.twitter.com/Z5zLGA94QC

- Laura Döring (@laurateresad) May 2, 2017