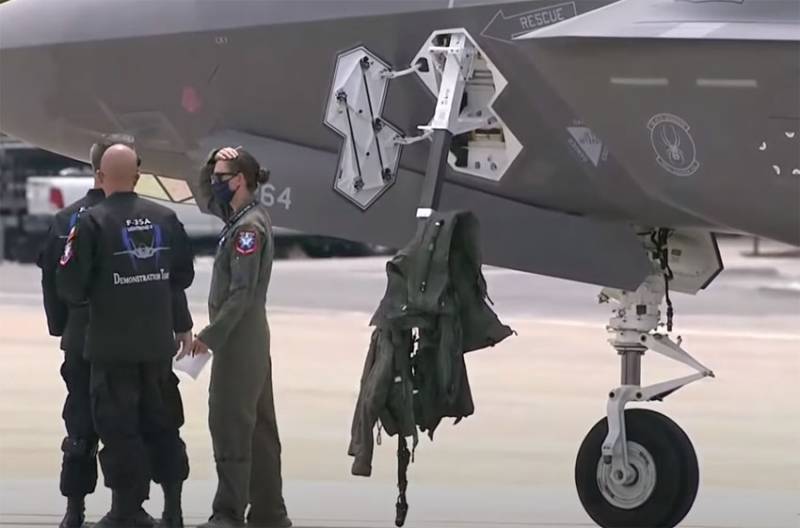 The US Air Force did not fulfill its promise on the fact of investigating the causes of the accident with a fifth-generation fighter F-35. We are talking about the crash of a U.S. Air Force combat aircraft that occurred on May 19 at around 21:30 pm local time. Then it was reported that the fighter, which was part of the squadron based at the Eglin airfield, was carrying out a planned flight. The pilot reported a loss of control over the aircraft and was forced to eject.
In the US Air Force, a statement was made that "before the end of the month preliminary results of the investigation of the causes of the accident with the F-35 will be presented." However, at the moment, no official statements about the causes of the incident with the fifth generation fighter in the United States have been made.
Previously, there was information that the main reason for the crash of the aircraft can serve as "non-original spare parts". This refers to the details of the fighter, which the military, preferring to print on a 3D printer, without waiting for delayed deliveries due to a malfunctioning logistics program. At the same time, the fighter manufacturing company reacted extremely negatively to reports that the F-35 was equipped with "printed" components and stated that such aircraft could be outside the scope of the licensed maintenance program.
Another unofficial version of a fighter crash is the pilot error version. Earlier, there was evidence that the flight was training. But at the same time, it was not reported who exactly was involved in the piloting of the fighter.
In any case, the US Air Force clearly took a break from the publication of official data on the preliminary results of the investigation.
The reason for this approach may lie in the search for "consensus" in the first place for themselves. Indeed, if you declare that the fall took place due to a technical problem, then this may hit the image of the fighter among those who are part of the program for their acquisition. If you report a pilot error, it means "to question the professionalism of American pilots."